Everybody knows SATA interface, right. SATA II (the older one) and the SATA III, the newer one. In the portable computer market there is also mSATA format of SSD drives available. In my laptop that I'm currently using, there is one mSATA with capacity of 128Gb.
The mSATA format is small, but in a near future (Q1 of 2013) intel will release new format of SSD drives called NGFF SATA , destined mostly for a ultrabook market, but no only. NGFF stands for Next Generation Form-Factor.
The new format is called NGFF SATA and it's even smaller than the already small mSATA. The NGFF SATA does is 22 mm large, but does have 5 different options when it comes to its lenghts : 30, 42, 60, 80 and 110 mm. The SSD 530 product line from Intel will use NAND 20mm and should come up with 5 year of warranty.
You can see the image of the Intel's upcoming product – Intel SSD 530 as a NGFF SATA – on the image bellow.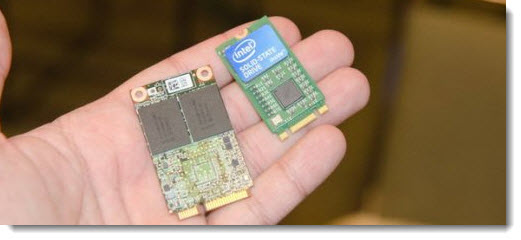 You might wonder what's so interesting on this format?
The NGFF SATA can be possibly used in PCI Express 2x and 4x…. where the possible utilization in vSphere environments, and in consumer market for…..homelabs. Not really for storing much data, but for high-speed caching , because the speeds should be much much higher than through the (limited) SATA III interface ….. I just imagine to plug one of these in some homelab's whiteboxes….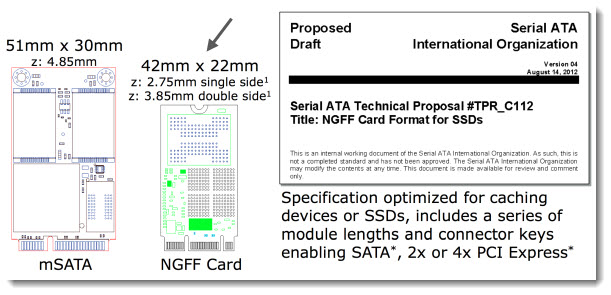 Double Sided Modules?
There is also a possibility to have double-sided modules, which could lead to configurations like having on one side Wi-fi card and on the other side a SSD storage. For ultra thin ultrabooks….. OR, as seen in Acer S7 in developement, mounted in RAID0 configuration where the read speed goes up to 900Mb/s !! The SSD there is Lite-On mSATA 256GB SSD that apparently houses two separate SSDs, these each having 128GB in capacity and their own controller.
The first Intel's models are on the Intel's roadmap (the Intel SSD 530) and should come up in first quarter of 2013 as the NGFF SATA format. The SSD 530 as mSATA should be available in second quarter of 2013.
The capacities will be 80 and 180 Gb. Not much when you think that there are already 1Tb SSDs on the market, but if you think of it as a high-speed cache, then it's different.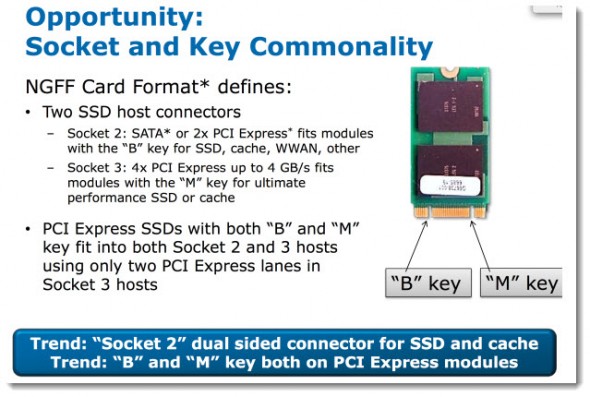 But there are, as for now, 2 sockets available, which gives us many possibilities. The Socket 2 which gives us a SATA or PCI Express x2 OR Socket 3 which gives us PCI Express x4. And you can certainly imagine, that it is the latter one which stays on my radar for the moment. The NGFF is already a standard and it's question of weeks to see the first products in the shop.
Source: PcWorld.fr (french)