VMware Workstation 7 Release Candidate is available.
With that there some great news for you whether you trying to install and run ESX 4 inside of VMware Workstation. That means that you no longer need to edit manually the VMX configuration files when you wan to test and run ESX 4 as a guest inside of your VMware Workstation. You can try vMotion on your Laptop.
UPDATE: The product has been released... and it rocks !!! freely download and test it. You'll need to register for free to reach the download page. You can also upgrade to VMware Workstation 7 for only $99.00 – Upgrade Now!
vSphere 4.0 and ESX Support :
Support is now available for running ESX 4.0 as a guest operating system. VMware Certified Professionals (VCPs) and technical professionals can install the latest server virtualization software and experiment with server setup, conduct training, show demos, and test production configurations. Running ESX as a guest eliminates the need for spare hardware available to run ESX natively and enables ESX to run on systems that are not listed on the ESX hardware compatibility list (HCL).
Some limitations however:
–  You can run only 32Bit systems as a nested VMs
–  Not all systems works. Only this 32-bit guest operating systems that have been tested: RHEL 5.4, RHEL 5.3, RHEL 4.8, Ubuntu 8.10, Windows 2003 Advanced Server, Windows Vista, Windows XP SP2, Ubuntu 9.04, and CentOS 5.3
The performances are not as on real server hardware. (of course, for using as a demo on my laptop can still help on learning)
What's new in the upcoming release candidate 7?  Here are some features which seems the most important to me:
New OS supported — Windows 7 all versions ,Windows 2008 SP2 and R2, Vista SP2, Debian 5, Ubuntu 9.04, Red Hat 5.3, CentOS, Oracle Entreprise Linux, OpenSUSE 11, Mandriva 2009, SUSE Linux Entreprise
Virtual Printing — That's a time saver….and also this feature is available in free VMware Player 3.0.  Support for virtual printing allows you to print from virtual machines without mapping network printers or installing printer drivers in the virtual machine. If virtual printing is enabled in the virtual machine setting, all of the printers installed on the host operating system are available in the guest operating system. VMware partners with  ThinPrint Inc now.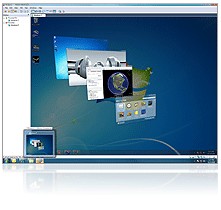 Aero Glass support —  for Windows 7 and Windows Vista guests
Expand Virtual Disks — If you need larger disk for your VMs, then this functionality is for you..  For Windows Vista and Windows 7 guests, the disk partitions can be adjusted without the use of additional software.
Pause a Virtual Machine — Without suspending or powering Off, instantly put your VM on Pause. This make the VM to cease operation temporarily. You can use it when there is some intensive CPU using Application and you still want to do something else on your PC.
Virtual Network Editor Interface — Enhancements to the Virtual Network Editor user interface have simplified the design for ease of use.
The Windows version of VMware Workstation already has a Map/Disconnect Virtual Disks feature, which allows users to mount a .vmdk file as a drive letter.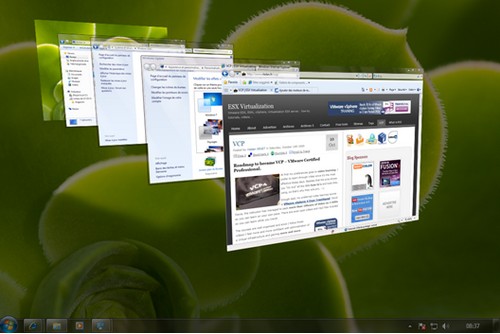 AutoProtect — You can now schedule Snapshot creation (like in vCenter). So you don't have to worry any more having regularly created snaphots. Preserve the state of your virtual machine by taking snapshots at specific pre-set regular intervals.
On-Demand VMware Tools Download — It only downloads the VMware tools for your VM not the whole package. And it's automatic, when new version of VMware tools are released or a new guest is supported. For exemple your VMware workstation is installed on a PC with Windows XP and you're testing a VM with Windows Seven. The latest tools are downloaded for Windows Seven when you power on your VM with Windows 7.
You can find a list of all the features at the VMware's Website here.
In digging inside of all the new features of VMware Workstation 7 I realized that I was not aware of a quite cool feature already available in current release. It's the Conversion Wizard. Like VMware Converter, but build inside the Workstation Interface. You will initiate the Conversion Wizard by going to File > Import or Export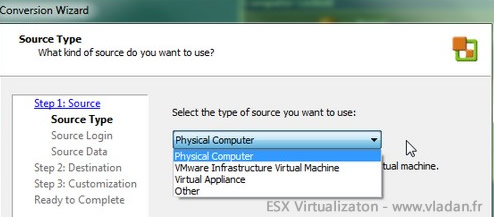 Together with VMware Player 3.0 Beta and VMware ACE this is a great news for the whole IT community.
Upgrade to VMware Workstation 7 for only $99.00 – Upgrade Now!