Mike from Techbytes.io has released a couple of interesting trainings for VMware NSX-T. If you want to learn about NSX-T, about the installation and configuration, but also about troubleshooting, there are a couple of training available at a pretty reasonable price. NSX-T 3.2 Learning and Troubleshooting Courses allows you to learn quicker and have also more insurance in yourself while troubleshooting.
VMware has released an updated NSX-T 3.2  which brings some new and enhanced features compared to the 3.0 release of NSX-T. For example, now with NSX-T 3.2, the NSX Federation supports VM tag replication between local managers when recovering workloads in other sites while retaining their security policy. Network Traffic Analysis uses multi-hopes network behavioral analysis techniques. In case attackers try to get into the network and their behavior strongly differs from authorized users that access the system, it's possible to get notified, traffic sandboxed etc.
The Enhanced gateway firewall has been enhanced by adding URL filtering and advanced threat prevention with the use of malware analysis and also sandboxing. Now you can have native VLAN-backed distributed port groups for the application of Distributed Firewall for VDS Switchports (DFW). There are also some better migration options when migrating from NSX-V to NSX-T.
NSX-T Troubleshooting Course
Learning NSX troubleshooting is quite a bit different than regular, non-SDN solutions. In this course, you'll learn how to troubleshoot basic NSX topologies, including things such as T0 connectivity, routing issues, distributed firewall rules, and a lot more!
The best thing about this course is that 90% of it involves actual hands-on examples and demonstrations. Give it a try!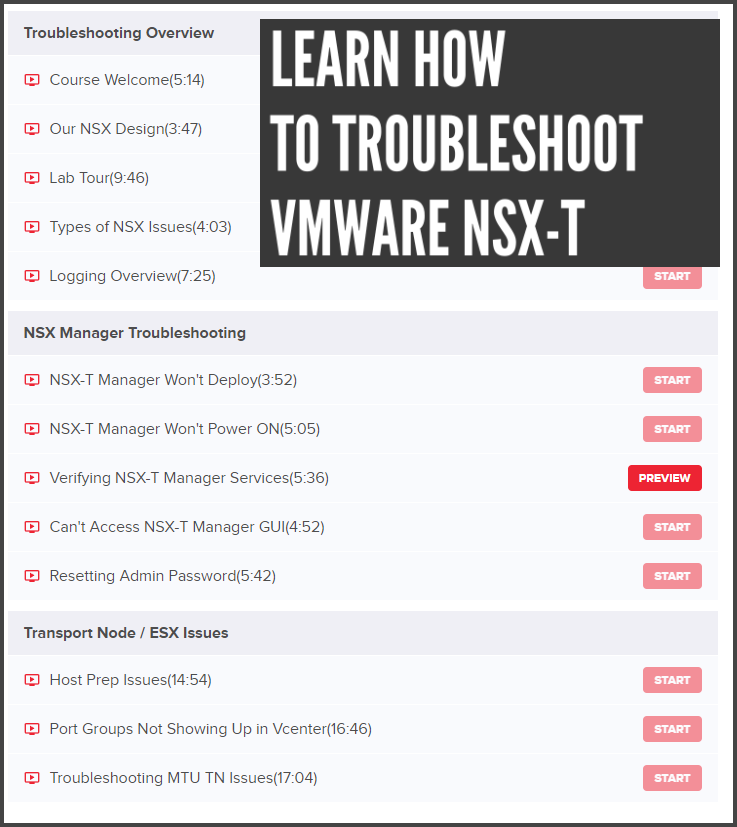 NSX-T is awesome, but troubleshooting it is a lot different than traditional networking solutions. Take a look at the sample lesson below, and you'll see why students across the globe are chasing Techbytes to learn NSX troubleshooting!
Other NSX-T training courses
NSX-T for Beginners Course – This course was designed from the ground up to help you understand the basic concepts of NSX-T without going too far into the technical details. By the end of this course, you'll be able to answer the following:
What is NSX-T?
What are the major use cases for NSX?
Does NSX-T help with Disaster Recovery?
What is microsegmentation?
How does NSX implement microsegmentation?
What is overlay networking?
Does NSX integrate with ACI?
NSX-T Fundamentals -You'll learn things such as how to deploy NSX-T, how to build an NSX home lab, how to configure NSX-T routing, and a LOT more. This course does NOT aim to teach you every piece of NSX-T – instead, it is solely aimed at getting you up and running quickly with the core product and making you an expert at the fundamentals.
It does NOT go into the implementation of Malware Prevention, Service Insertion, or other advanced use cases (such as containers, or public cloud). Check out the sample lesson!
VMware Featured Crash Courses from Techbytes.io
Check out Mike's training site at Techbytes.
More posts from ESX Virtualization:
Stay tuned through RSS, and social media channels (Twitter, FB, YouTube)