Another day with another critical VMware ESXi 7.0 U3g patch was released a couple of days ago. This time again you can get the latest ISO here. VMware vSphere Hypervisor (ESXi) 7.0U3g – Download. The latest release is fixing issues only, but you should patch your ESXi 7.x again. There are no new features included.
VMware will release vSphere 8.0 later this year, as reported earlier. However, vSphere 7 and ESXi 7 will still stay in production for a long time. The ESXi 8.0 release date is not known yet, but as we see with previous releases, I'd expect the ESXi 8.0 and vSphere 8.0 to be out before the end of the year. A couple of weeks after VMworld VMware EXPLORE Barcelona.
Patch or upgrade ESXi 7.0U3g:
In vSphere 7.x, the Update Manager plug-in, used for administering vSphere Update Manager, is replaced with the Lifecycle Manager. Administrative operations for vSphere Update Manager are still available under the Lifecycle Manager, along with new capabilities for vSphere Lifecycle Manager.
The typical way to apply patches to ESXi 7.x hosts is by using the vSphere Lifecycle Manager. For details, see About vSphere Lifecycle Manager and vSphere Lifecycle Manager Baselines and Images.
You can also update ESXi hosts without using the Lifecycle Manager, and use an image profile instead. To do this, you must manually download the patch offline bundle ZIP file from VMware Customer Connect.
Once there, Select a Product from the drop-down menu, select ESXi (Embedded and Installable) and from the Select a Version drop-down menu, select 7.0.
Or do an online update….
From Andreas Peetz's ESXi tracker site:
Quote:
# Cut and paste these commands into an ESXi shell to update your host with this Imageprofile
# See the Help page for more instructions
#
esxcli network firewall ruleset set -e true -r httpClient
esxcli software profile update -p ESXi-7.0U3g-20328353-standard \
-d https://hostupdate.vmware.com/software/VUM/PRODUCTION/main/vmw-depot-index.xml
esxcli network firewall ruleset set -e false -r httpClient
#
# Reboot to complete the upgrade
Again, this makes the patching of standalone ESXi extremely easy at the condition that you have internet connection. If your ESXi runs in an isolated environment, you can download the ZIP file and do an offline update.
You can also connect the latest ESXi 7.0U3f ISO file and update your ESXi via CDROM. In any case, you'll need to reboot the machine to validate the update.
Direct Links for VMware Purchase
The screenshot shows the upgrade via iso in my VMware Workstation nested lab.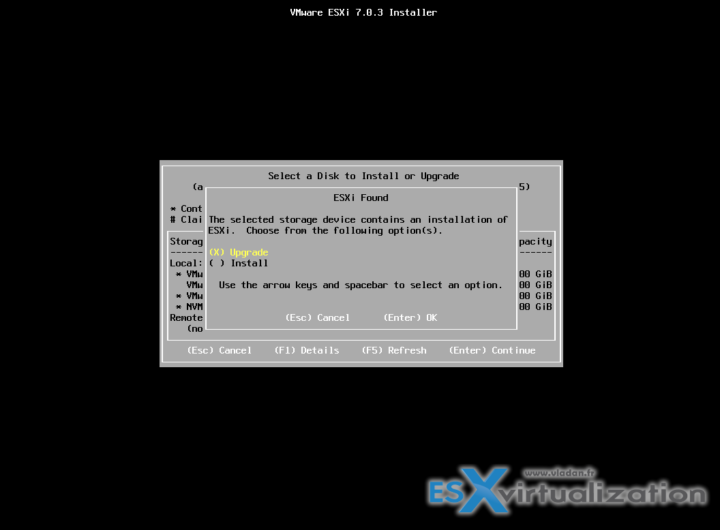 More from ESX Virtualization
Stay tuned through RSS, and social media channels (Twitter, FB, YouTube)