VMware has released its latest patch so you can update yours to vCenter Server 7.0 U3g. Build vCenter Server 7.0 Update 3g | 23 JUL 2022 | ISO Build 20150588. You can update the VCSA via VAMI or ir your VC is isolated, by downloading the patch which you attach to the VM (need to upload the ISO to a datastore visible by the host). We'll see how to do this in this post.
The preferred (and easier) way is obviously to patch VCSA via VAMI where you simply download the patches directly from the VMware repository, but some environments do not have VCSA connected directly to the internet so in this case, you'll use this offline method.
What's new in vCenter Server 7.0 U3g ?
vCenter Server 7.0 Update 3g delivers a fix to an issue that prevents patching and upgrades to vCenter Server 7.0 Update 3f. The issue affects environments joined to an Active Directory domain that currently uses, or has used in the past, Integrated Windows Authentication (IWA) as an Identity Source. The problem is specific to vCenter Server 7.0 Update 3f.
Download the patch from here
Release Notes Here.
Quote:
IMPORTANT: If your source system contains hosts of versions between ESXi 7.0 Update 2 and Update 3c, and Intel drivers, before upgrading to vCenter Server 7.0 Update 3g, see the What's New section of the VMware vCenter Server 7.0 Update 3c Release Notes, because all content in the section is also applicable for vSphere 7.0 Update 3g. Also, see the related VMware knowledge base articles: 86447, 87258, and 87308.
To download this patch, after logging in to VMware Customer Connect, select VC from the Select a Product drop-down menu and 7.0.3 from the Select a Version drop-down menu.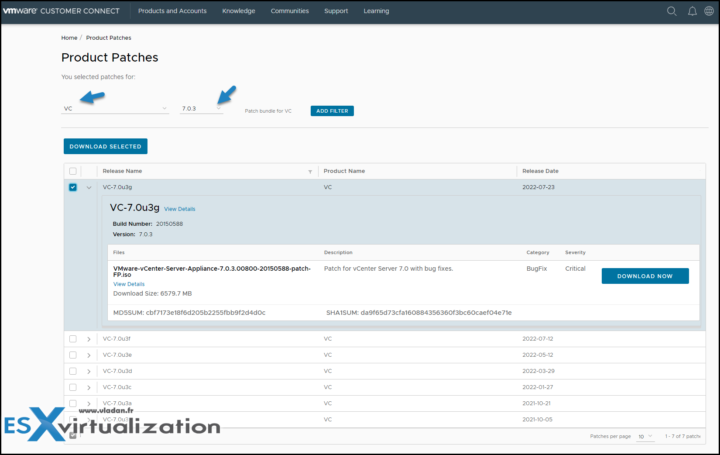 Steps to patch your VCSA:
First, attach the VMware-vCenter-Server-Appliance-7.0.3.00800-20150588-patch-FP.iso file to the vCenter Server CD or DVD drive.
Log in to the appliance shell as a user with super administrative privileges (for example, root) and run the following commands:
To stage the ISO:
switch to the appliance shell:
temporarily
via this command
appliancesh
or with this command (permannently):
chsh -s /bin/appliancesh root
then stage the packages:
software-packages stage --iso
To see the staged content:
software-packages list --staged
To install the staged rpms:
software-packages install --staged
This is all.
As I have done it already, when checking the attached ISO, the system shows my appliance is already updated…

And checking the build number, I can confirm.

Enjoy -:)
More posts from ESX Virtualization:
Stay tuned through RSS, and social media channels (Twitter, FB, YouTube)