Today is a great day for PernixData as the company is announcing the general availability (GA) of their Flash Virtualization Platform (FVP) product. A product which accelerates workloads without the need for a change of the existing SAN storage device.
When planning to install The FVP, there is no need to plan any configuration changes to existing VMware vSphere infrastructure. The flash cluster which is created after the deployment, allows obtaining many more IOPSs from your back end SAN device without losing any of existing vSphere features (vMotion, FT, DRS….).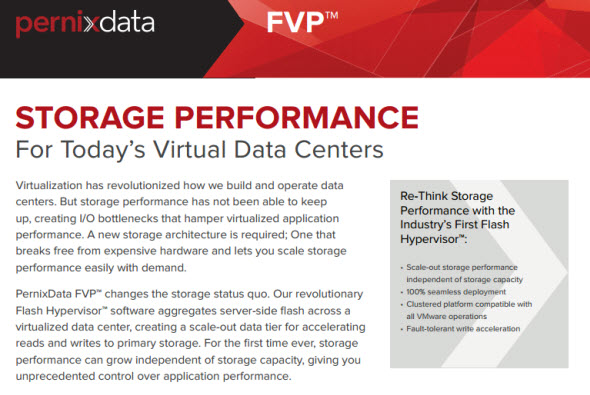 Read my article PernixData Flash Virtualization Platform in my lab, where you'll see the details on architecture and many screenshots from the UI. You might also want to read my Interview with Bala Narasimhan from PernixData about what the product does  – Flash Virtualization Platform (FVP) – Server Storage Pooled Flash by PernixDATA. Did I mentioned that no reboots are required?
The server side flash devices forms a logical cluster. The data is written and read into/from this flash cluster so the access to the data is much faster, with lower latency. In write-through mode the data are written into the flash and to the SAN simultaneously, and then acknowledged, only after are being written onto the SAN. This mode is good for mix read and write operations. The reads are accelerated from flash and writes are executed to the flash and to the SAN. The performance is increasing because all the reads are happening only from flash, so the SAN is performing only writes ( together with Flash).
In write-back mode, the writes are committed to flash only. Later the are written to SAN asynchronously. This mode is good for VMs that are doing a lot of writes.  The data can be protected against flash device failure by choosing a write back mode with write redundancy, replicating the data to the other ESXi hosts.
The Main Features of FVP:
Read and Write accelerations – not only reads are accelerated from Flash, but also writes. The configuration allows to choose a mode which writes first to flash, and then only to the SAN.
Fault tolerant write acceleration – one of the configuration modes can leverage replication to the pears (1,2,3 …+) to prevent data loss in case one of the Flash device has a failure.
Any flash device – FVP works with any flash device which are on VMware HCL. You can mix PCIe cards and SATA Flash SSDs.
Hypervizor based module (small module to deploy on ESXi)
Easy to use User Interface – the nice and easy UI is fast and responsive. Used through the Windows based client, with PernixData plugin installed.
VM Aware – you can pick an individual VM to be accelerated (instead of the whole datastore), by using Per-VM policy.
I've been using the product in my lab since several months, while the product was still in beta, and after the initial installation, I did not need to tweak anything. It's setup-and-forgot-it product.
Here is a screenshot when picking up an individual VM to be accelerated, and choosing the write policy.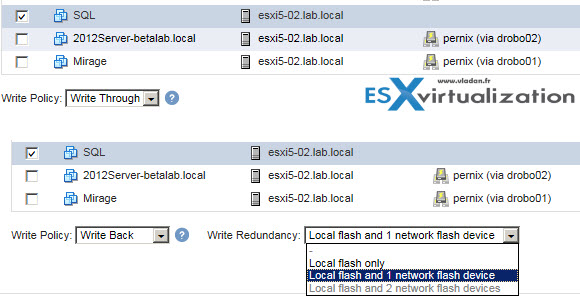 What the user say:
"Within minutes of installation, we saw a substantial bump in performance across a wide range of applications.  And with a few clicks of the mouse we can easily monitor key performance metrics. Using flash storage virtualization with our existing SAN devices has introduced a completely new paradigm in how we manage the performance of our virtual applications."
How to setup the FVP solution demo video:
If you want to know more about PernixData, I can highly recommend watching the presentation that Satyam Vaghani did during Storage Field Day organized by Steven Fosket. You'll get the overview of the company, technical details with a demo.
Satyam Vaghani Introduces PernixData – Video 1:
An Overview of the PernixData Flash Virtualization Platform – Video 2:
Demo done by Satyam Vaghani – Video 3:
Deep dive of the technology – Video 4:
PernixData was founded in February 2012. Poojan Kumar (Worked at VMware as a Data products lead and  also for Oracle.  Satyam Vaghani (Worked at VMware as a Storage CTO and principal engineer –  Was responsible for VMFS, VAAI and VVOLs).
A quote from the blog post that Satyam Vaghani published recently:
Why is it that scale-out is limited to a select few, and getting there mandates a rip-and-replace of the capacity tier? Why is it that the the storage industry can only churn out new boxes, each being a little cheaper and maybe a little faster than the previous version? Why is it that hypervisors do excellent resource management for CPU and memory…even good storage capacity services, but are primitive when it comes to scalable storage performance?
Links:
PernixData Company Site
Technical Whitepaper – PernixData FVP (Good read!)
Enjoy reading ESX Virtualization? Grab our RSS Feed.  Follow me on Twitter: @vladan