Runecast is present during this VMware EXPLORE Europe in Barcelona 2022. After the pandemic, VMware has renamed VMworld into VMEXPLORE and added additional cities to the show. Runecast platform has an unique ability to scan your IT environment and give you insights on your configuration best practices, security compliance and vulnerability or time drift config over time.
Runecast really becomes a product to have within your organization. Over the years, it becomes a necessary part of the software portfolio by bridging the gaps between the necessity of having the latest security configuration in place, following best practices for your virtual and physical infrastructure (with agents running in physical servers, and OS). Runecast platform brings also more security profiles that can be applied to the OS level now (DISA STIG profile) and vSphere can now be evaluated against GDPR. Runecast is becoming a Single Pane of Glass for security and compliance.
I was speaking with and old friend Stanimir Markov who is a CEO at Runecast. We've talked about the importance of today's strategies within an organization, to be aware of security flaws and issues, as well as the hefty tasks that secops and admin teams do have to maintain those systems when trying to stay up-to-date while their IT is spread through on-prem datacenter, as well as a public cloud infrastructures.
The Runecast platform has become an indispensable tool that can be used not only by IT admins but also by security teams, CIOs or CISOs. IT admin has usually a several "hats" with more and more work because of security and compliance. While just a couple of years ago, being an IT admin the job of security and compliance could be done by a single man in small organizations, this becomes more and more difficult today.
Larger IT departments can use single software for the company's security, compliance, best practices, patches, and (or) remediations, for all their multi-cloud and multi-site environment, via a single appliance.
You can discover your environment, manage, audit, and remediate across different platforms via a Single Pane of Glass. The Runecast platform covers not only on-prem environments with vSphere, different OS types, Horizon, NSX-T, VSAN, Kubernetes, but also public and private clouds such as vCloud Director, AWS, or Azure and gives you up-to-date information about security compliance, best practices and vulnerabilities within those environments.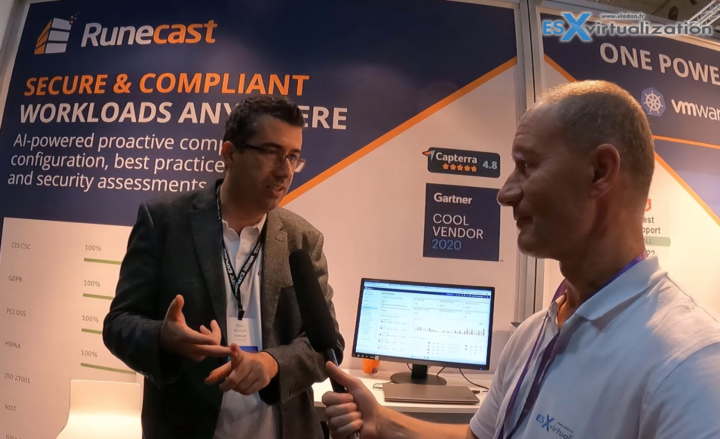 And here s the video from VMware EXPLORE 2022
Links: Runecast
More posts from ESX Virtualization:
Stay tuned through RSS, and social media channels (Twitter, FB, YouTube)