While VMware and Microsoft are supported StarWind solutions, I wasn't aware of XenServer. In this post, we'll look at which configuration is supported. StarWind is able to provide HA shared storage for XenServers connected to the environment. Shared storage which is highly available (HA) means that if any of the nodes goes down, the other node is still providing the storage for running VMs. You'll have synchronous data replication and automatic failover as well.
I'm not sure how many XenServer environments exists or how many of our blog readers are users of XenServer, but as the multi-hypervisor world exists, it worth to mention that this solution exists. XenServer is an open-source platform for cost-effective desktop, server, and cloud virtualization infrastructures. However, it's not free.
The Free edition provides a reduced set of features and is not eligible for Citrix Support and Maintenance. Hosts that are running the Free edition of XenServer are labeled as "Unlicensed" in XenCenter, but I'd say the most important is support. If anything goes sideways, you can always get help via support if you're eligible. If I'd run any hypervisor in a production environment, I'd take the support.
XenServer Pool needs shared storage for the same reason than in VMware or Microsoft virtualized environments. The reason is to allow VMs migration or to guarantee continuous application availability. Also, HA storage is eliminating any single point of failure within the whole IT environment.
In this setup, StarWind is installed on a Windows Server VMs, the same way as in VMware vSphere environment. The only difference is the underlying hypervisor, which in this case is, XenServer.
We won't go into much details in this post as StarWind engineers has released a Technical PDF detailing the configuration, but we'll remind some general good practices when setting up such an environment.
Image from StarWind website.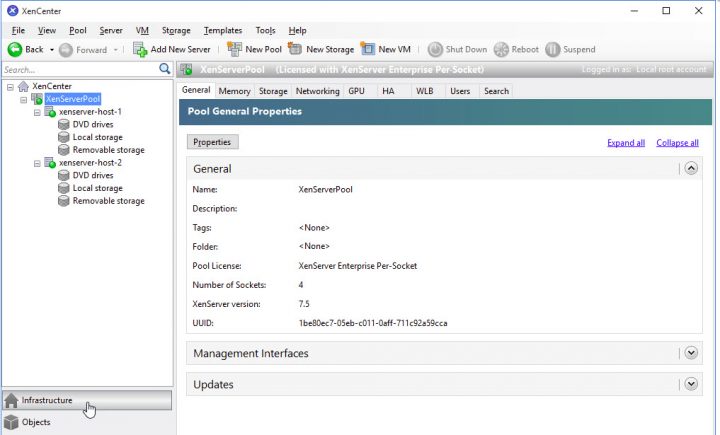 What's needed for StarWind HA storage for XenServer 7.x?
You'll need 2 Windows Server VMs where you'll install StarWind software.
Quote from StarWind:
Minimum requirements:

RAM: 4 GB (plus the size of the RAM cache if applicable);
CPUs: 1 socket with 2 GHz;
Hard disk 1: 100 GB for OS (recommended);
Hard disk 2: Depends on the storage volume to be used as shared storage.

Network adapter 1: Management
Network adapter 2: iSCSI1
Network adapter 3: iSCSI2
Network adapter 4: Sync1
Network adapter 5: Sync2

NOTE: It is recommended to set jumbo frames to 9000 for iSCSI and Synchronization traffic.
As you can see, redundant iSCSI networking and Sync networking cards will add additional protection.
You can follow the detailed steps in this post, where you can also download a PDF for offline reading.
More about StarWind on ESX Virtualization
In a production environment, no matter which hypervisor you'll use for X reasons there are still the same rules to respect. Use certified hardware, with certified vendor solution which you have support for. I personally would not recommend using uncertified hardware or free solution for production.
You know, when everything works, it's ok. But when something goes sideways…..
One important thing to note. There is also Murphy's Law -:).
Wrap Up:
StarWind Virtual SAN is Officially Certified for Citrix XenServer 7.x (up to 7.5) as a dedicated iSCSI storage in Compute and Storage separated scenario. By having a possibility to configure StarWind as an HA storage you have more chances on your side, that if anything goes wrong, your VMs will still be up and running. And that's the most important in any business. Believe me.
More from ESX Virtualization
Stay tuned through RSS, and social media channels (Twitter, FB, YouTube)