StarWind Deduplication Analyzer Free Tool allows you to evaluate deduplication ratio for a drive/volume. StarWind Deduplication Analyzer makes this without the need to move large amounts of data, taking up a minimal time to estimate deduplication results.
The tool is a simple executable, no need to install it on the system. StarWind Dedupe tool is destined for use with StarWind Virtual SAN which has the option to use inline deduplication. It actually shows show optimization ratios for StarWind 4K inline deduplication. 
StarWind Virtual SAN allows you to create a shared storage with a minimum number of hosts and with a commodity hardware, by simply mirroring local storage from two hosts into a shared datastore. StarWind Virtual SAN has been featured on this blog several times and it's not a secret that we like that technology which makes things easy to work with, providing good user experience and flexibility which can adapt to many IT environments. From the small one up to the large ones.
Starwind Dedupe tool is free to download (after registering at StarWind).
Quote:
To help users evaluate the benefits of data deduplication in their particular environment in a fast and simple manner, StarWind offers its Free Deduplication Analyzer tool. StarWind Deduplication Analyzer estimates how the amount of disk space consumed will be reduced after data deduplication without the need of moving terabytes of data or ordering test hardware, making the sizing process as simple as possible. The Analyzer allows the user to find out compression ratios for particular VMs, determining the best candidates for data deduplication.
As being said, the utility is a small executable file, which you run on your system. Then simply follow the assistant.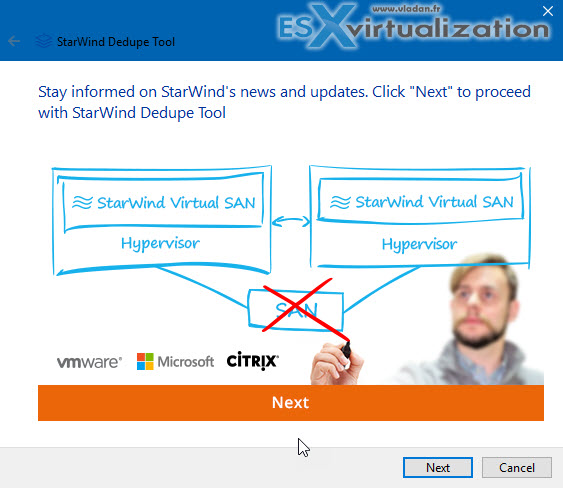 After selecting your volume, you start the scan. During the scan, you can see the tool calculating the deduplication ratio in a real time. After the scan completes, you'll access the results page.  You have an option to save the results in a text file for archiving purposes as well.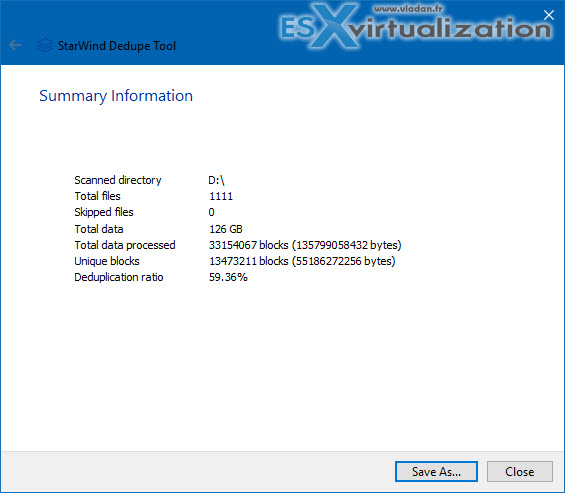 Get the StarWind Deduplication Analyzer Tool from This page at StarWind.
How about StarWind Virtual SAN?
For usual readers of our blog, I'm sure that I don't have to introduce StarWind and their flagship product Virtual SAN. But for those of you who came to this site for the first time, let's do a quick recap.
StarWind VSAN is here for a long time proving that the product is solid and easy to use. A few months back StarWind Introduced new Free version of VSAN which compared to the previous release, is almost unlimited.
Basically, their free version comes with 30 days trial during which you'll have the possibility to have the traditional StarWind management console. After that period you can only use a command line or PowerShell, but the product is otherwise not limited in size, CPUs, or a number of hosts.
StarWind Virtual SAN FREE Version Features:
StarWind Virtual SAN Free is completely unrestricted: it is allowed for production use, supports all usage scenarios of the commercial version, has a perpetual license, and is not feature- or functionality-limited version of StarWind VSAN.
No Capacity Restrictions – you can use as many capacities for your mirrors, as you like (previously restricted)
No Scalability Restrictions – as many nodes as you like. (previously limited to 2-nodes only)
No Time Limit on License – The Free license if for life. After 30 days, the only management option you'll have is PowerShell or CLI.
Production use – can be used in production, but if anything goes wrong, you will only find support through community forums.
PowerShell Scripts – StarWind Virtual SAN Free is shipped with a set of ready to use PowerShell scripts allowing users to quickly deploy the Virtual SAN infrastructure.
No StarWind Support – only community-based support.
StarWind HA – The shared Logical Unit is basically "mirrored" between the hosts, maintaining data integrity and continuous operation even if one or more nodes fail. Every active host acts as a storage controller and every Logical Unit has duplicated or triplicated data back-end.
No virtual tape library VTL as on the paid version.
Quote from StarWind about the Free VSAN edition:
Unlike the previous free version, new VSAN Free delivers unlimited node count, features, and capacity served. It can now be used in any deployment scenario, be it Hyper-Converged, "Compute and Storage Separated", or even a combination of both. Thanks to multiprotocol support, featuring iSCSI, SMB3, and NFS, including RDMA-capable iSER, NVMf, and SMB Direct, StarWind VSAN easily integrates into any infrastructure, be it virtualized or not. In addition, support for VVOLs, SCVMM, and ready-to-use PowerShell scripts help users to speed up and simplify automated deployment, management, and monitoring of their Virtual SAN infrastructure.
Check Detailed post from StarWind Free vs Paid here.
Overview of the standard StarWind Management console.
As you can see, the console has some simple and easy to use options where you can create new devices, add new hosts and configure the solution.
If you use Hyper-V, you can deploy StarWind VSAN in the Hyper-V node to get a HyperConverged solution.
You can deploy StarWind VSAN Free in hyper-converged model where VSAN is installed on hypervisor nodes or in a disaggregated model where compute and storage are separated.
The only difference between the free and paid version is the support (and also that the Free does not have GUI console and VTL support).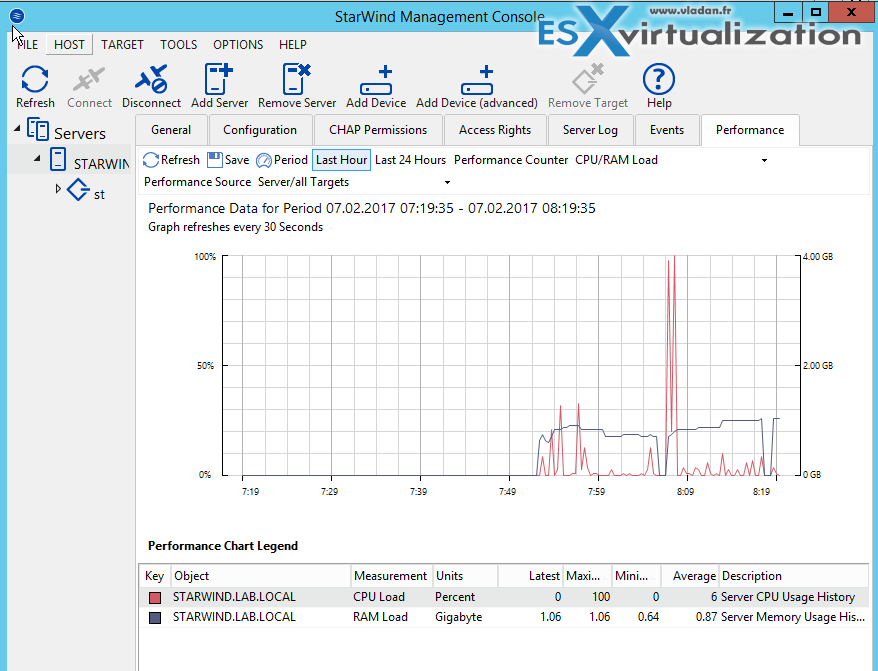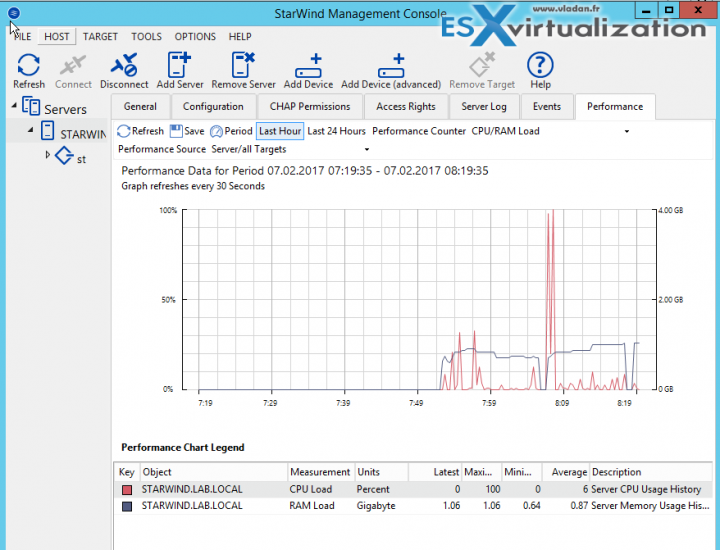 More about StarWind from ESX Virtualization:
More from ESX Virtualization:
Stay tuned through RSS, and social media channels (Twitter, FB, YouTube)