Perhaps you did not know, but StarWind Virtual SAN also supports stretched cluster architectures. For an average admin, it might not be an everyday solution as it is used for special use cases with strict networking requirements (latency and bandwidth). To understand what "stretched cluster" is. You have two remote sites within the same cluster and shared storage spans across both sites. The challenge is to keep this shared storage in sync. And it is the role of StarWind Virtual SAN.
The fact that the storage is highly available and protect against failures, you may have site failure or a failure of the network between those 2 sites, and the system is still up and running. VMs which had been running on the failed site are automatically restarted at the surviving site which is also connected to the shared storage.
Both sites are active, so you can run VMs on both locations, perform live migrations etc. StarWind Virtual SAN shared storage is extended between those two sites and used as stretched storage. The cluster is actively replicating the underlying storage so the VMs does not see any difference with traditional shared storage.
High-level Architecture
Here we have 2 geographically different sites, where a third site is used for running a Witness, which can run at cloud provider's datacenter (Amazon AWS, Microsoft Azure or other).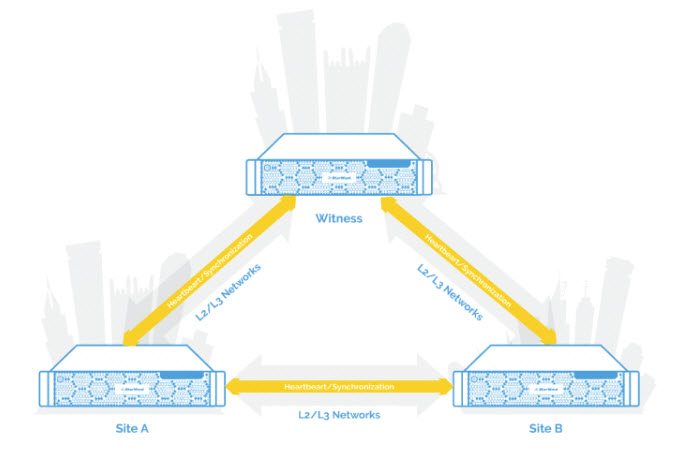 Quote from StarWind
Network latency should be minimized. StarWind HA devices continue synchronization process under 100Mbps throughput and latency of 50ms, which allows protecting several mission-critical VMs. However, StarWind is not able to ensure solution stability In case of higher network latency and slower network throughput. In fact, it is highly recommended to contact StarWind support team so that our Engineer could help you with the configuration and confirm the setup.
The solution is demoed through StarWind Blog post (check the source link) and as an underlying hypervisor is used Microsoft Hyper-V, but as StarWind Virtual SAN is also certified solution for VMware, the architecture is also valid for VMware scenarios.
The setup isn't different from traditional StarWind Virtual SAN setup. After meeting the networking you configure the solution as usual 2-node StarWind VSAN.
Only StarWind Management console and Microsoft Failover Cluster Manager are used for setting up and maintaining the solution. The solution is active-active so you can run workloads at both locations. It is not active-standby where you only use the single site while the other site does nothing, just stays in standby.
It eliminates the need for traditional shared storage (SAN), usually running on both ends, where the active-active link and the replication is managed directly via the SAN storage.
Overview of a StarWind Management console.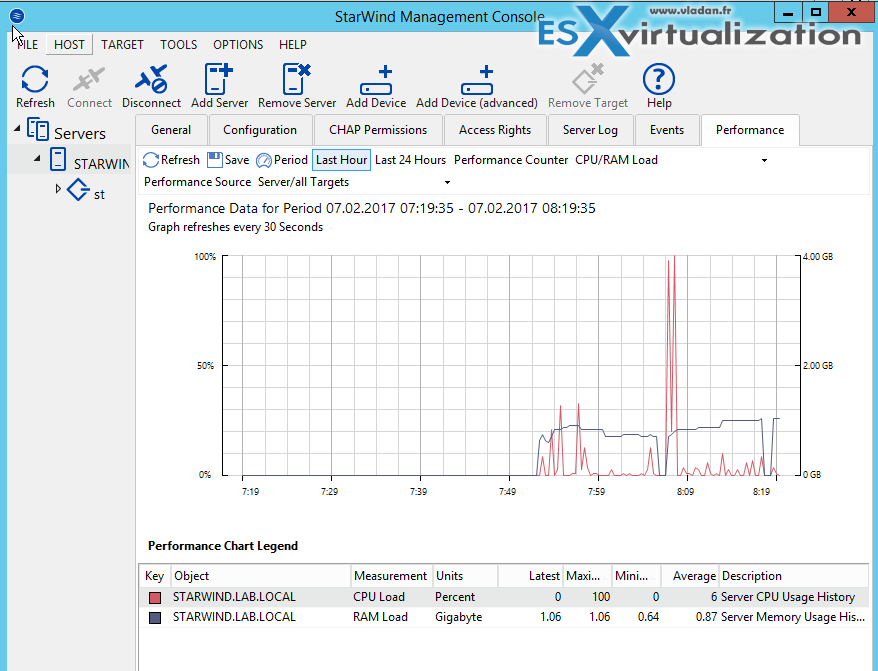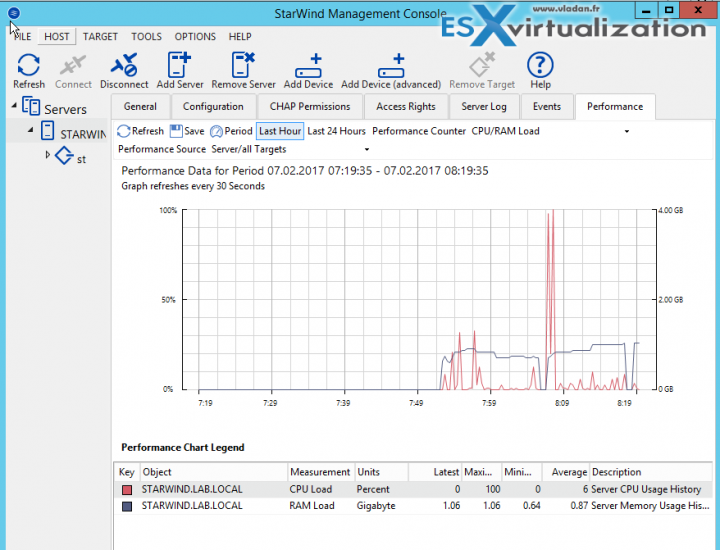 Worth to note that there is also a StarWind VSAN free version. Check below.
StarWind Virtual SAN FREE Version Features:
StarWind Virtual SAN Free is completely unrestricted: it is allowed for production use, supports all usage scenarios of the commercial version, has a perpetual license, and is not feature- or functionality-limited version of StarWind VSAN.
No Capacity Restrictions – you can use as many capacities for your mirrors, as you like (previously restricted)
No Scalability Restrictions – as many nodes as you like. (previously limited to 2-nodes only)
No Time Limit on License – The Free license if for life. After 30 days, the only management option you'll have is PowerShell or CLI.
Production use – can be used in production, but if anything goes wrong, you will only find support through community forums.
PowerShell Scripts – StarWind Virtual SAN Free is shipped with a set of ready to use PowerShell scripts allowing users to quickly deploy the Virtual SAN infrastructure.
No StarWind Support – only community-based support.
StarWind HA – The shared Logical Unit is basically "mirrored" between the hosts, maintaining data integrity and continuous operation even if one or more nodes fail. Every active host acts as a storage controller and every Logical Unit has duplicated or triplicated data back-end.
No virtual tape library VTL as on the paid version.
Links: StarWind Stretched Clustering, or Stretched Clustering White Paper
Source: StarWind Blog
More posts about StarWind on ESX Virtualization:
More from ESX Virtualization
Stay tuned through RSS, and social media channels (Twitter, FB, YouTube)