Compared to traditional NFS architecture configured for high availability, the solution is most often costly as the need for additional dedicated hardware is necessary. But there are other ways to do that and today we'll show you how StarWind and Highly Available NFS share is configured and what's the benefits.
You'll see that a configuration of a two-node fault-tolerant cluster in Windows Server 2016 with StarWind Virtual SAN as a backbone for your HA shared storage. can be done with two servers only. It will allow you to have a continuously available file share(s) available over NFS protocol.
StarWind has no specialized hardware requirements and minimal overall requirements. But when deciding on a new architecture, they also have a choice of hardware appliances which is pre-optimized and pre-populated with the best performance hardware and pre-installed with StarWind Software.
Advantages of StarWind's solution are that by using only two-nodes to provide high availability. StarWind synchronization which is asynchronous and which runs continuously, in the background, allows "losing" one node and still be online with your file share.
StarWind and Highly Available NFS – The Architecture
The architecture proposed starts with an installation and configuration of 2 nodes with Windows Server 2016.
The underlying sync is configured within StarWind iSCSI as we know. This does not change from other, traditional iSCSI architecture by StarWind. What's new in here is to use WS 2016 providing the NFS export to the outside world, on the top of StarWind.
We'll look into the details in a min. Here is the architecture overview (from StarWind's blog post)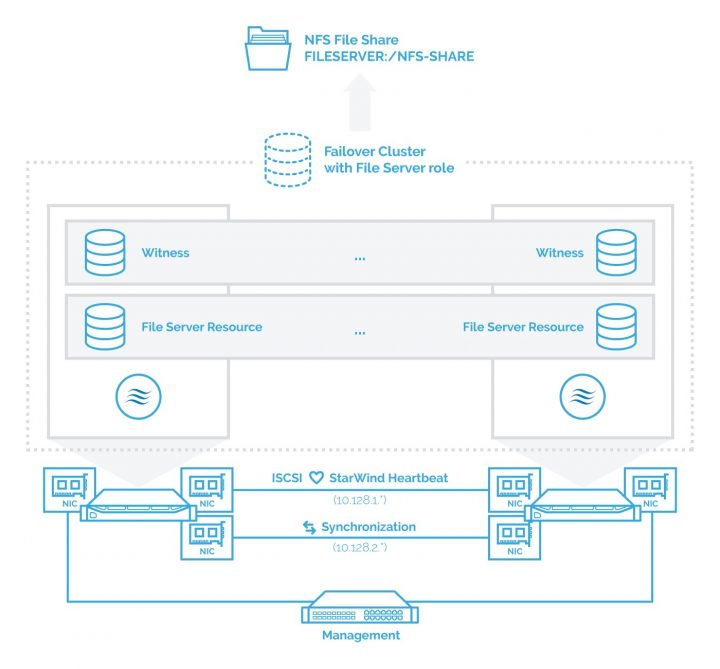 StarWind and Highly Available NFS – Requirements
Two servers running Windows Server OS (today, WS 2012R2, or 2016)
StarWind Virtual SAN software
StarWind and Highly Available NFS – The steps
Install and Configure Windows Server on Two nodes, add them to your Microsoft AD domain as member servers (I assume you have a basic domain controller, DNS architecture already in place)
Install Failover Clustering, Multipath I/O features, and the Hyper-V role on both servers.
Configure static networking on both nodes, with an additional NICs which will be used for synchronization channel and StarWind Heartbeats.
Add File Server and NFS through Server Manager on both WS nodes. Via Server Manager, Manage > Add Roles and Features, then enable multipath IO (MPIO)
Note: You can find all steps within a detailed Step-by-Step article At StarWind blog here: Configuring HA NFS File Server in Windows Server 2016
Download, Install and configure StarWind Virtual SAN software. Configure shared storage, storage pools, caching mechanism, networking…
Via replication manager select Synchronous two-way replication.
Launch iSCSI initiator configuration on each WS node and configure target portals and connect targets. Then configure MPIO.
Launch failover cluster manager and configure failover cluster.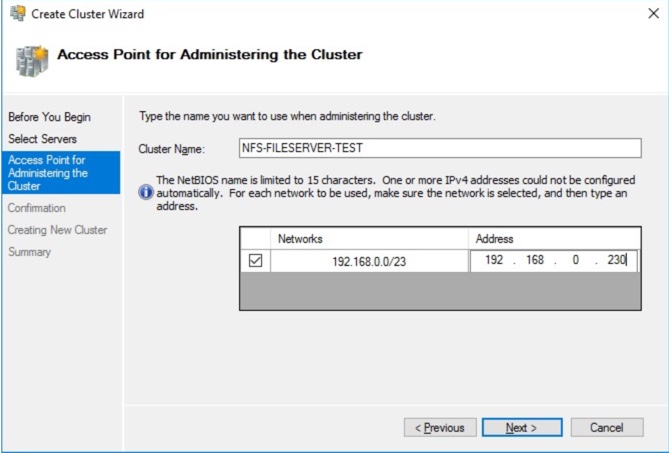 On your WS you can then configure File server role with general use option.
Assign permissions
Share a folder, configure shares permissions and access
This list is only a high-level list. Not a step-by-step. The full configuration with all steps is pretty long and has already been done by StarWind.
Note: You can find all steps within a detailed Step-by-Step article At StarWind blog here: Configuring HA NFS File Server in Windows Server 2016.
StarWind Virtual SAN FREE Version Features:
StarWind Virtual SAN Free is completely unrestricted: it is allowed for production use, supports all usage scenarios of the commercial version, has a perpetual license, and is not feature- or functionality-limited version of StarWind Virtual SAN.
No Capacity Restrictions – you can use as many capacities for your mirrors, as you like (previously restricted)
No Scalability Restrictions – as many nodes as you like. (previously limited to 2-nodes only)
No Time Limit on License – The Free license if for life. After 30 days, the only management option you'll have is PowerShell or CLI.
Production use – can be used in production, but if anything goes wrong, you will only find support through community forums.
PowerShell Scripts – StarWind Virtual SAN Free is shipped with a set of ready to use PowerShell scripts allowing users to quickly deploy the Virtual SAN infrastructure.
No StarWind Support – only community-based support.
StarWind HA – The shared Logical Unit is basically "mirrored" between the hosts, maintaining data integrity and continuous operation even if one or more nodes fail. Every active host acts as a storage controller and every Logical Unit has duplicated or triplicated data back-end.
No virtual tape library VTL as on the paid version.

Check this: FREE vs Paid – StarWind Virtual SAN
StarWind Virtual SAN Free use cases:
Shared storage for Microsoft Hyper-V VMs and SQL Server DBs
Shared storage for Microsoft Failover Clusters, Exchange, Oracle and SAP DBs
Shared storage for KVM, Citrix XenServer and Xen Project VMs
HA file server
More articles about StarWind
StarWind and Highly Available NFS – Links:
More from ESX Virtualization
Subscribe to RSS, and social media channels (Twitter, FB, YouTube)