Not so far back we have pointed a scenario which was destined for VMware administrators willing to use local disks (or Direct Attached Storage – DAS) to install StarWind Virtual SAN. 2-Node scenarios are very popular because of their efficiency and cost. No need for shared storage because we have a StarWind Mirror. Today's post is about Hyper-V Cluster 2-Node Windows Server 2016 With StarWind Virtual SAN.
Hyper-V and Windows Server 2016 has become the second choice of IT admins. So using exactly the same scenario as in the post for VMware we can use StarWind Virtual SAN and the direct attached storage (DAS) in each server, then create a shared pool which is used to store and run VMs.
The solution does not need traditional shared storage (SAN/NAS) to provide the same level of performance and availability as an infrastructure with a hardware-based SAN/NAS.
Quote:
It creates a fully fault-tolerant and high performing storage pool built for the virtualization workloads by mirroring existing server's storage and RAM between the participating storage cluster nodes. The mirrored storage resource is then connected to all cluster nodes and treated just as local storage by all hypervisors and clustered applications. High Availability is achieved by providing multipath access to all storage nodes.
Additionally, the solution uses data locality where IOs are first processed in the RAM, then SSD cache and then spinning disks.
Hyper-V Cluster 2-Node Windows Server 2016 With StarWind Virtual SAN – The Architecture
The architecture to be followed looks like this: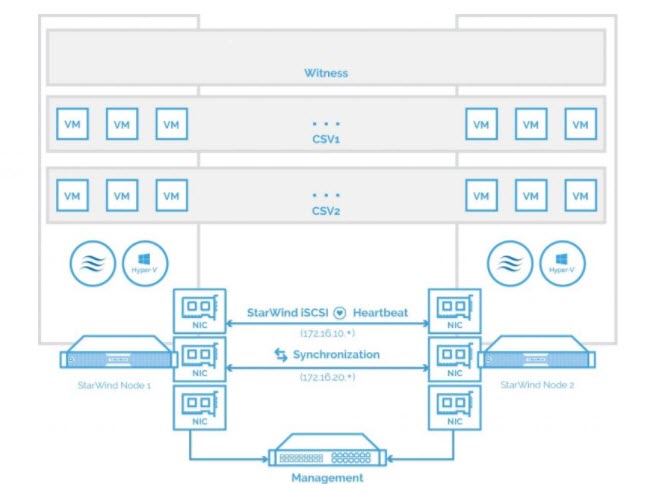 The Steps:
Basically, you'll have to:
Install 2 copies of Windows Server 2016
Activate Hyper-V role, Failover Clustering, Multipath I/O
Configure NICs
Enabling Multipath
Install And Configure StarWind Virtual SAN
Create shared storage
Activate Synchronous replication
Define Failover Strategy
Assign Networks within StarWind Console
Create and connect iSCSI targets
Configure Multipath
Connects Volumes to servers
Create Cluster within Failover cluster manager
Add Storage to cluster and configure witness
Configure network for cluster
Tweaks
In fact, as in our example with VMware infrastructure, you better follow the detailed blog post at StarWind or Download the PDF from there. It's because the whole procedure involves about 101 steps.
You won't get lost as they have every step recorded with a screenshot. The PDF has the same content and allows offline reading. If you follow those steps, you'll configure the solution the way it should. Consider it as a current best practice document.
StarWind Virtual SAN has Free and Paid versions now. The differentiation is really simple.
StarWind Virtual SAN FREE Version Features:
StarWind Virtual SAN Free is completely unrestricted:
You can use it is for production use as well. It does support all usage scenarios of the commercial version, has a perpetual license, and is not feature- or functionality-limited.
No Capacity Restrictions – you can use as many capacities for your mirrors, as you like (previously restricted)
No Scalability Restrictions – as many nodes as you like. (previously limited to 2-nodes only)
No Time Limit on License – The Free license if for life. After 30 days, the only management option you'll have is PowerShell or CLI.
Production use – can be used in production, but if anything goes wrong, you will only find support through community forums.
PowerShell Scripts – StarWind Virtual SAN Free is shipped with a set of ready to use PowerShell scripts allowing users to quickly deploy the Virtual SAN infrastructure.
No StarWind Support – only community-based support.
StarWind HA – The shared Logical Unit is basically "mirrored" between the hosts, maintaining data integrity and continuous operation even if one or more nodes fail. Every active host acts as a storage controller and every Logical Unit has duplicated or triplicated data back-end.
No virtual tape library VTL (Only paid version).
More details about StarWind VSAN.
Follow the detailed post at StarWind in order to Install Hyper-V Cluster 2-Node Windows Server 2016 With Starwind Virtual SAN.
StarWind Virtual SAN is a software-based solution which can be adapted to many environments. You can use a lot of different hardware, storage, networking components, but if you want the easy way, you should definitely consider StarWind Appliance, which is an All-In-One solution. You'll get hardware and software pre-installed and preconfigured, with an active support.
You don't have to worry about which components to pick, or which server to buy. StarWind engineers have fully supported nodes which are ready to be deployed.
More about StarWind from ESX Virtualization:
More posts from ESX Virtualization:
Stay tuned through RSS, and social media channels (Twitter, FB, YouTube)