The Xangati Management Dashboard (XMD) is used to help the VMware Core Lab staff to get the closer look at the performance etc. You can read my review of the product in my blogpost here. I'm here with Nathanel Iversen from Xangati which is showing me the XMD and it's features and metrics in the labs at Copenhagen's Belacenter. New this year is the possibility directly monitor the performance of the PCoIP protocol, which is used to access the remote desktops. As you might already read on my website here, thanks to compression and deduplication, VMware View 5 achieves up to 75% better performance than the previous versions.
The XMD monitors the VDI sessions which are not located at Copenhagen's Belacenter, but in the cloud – at three service providers: distributed Public Cloud model (3 Cloud based Datacenters – Las Vegas, Miami, Amsterdam) provided by Terramark, Colt and Switch Supernap.
What's monitored:
An overall health score of the VMworld infrastructure
Live interactions between the virtual desktops and the resources (servers, VMs, apps, networks, clouds, storage devices) they use to conduct the lab sessions
Alerts and recordings
PCoIP activity and detail
17 physical ESXi hosts is used as the base brick of the whole infrastructure. Then there is vCloud Director 1.5 and vApps that has the environment for each lab. In this environment to which each thin client connects, there are some VMs and also some virtual ESXi hosts having themselfs some nested VMs.
The labs (as usually) are fantastic. If I could I would spend here the whole stay, but it's impossible. Theres is many things to do and watch.
There is more than 25 lab topics with almost 8,000 lab seats conducting up to 240 simultaneous lab sessions during the three-day event in Copenhagen.
And I was able to talk with Irish Spring about what are the chances that the labs going to be accessible remotely after VMworld. He told me that there are several ways explored on how to make this happen. The lab's hardware is actually borrowed from EMC, Netapp etc… so VMware uses this hardware for like 6 months and prepares the new labs for each VMworld. So if this possibility to make those labs accessible remotely actually come true, the hardware would have to be accessilble 12 month/year.
So what's the reflections on the subject? It might be possible to make thos labs available for VMware Partners, so they would be able to use those labs for testing. For example SRM projects could be easily tested by partners, for remote replications etc.. VMware tries to think on how to manage those labs as well, since the management and the monitoring has to be assured as well. So additional costs would be involved with that. So they might actually charge for that…….
But what would be cool, if those labs would be accessible for VCPs, VCDX, and vExperts, so they could just benefit from the infrastructure to get more sharp on the knowledges.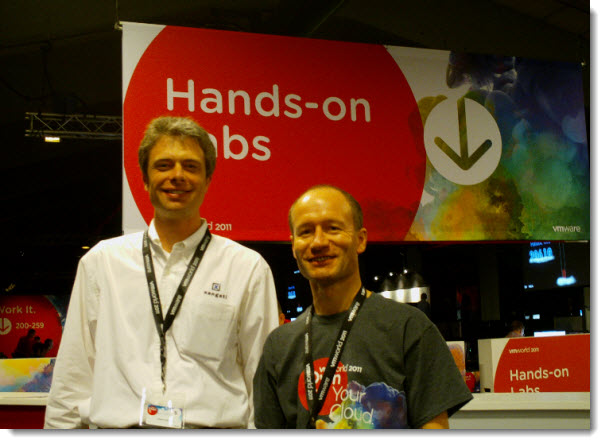 The blogpost might get updated at the later stage when I get back home and get some more time, since being at VMworld, beleive me, You don't have time to blog…. -:)
Update: Video in the labs with Nathanael
VMworld Copenhagen 2011
VMworld Copenhagen 2011 first impressions
VMworld Copenhagen 2011 – in the labs with Xangati and talk about Xangati Management Dashboard – this post