VMware vSphere keeps evolving. With every new release of VMware vSphere, there is a new VM hardware version introduced and the number increment on regular basis, every two years approximately. Right now with vSphere 6.5 we have the most recent VM hardware version. In today's post, we will discuss a Three Ways To Determine VM Hardware Version on VMware vSphere.
The VM hardware version (virtual machine hardware version) basically means the virtual hardware functions supported by a virtual machine (VM), which coreleates to the hardware on the ESXi host. Hardware versions usually add new features and enhancements to VMs. This can be for example
Note that there is usually a case when you want upgrade VM hardware version, not downgrade. But in certain situations, you might need to downgrade VM hardware version too. It can be in a case when a virtual machine is created on a VMware product that supports a given virtual hardware version and is then migrated to a VMware product that does not support this level of virtual hardware, it does not power on.
We can quickly invoke the downgrade options too.
VM Hardware Downgrade options?
Virtual machine's hardware version can be downgraded only by Workstation 6.x or later, Converter 3.x or later, and Fusion 2.x or later. I have a post called Three Ways to Downgrade Virtual Machine Hardware Version.
But let's get back to our principal topic which is:
Three Ways To Determine VM Hardware Version on VMware vSphere
Option one – simply by using vSphere web client
Select the higher point, your vCenter server, ) and then VMs TAB. You might need to add/remove columns to add a new column in the case that the "compatibility" column is not showing by default.
As a result, you'll obtain all your VM's list and the corresponding VM hardware version, which you can sort by clicking the column's header. Easy, right?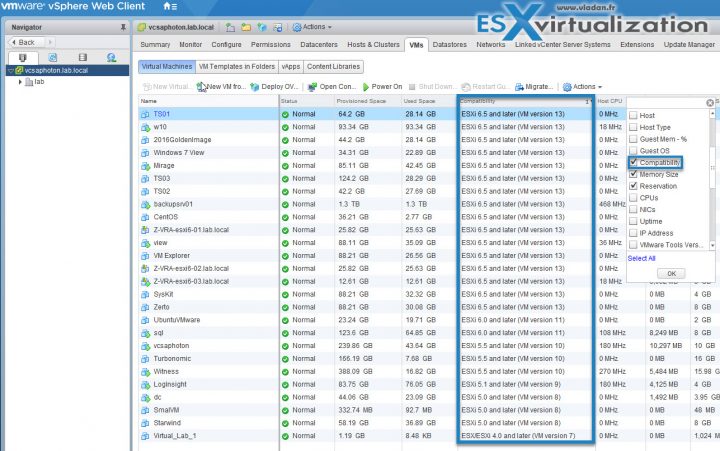 Option two – for individual VM only
You can see the hardware version within the summary tab of the individual VM when selected. You'll find it on similar place within the old Windows Client or HTML5 Web client.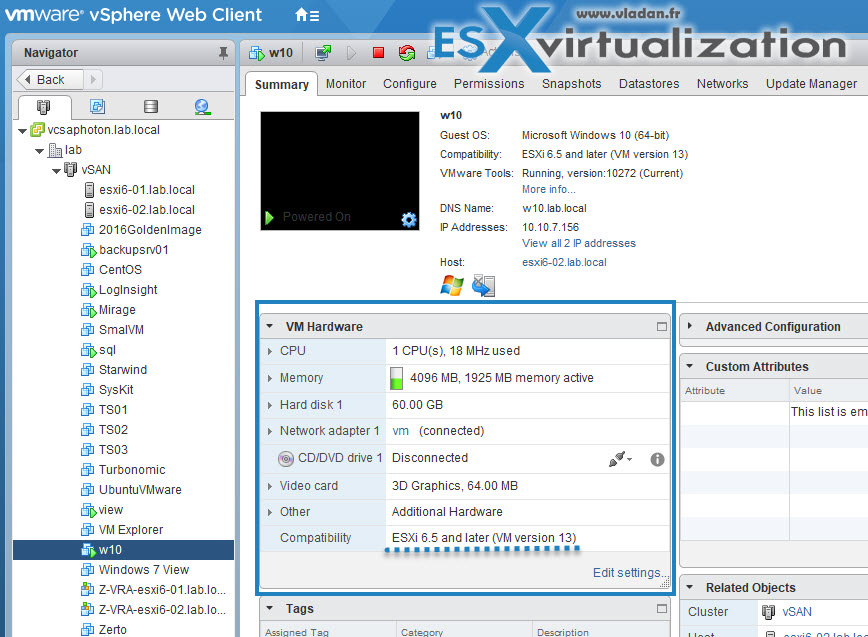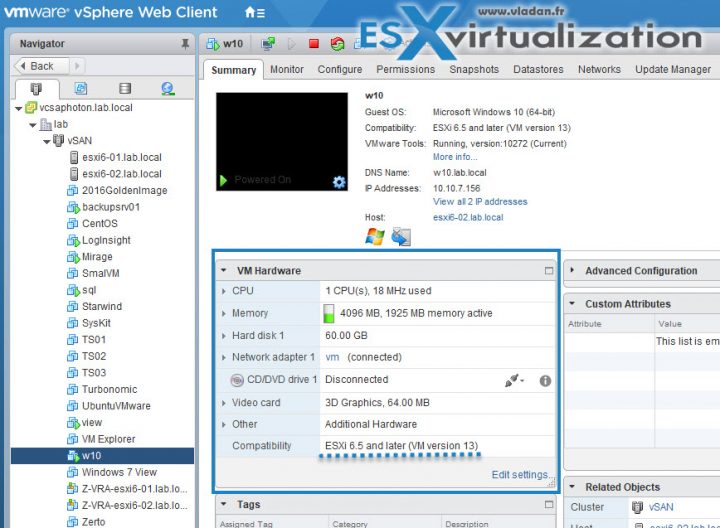 Option two – third party software
Here I can recommend free utility called RV Tools which many of our readers knows already as I have written detailed posts about it many times.

Those are Three Ways To Determine VM Hardware Version on VMware vSphere. I'm sure that there is PowerCLI way of doing it or other too.
I'll add few more screenshots from VMware KB which are useful when determining the features you're "missing" by staying on lower VM hardware versions. Usually, it's not a big problem to upgrade the VM hardware version, but VM needs to be rebooted for the changes to take an effect.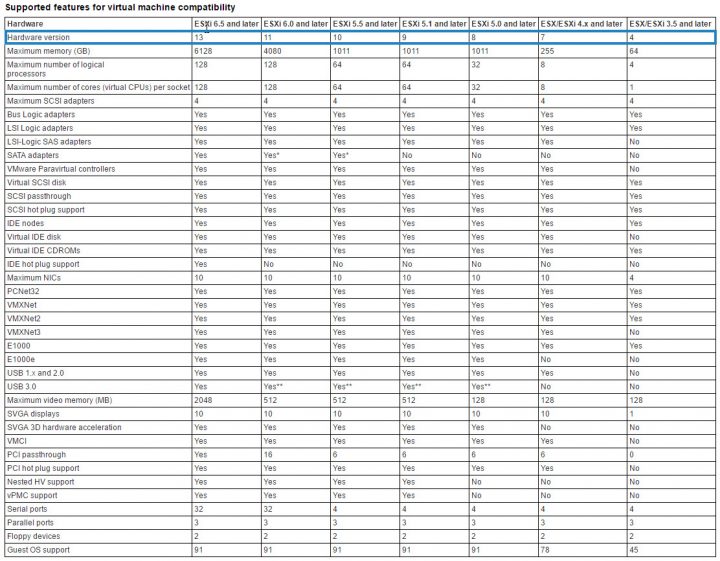 As a result, many admins simply don't do that because it takes some time which can be spent elsewhere. But no matter what, at the end of the day sooner or later, one has to go through and upgrade.
VM hardware upgrade Requirements?
VMware recommends creating a backup or snapshot of the virtual machine.
Upgrade VMware Tools. On Microsoft Windows virtual machines, if you upgrade the virtual hardware before you upgrade VMware Tools, the virtual machine might lose its network settings.
Verify that all .vmdk files are available to the ESX/ESXi host on a VMFS3, VMFS5, or NFS datastore.
Verify that the virtual machines are stored on VMFS3, VMFS5 or NFS datastores.
What's the VM Hardware Upgrade process?
Start the vSphere Client or vSphere Web Client and log in to the vCenter Server > Power off the virtual machine.
Right-click the virtual machine and select the menu command to upgrade virtual hardware > Configuration > Upgrade Virtual Hardware
The software upgrades the virtual hardware to the latest supported version. The Upgrade Virtual Hardware option will show if the virtual hardware on the virtual machine is not the latest supported version.
Click Yes to continue with the virtual hardware upgrade > Power on the virtual machine.
If it's Windows VM, the OS will detect a new device, configures the device, and prompts you to reboot the VM.
Links: 
More posts from ESX Virtualization:
Stay tuned through RSS, and social media channels (Twitter, FB, YouTube)