Normally we would not put such a simple topic on a paper blog, but with so many disinformations around, we thought that this might be just another nontechnical post explaining VMware Terminology. But here it is. This post will explain with simple words What is VMware Hyper-Converged Infrastructure and VMware vSAN.
We're usually writing technical posts or posts giving IT and VMware admins some tips on how to configure, upgrade and maintain VMware infrastructures, but recent successful post (share over 2.3K over our social media channels) was not really technical – What is The Difference between VMware vSphere, ESXi, and vCenter.
Before we actually start, it might be a good idea to explain what is converged infrastructure first. The most important difference between converged and hyper-converged infrastructures is that in a converged infrastructure, each of the components in the building block is a component that can be dissociated from the other. For example, one can pick the server to use it just as a server, or the storage device (SAN) which can be separated, to be used as a storage device. Both can be separated and used separately.
What is VMware Hyper-Converged Infrastructure?
VMware Hyper-converged Infrastructure (HCI) is software driven and when you pick a bunch of servers with some local storage in each one of those, a VMware vSAN software can literally transform this local storage which is in each of those hosts, into a single datastore visible to all hosts participating in the VMware vSAN cluster.
Note that you can't just use ANY hardware, but only hardware which is on VMware HCL for vSAN. Better yet, the most easier is to pick a VMware vSAN ready node which is pre-configured with hardware compatible for VMware vSAN.
On the screenshot below you can see the individual hosts, each populated with local storage and the virtual SAN datastore. It spans all the hosts. Yes, each host participates with its local storage, to the shared pool datastore.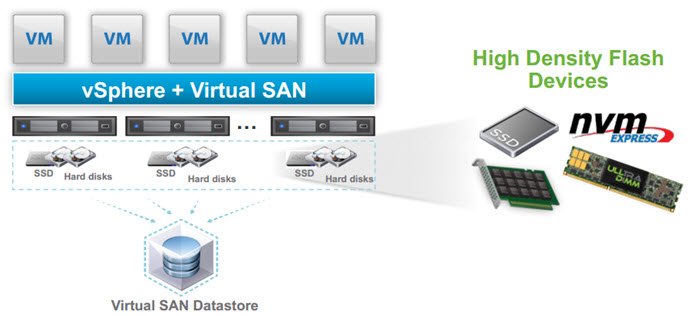 And the same way that we use VMware cluster within a traditional converged infrastructures, it is the same for vSAN cluster, but in this hyper-converged infrastructure, it's vSAN playing the role of shared storage. Not a dedicated storage device such a SAN.
Well, I think we cannot be more simple with our explanations. We have published tons of articles on VMware vSAN over the past 3 years. It's worth to mention that the latest VMware vSAN 6.6 release which has been released just a few weeks ago, has the largest number or innovations and improvements. You can find our detailed article about VMware vSAN 6.6 here – VMware vSAN 6.6 Announced.
The product went GA about a week after the announce. There were quite a few folks asking for the download link, but as we mentioned in the post, it is an announce, not a release. But this isn't new. VMware now always announces new release, but then the availability of the bits isn't always immediate… -:)
We were pleased to upgrade the lab with the vSAN 6.6 All-Flash and to find out that everything worked, after driver and firmware update on our LSI 3008 storage controller. We had to "silent" one HCL check. This is new in vSAN 6.6, the possibility to silence some HCL checks which otherwise appear red.
vSAN enhanced the way it handles the failures. It's now smarter and more predictable.
Degraded Device Handling (DDH)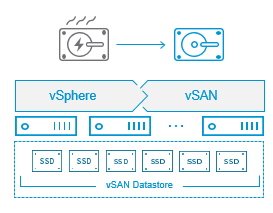 This features watches the exact state of a disk. Will the disk have a failure? If yes, then let's move the data elsewhere before the disk fails.
Smarter intelligence to detect impending drive failures (Impending Drive Failure (High Data Availability Risk))
If there is a replica, then the "almost failed" device is marked as "absent" and standard repair process kicks in.
If it is the last replica, then proactive evacuation of components will occur.
Any failures on evacuation will show through the UI
VMware VSAN encryption:
When encryption is activated, it uses an XTS AES 256 cipher, in both the cache and capacity tiers of the vSAN datastore. This protects data which are in the cache (hot) but also data which are in the capacity tier.
Works with deduplication and compression
Works for hybrid, all-flash and stretched cluster configurations
It is data-at-rest encryption
It integrates with all KMIP compliant key management technologies such as SafeNet, Hytrust, Thales, Vormetric…
Enabling vSAN Encryption. (img. courtesy of VMware).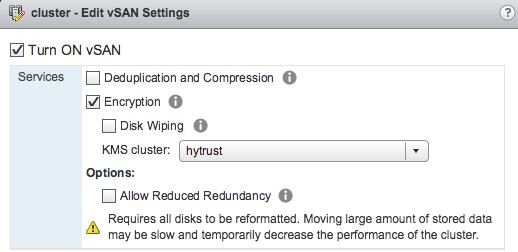 VMware Hyper-Converged Infrastructure and VMware vSAN.
VMware vSAN Performance Improvements
VMware claims several ways that they improved the performance of vSAN.
Reduced overhead of checksum
Improved deduplication and compression
Destaging optimizations
Object Management improvements
iSCSI for vSAN performance improvements
More accurate cache sizing guidelines
Next-generation applications that are sequential-write intensive such as big data up to 250% with latest flash technologies, like the new 3D Xpoint NVMe drives from Intel.
Wrap-UP:
VMware Hyper-converged infrastructure based on VMware vSAN has already seduced over 7000 clients. It's a great success indeed. It's thanks to a simplicity of deployment and management. This is the 6th release of VMware vSAN already.
The advantage of vSAN is that you can start small, to add more nodes the year after or when needed. You can even start without expensive 10GbE switch by connecting 2 nodes with crossover cables and have a third node (which can be smaller) for the Witness.
More posts from ESX Virtualization:
Stay tuned through RSS, and social media channels (Twitter, FB, YouTube)