I'm sure you're not new to the conferences. If yes, keep reading. The fact that the global pandemic situation is finally getting better, opens doors again for in-person events and IT conferences like we use to have before. VMware EXPLORE (previously VMworld) is one of the biggest events. In this post we'll try to sum up some tips which save your time and money, and also allows you to get the most out of it.
Schedule builder is now open. Check schedule builder and create your schedule. Stay organized to maximize the benefits.
Early Bird Price
Yes, the Early bird price is one of them. If you haven't already booked your entry, it might already be late for the US event (get your full pass for San Francisco here), but the European event tickets can still be available at a discounted price. Head to this page to secure your entry for VMware EXPLORE Barcelona. The early bird price ends on the 8th of August for the VMware EXPLORE Barcelona.
Here are the details from the page
Note that if you have VMUG advantage membership, you'll get an additional $100 off the price. You have to register for VMware Explore with the same email address associated with your VMUG membership. (note that this discount cannot be cumulated with group discounts or other discounts).
The group rate is for 5 or more tickets. You'll get also $100 off the price (per entry). One invoice will be generated for a group purchase, which must be paid in a single transaction by credit card or wire transfer.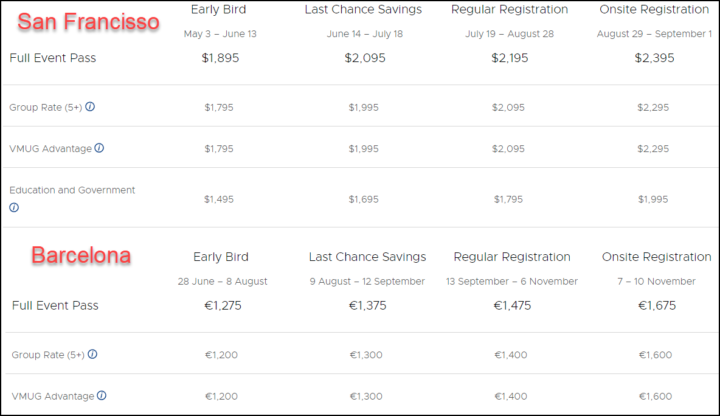 You can pass certification exams (VCP and VCAPs) with 50% discount at the event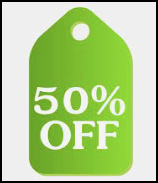 This is one of the reasons (also) to come to the show and get certified for cheaper. I've done this for one of my VCPs and all I can say it works when you're organized and take the exam the first day. If you schedule for the second day, your first day for you will be worrisome, and you won't be able to enjoy it much.
Your full event pass purchase also allows you to add on VMware Certified Professional (VCP) and VMware Certified Advanced Professional (VCAP) certification exam vouchers during registration at a 50% discount (exams must be taken onsite during VMware Explore Europe).
Quote From Pearson's page:
To register in advance for an exam:
Click here, log into your VMware account and you'll transferred to your Pearson VUE account.
Click on View Exam Catalog link > Select Exam from Exam Catalog
When you get to the Test Center Search option and enter "San Francisco" or "Barcelona" in the Find Test Centers near box.
If registering for a VCP or VCAP or Badge exam, select one of the centers below, check the box for either the VMworld US (San Francisco) or VMworld EMEA (Barcelona) location::

Select: VMware Explore US – Conf Attendees Only
Moscone Center
747 Howard Street
San Francisco, CA 94103
United States- or –
Select: VMware Explore Barcelona – Conf Attendees ONLY
Fira de Barcelona Gran Via
Av. Reina M Cristina
CC5
08004 Barcelona
Spain

Select the date and time in which you would like to complete your conference exam appointment.
Complete the remaining payment steps.

If you purchased a VCP or VCAP discounted exam voucher as part of your VMworld registration, you will enter the voucher number in the payment section, and you will pay $0 at checkout.
If you do not already have an exam voucher, your exam fee will reflect the 50% discount, and you will pay the remaining amount due at this time.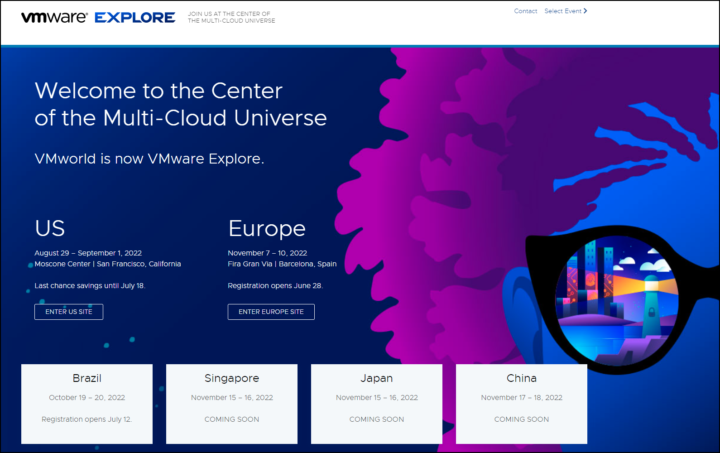 Transportation to and from the event
If you're staying in a hotel or AirBnB at the Barcelona center, you'll need to get to Fira Barcelona building by some kind of transport. Walking distance is too far from the event. It's wise
Every attendee shall get 10 Metro/bus tickets for free when you register and pick your backpack at the event. (that was the case during the past events in Barcelona and I hope VMware will renew this experience).
You can travel into the city, to your hotel from the conference, for free. Otherwise, if you're tight on the budget, the public transportation works very well and the fare isn't expensive. Note that over the years I preferred busses as Barcelona's metro is a 27/7 sauna. You would not imagine the heat in there! But if you prefer….
The Barcelona taxis weren't expensive either, back in a day. I think a ride from city centre to the Fira was around $10-13, but with the crazy gas prices at the moment, you better check that out.
What to wear and what to pack into your suitcase?
If your company sends you to attend this event and your boss isn't coming with you, then you'll probably be fine with jeans, t-shirt, sneakers… Be comfortable! Get comfortable shoes. If you don't, you'll kill your feet the first day and the other two-three days you'll suffer. -:)
I usually only take cabin luggage where I squeeze as little as possible for those 2-3 days at the event. Also, vendors in the solution exchange often have some goodies, some "swag" so If you want to get some of these, don't pack your small luggage too tight and leave some room for those perks you'll pick during the event.
Schedule your sessions
Make your schedule before the event. During the event, you won't have time. The general agenda for US event is here. The content catalog will go up the June 28th.
Catch up with bloggers and peers
If you want to catch up with your favorite bloggers, come up to the VM Village to say hi. (Get in touch on Twitter to make sure we're there)… Within the blogger's area, usually, there are also folks from vBrownbag recording "TechTalk videos" so you can have a look too. If you have something to offer, and you want to present, check with Alastair from vBrownbag.
What's Awesome during VMworld?
You may ask, why would I bother my boss to send me to VMworld? I give you a few reasons. The first one is learning new tech. Whatever is your interest, VMware is now having a very large number of products and technologies that give you a great opportunity. You can interact directly with folks at VMware to get the latest info and get in touch personally with software developers or product managers.
Get in touch directly with people, with your favorite bloggers, IT friends, or personalities.
Below is a photo with Anton Gostev (Veeam). A real legend in the industry.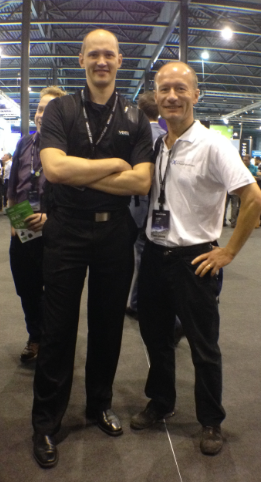 The second reason is "networking". One of the best networking experiences I had was during VMworlds. I recognized other bloggers and peers at the event because they kept their photo within their Twitter profiles! If you want to be sure to meet someone, and If you want to get in touch with him/her, just ask him/her to follow back and then hit him with a direct message.
I've met new bloggers during VMworld, we talk and ask some questions. What should we do to be a successful blogger or what works best for you on a website or blog. It's fun. But to give a simple answer it's not easy. and there is no single receipt.
What's included in the full conference pass?
Your registration fee for a full event pass at VMware Explore Europe entitles you to the following:
450+ in-person and online sessions, including the general session, solution keynotes, breakout sessions, roundtables and more*
Destinations, lounges and activities such as The Hub, The Expo and VMware Hands-on Labs
Admittance to official VMware Explore evening events: Welcome Reception, Hall Crawl and The Party
Attendee meals Monday through Thursday
VMware EXPLORE conference pass San Francisco here. Or, head to this page to secure your entry for VMware EXPLORE Barcelona.
More info about VMware EXPLORE at the official site here.
Final Words
If there is not something to miss, it's VMware EXPLORE. And if you cannot attend this physical event (the first physical event after 3 years of pandemics) you can still register and attend the Online conference for FREE.
Previous VMworld's that we have attended – 2019,  2018,  2017,  2016,  2015,  2014,  2013,  2012,  2011,  2010.
More posts from ESX Virtualization:
Stay tuned through RSS, and social media channels (Twitter, FB, YouTube)