Runecast Analyzer 5.1 has brought another interesting feature that might interest VMware customers. It's called a Configuration Vault and it allows you to highlight inconsistencies and configuration drift in your environment. As you know, Runecast now supports not only vSphere, vSAN, NSX, but also Horizon View, AWS cloud, Azure, Kubernetes clusters and VMware SDDC. All those environments are changing over time. You continuously change configurations, tweak for performance or troubleshoot problems. Runecast Analyzer is able to track those changes and report back to you what's changed.
This is quite useful when tracking performance problems on VMs, hosts, or clusters. Is it due to the config change since someday? Did someone from your IT team has changed something during your vacations? Yes possible. You imagine the scenarios. Runecast might be the right product to have for tracking those changes in detail. The latest release has brought a new summary widget in Configuration Vault to spot changes or deviations easily.
In the past, I've seen only one other product delivering change tracking on vSphere environments (It was at the very beginning of vSphere and the product doesn't exist anymore I think).  So having Runecast doing it is a game-changer. I have only played with this feature during a single day so I can't show you really any historical changes. I'll rather show you the UI and the different possibilities. Runecast is distributed as a virtual appliance.
Runecast Configuration Vault
You can find this feature on the left where the menu is. There is a new section starting the 5.1 release. If you haven't updated your copy of Runecast, make sure that you download the latest update first. When you click the Configuration Vault, on the right you'll have an inventory filter allowing you to filter your environment by an object, hardware, folder, host etc…
And as you can see on the host level, each host has many different things that are tracked (Model, memory, CPU model, ESXi version, ESXi build, Release, service tag, BIOS version, HBA count, NIC count, IO devices, DNS servers, Management IP…… And that's why there is that big long horizontal slider allowing you to scroll horizontally and find any differences.
Click to enlarge.

So if I go and continue my exploration, I can spot some differences already (arrow top right – clickable).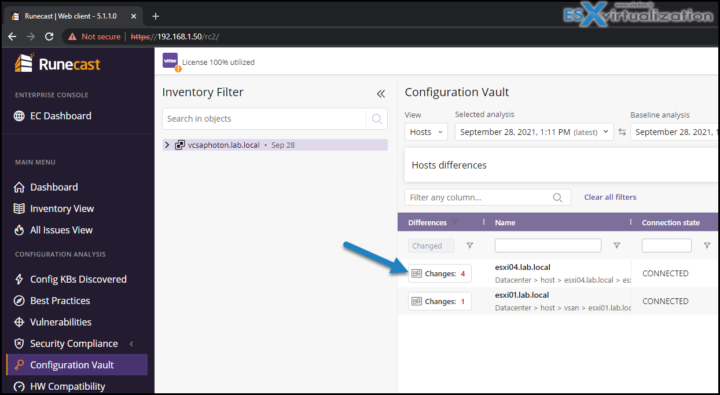 When I click the changes found by the system It opens a pop-up layered window where I can see that in my environment there is a changed NTP setting. (Note that this is my fresh vSphere lab which did not have NTP active). Runecast obviously found the change…..
You can see the date and hour when the alanyze took place compared to the baseline analysis (in my case the one from 10:51 AM).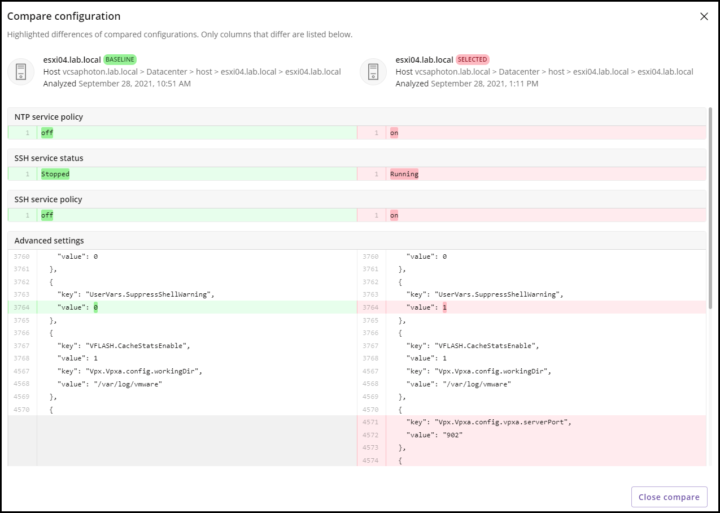 You can filter and compare analysis between dates…. yes if you know that change in your environmetn occured when you were on vacation for example -:).

Quickly filter your large enviroment based on clusters, datastores, hosts, I/O devices ……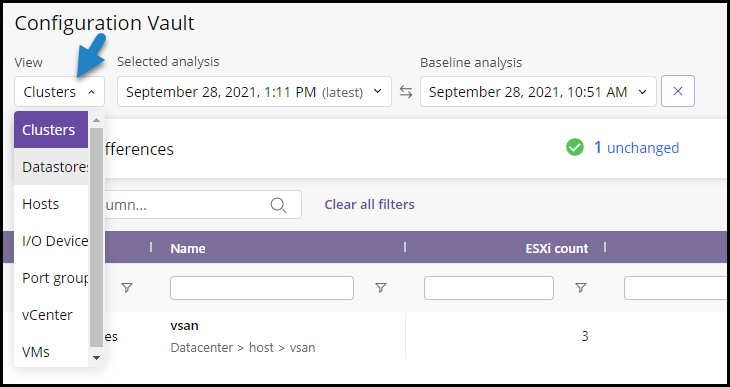 Track Storage Changes
You can also Show Charts which gives you even more visual… (selected storage in this view). When you click the Changes button

you'll get a comparison change in your storage. Again the same logic. Red and Green to differenciate the dates.

By now, you probably know all the other features and the main reason why I like Runecast. It allows you to spot big and dangerous configuration errors within your vSphere environments, can avoid PSOD by alerting you that you're using the wrong driver/firmware combination for your storage or network card or that the firmware of your particular hosts does not match the others. The findings are correlated with VMware KB articles so Runecast finds the problems and point you to the solution!
Final Words
Runecast Configuration changes is a cool feature that will make the admin's life easier allowing you to track all compatible environments. Track changes across clusters, NSX, VDI…. wow. This can be pretty huge job when doing manually, don't you think?
Download the Latest FREE Trial of Runecast Analyzer which is 100% compatible with VMware vSphere 7.0. (You need to create an account on the site, to download the trial).
Where can I run Runecast?
Runecast can be deployed to the following environments:
VMware vSphere as a pre-packaged OVA image available on the Runecast Portal or the VMware Marketplace
Amazon AWS as a pre-built AMI image available on the AWS Marketplace
Microsoft Azure as a pre-built image available on the Azure Marketplace
Kubernetes via Helm chart hosted in the Runecast Helm chart repository
When you first install Runecast, the default login/password is set, but you can change it.
How to change the rcadmin password
To change the rcadmin user password, follow the steps below:
Open the Runecast Analyzer VM console
Press F1 and login with the rcadmin user (default password: admin)
Navigate to User Settings and press Enter
Set the new password and confirm.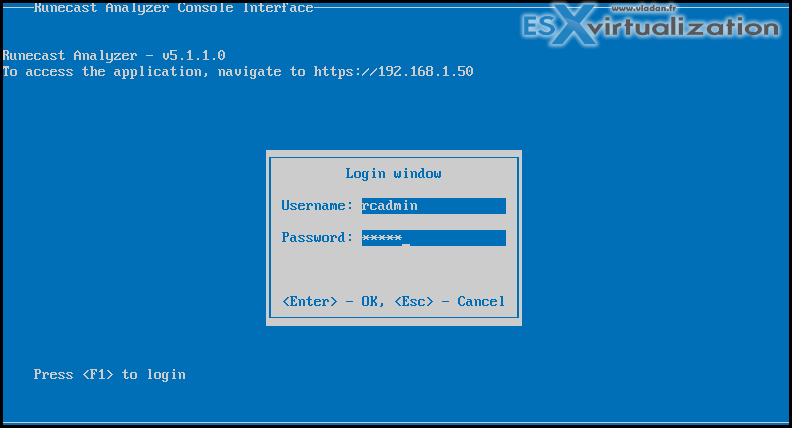 Do you have PSODs often?
A Technical paper which might be your interest. Will teach you what is PSOD, how to get the core dump, and hand it to VMware support for an investigation. You'll learn how to decipher the error and which logs to checks.
Why we're here
What is PSOD?
Why PSOD happen?
What is the impact of PSOD?
What to do when PSOD happens?
How to prevent PSOD
Runecast Analyzer
Download How to deal with PSOD Whitepaper here.
Download the Latest FREE Trial of Runecast Analyzer which is 100% compatible with VMware vSphere 7.0.
More posts about Runecast on ESX Virtualization: