As you might noticed, Trilead is now part of HPE. The latest version is 6.1.2 and has not only completely rebranded UI, but also new features were added, like in every release. The folks at Trilead are quite busy and release cycles are happening quite often. I already reported the details of VM Explorer 6.1 in my post here, but I haven't really tested (showed) the new web based UI.
The web based UI does not need any plugins or Add-ON to run. (No Adobe Flash). The setup is simple. The first thing to do is to create admin password for the web UI and then add your vCenter/Hyper-V cluster (or individual servers). Then hook the backup repository and you can start creating backup jobs. The product is still quite "tiny" in size as the MSI package takes only 34 Megs and no dependencies like .NET are required. You can be up and be running in minutes…
Trilead is now part of Hewlett-Packard Enterprise, and this release includes re-branding of VM Explorer with an enhanced web interface. On the screenshot below you can see the different possibilities when adding different Virtualization platforms, or individual servers (ESX/ESXi or Hyper-V server). Through the same web-based UI window the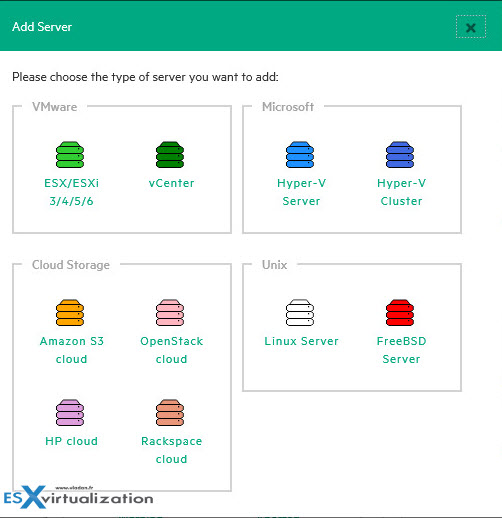 VM Explorer 6.1 introduces the following new features:
Brand-new HPE Web Interface with improvements
The Web Interface has been reskinned and improved, now providing additional features ported from the old desktop interface, like configuration import/export and network drive management. The old desktop interface will be deprecated in a future release.
Multiple files download for File-Level Restore
In the Web Interface, it is now possible to select multiple files to be downloaded at once in a single archive, for example, you can now directly recover several items from a backed up virtual disk.
Copy of Scheduled Tasks
It is now possible to clone an entire Scheduled Task as well as to copy a single Task item into the same or a different Scheduled Task, now it is just a matter of a couple of clicks!
Support for new VD Services VDDK 6.0.2
VM Explorer now supports the latest version of the VMware Virtual Disk Development Kit (VDDK), keeping your incremental backup experience up-to-date.
Split Tape Backups
Now larger VM backups can be easily copied to your tape library, being split into multiple media when necessary; all tape media available space will be used to store your backup data making more efficient use of your tapes.
I quickly tested the installation. So, for example, to get and show the admin menu (on the left), you click the admin icon on right-hand hand side. Then you can select one of the options and change the values, check logs or change general settings. The UI is really good looking and fast to work with. In my example, I wanted to check which languages are available. The French isn't there just yet, but I know that they're working on it… -:)
The French language isn't there just yet, but I know that they're working on it… -:)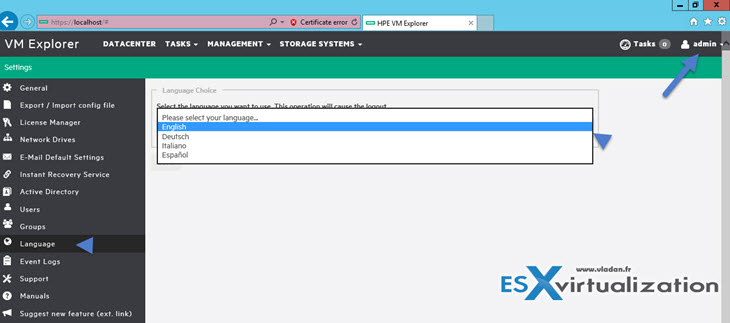 VM Explorer Licensing:
From the HPE website:
HPE VM Explorer is licensed by physical CPU sockets within hypervisor hosts that contain VMs to be backed-up. Each instance must be licensed with a Starter Pack, and additional CPU sockets can be purchased to meet your environment.
HPE VM Explorer Professional Edition Starter Pack includes the license to use (LTU) for 4 (four) CPU sockets.
HPE VM Explorer Enterprise Edition Starter Pack includes the license to use (LTU) for 6 (six) CPU sockets.
Either HPE VM Explorer Professional Edition Starter Pack or HPE VM Explorer Enterprise Edition Starter Pack is obligatory. Individual CPU Socket additions are applied on top of Starter Packs.
Another screenshot from the Web UI where I tested the connection to vCenter…

The enterprise edition is the most advanced. You can check the differences between editions on this page.
Instant VM Recovery (IVMR)
Support for vMotion on IVMR
File Level Restore from the cloud
Automated test on cloud backups
Multi user interface with Active Directory Integration
VMware VSAN support
Encrypted backups
Storage Snapshots with ScaleIO
Wrap-UP:
The product starts looking more robust and the new Web based UI is really good and pretty fast. Good fit for mixed environments as Hype-V is on the list of supported hypervisors. You can download free trial for testing on this page. If you're looking for the PDF manual then you should know that the user manual is installed with VM Explorer to your program file folder. You can also find a shortcut from your Windows start-menu > Trilead > VM Explorer to the documentation folder.
Other posts from ESX Virtualization covering HPE VM Explorer:
Stay tuned through RSS, and social media channels (Twitter, FB, YouTube)