There is a new KB and new video discussing the vCenter Server 5.5 installation best practices. As the vCenter server is one of the pieces which needs to be setup best way possible,  the KB Installing vCenter Server 5.5 best practices is a must. I can highly recommend to bookmark. 
For environments where linked mode is not necessary and (or) VUM can live on another Windows box, you can consider deploying VCSA (Linux based vCenter). Check out my two part articles where you'll see how to install/configure and hook up to your Microsoft AD.
Together with this KB there is also a 20 min video, which shows all the prerequisites of different types of installs (simple vs custom) and also the hardware and software requirements for each of the different components which are present in vCenter server:
vCenter Single Sign-On (SSO)
vSphere Web Client
vCenter Inventory Service
vCenter Server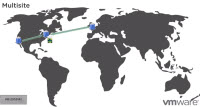 Different hardware and software prerequisites apply for Windows based vCenter server and vCSA (vCenter Server Appliance – Linux based).
SSO is important topic, which got a bit easier to deploy. But with multisite deployments you must pay attention how you deploy as you can have multiple vCenter server hooked to SSO, but each vCenter server has to have its own Inventory service. There is this KB to check out.
One of the topics is sizing of the vCenter DB. There is one factor which affect performance in your environment concerning the vCenter DB. It's number of VMs powered On.  So depending how many VMs you're running the sizing of the vCenter server (or vCenter server VM) is not the same, if we look already the first option for managing up to 500 hosts requires maximum 40 Gb of RAM. This of course depends on the above condition – number of VMs powered on. You probably won't design the VM the same way for different of your clients :
Medium deployments 50 hosts and 500 powered on VMs – 2 cores and 4 Gb of RAM, 5 Gb of Disk space
Large deployments 300 hosts and 3000 powered on VMs – 4 cores and 8 Gb of RAM, 10 Gb of Disk space
Extra large deployments 1000 hosts and 10000 powered on VMs – 8 cores and 16 Gb of RAM, 10 Gb of Disk space
Here is the 20 min long video which I recommend. Through the watching you're able to click on different links pointing to different KB articles in relation with the topic.
With this KB and video you have all you need to deploy vCenter server by using vCenter Server 5.5 Installation Best Practices. You can also check out my vSphere 5.5 page which has more details about vSphere 5.5.