This is our first post covering the new upcoming VCP-DCV 2020 Study Guide (Unofficial) which will allow you to study towards VCP-DCV 2020 certification and is based on VMware vSphere 7 product. It is a work in progress and we're just started. I hope it will help VMware admins to successfully pass their VCP-DCV 2020 certification.
Check for the update at our VCP-DCV 2020 Study Guide page where you'll find all objectives, and in the end, there also should be a Free PDF Guide.
But as for now, it's the beginning of a very long process as the vSphere 7 and the VCP-DCV 2020 exam is bigger, more questions, more topics to cover, more chapters to write….
NEW: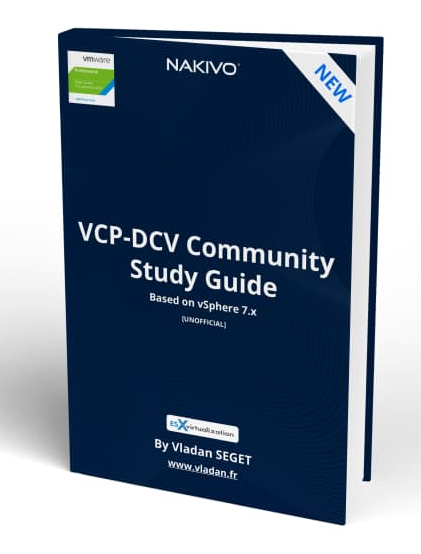 Download FREE Study VCP7-DCV Guide at Nakivo.
The exam duration is 130 minutes
The number of questions is 70
The passing Score is 300
Price = $250.00
In fact, the whole exam blueprint has 80Chapters! The exam has 70 questions and you have 115 minutes. The passing score is 300.
There are single and multiple-choice questions. The cost is $250. Purchase VCP Exam Voucher. The exam code is 2V0-21.20.
The official VMware Blueprint PDF (Exam Guide) can be found on this page at VMware. Note that it's impossible to cover all knowledge for this topic in a single blog post. Please use official VMware documentation for this exam.
You can still become VCP-DCV 2020 and pass the exam 2V0-21.19 and use our Free VCP6.7-DCV Study guide available to download from our partner's site.
System Requirements for VCSA deployments
The VMware vCenter Server appliance can be deployed on ESXi 6.5 hosts or later, or on vCenter Server instances 6.5 or later.
There is a single ISO file which you'll download from MyVMware. (you can use trial 60 days for learning, you just neet to give your email to VMware).
This single ISO has everything so you can Install, Upgrade, Migrate or Restore. 
The installation order is as follow:
Install ESXi on at least one host, then setup ESXi, deploy vCenter Server Appliance (VCSA). Login to vSphere client to create and organize your vCenter server inventory.
In order to start the installer that is located within the file structure of the ISO, just mount the ISO.
If you're looking at the folder structure, you'll see that there is a vcsa-ui-installer and inside we have 3 folders:
lin64
mac
win32
So Let's kick the tires and execute the one from win32 as we're right now on Windows workstation. You'll see the four operations which are available. Click the first one – Install, and let's follow the necessary steps.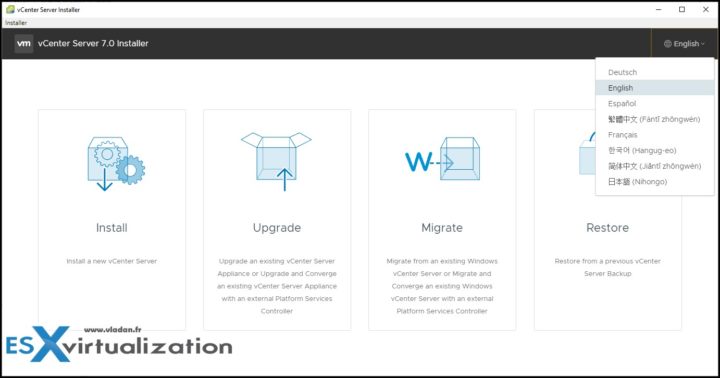 As you can see, there are different languages available for installation.
The GUI deployment is a two-stage process. The first stage is a deployment wizard that deploys the OVA file of the appliance on the target ESXi host or vCenter Server instance. After the OVA
deployment finishes, you are redirected to the second stage of the process that sets up and starts the services of the newly deployed appliance.
The CLI deployment method involves running a CLI command against a JSON file that you previously prepared. The CLI installer parses the configuration parameters and their values from the JSON file and generates an OVF Tool command that automatically deploys and sets up the appliance. The CLI deployment automatically runs both stage 1 then stage 2, with no user interaction required.
Before we get started, we need to create a forward and reverse DNS records on our DNS server.
The authentication services contain vCenter Single Sign-On, License service, Lookup Service, and VMware Certificate Authority.
The vCenter Server group of services contains vCenter Server, vSphere Client, vSphere Auto Deploy, and vSphere ESXi Dump Collector. The vCenter Server appliance also contains the VMware vSphere Lifecycle Manager Extension service and the VMware vCenter Lifecycle Manager.
Version 7.0 of vCenter Server is deployed with virtual hardware version 10, which supports 64 virtual CPUs per virtual machine in ESXi.
Where is Platform Service Controler (PSC)?
No more external PSC. vCenter Server contains all Platform Services Controller services, preserving the functionality and workflows, including authentication, certificate management, tags, and licensing. It is no longer necessary nor possible to deploy and use an external Platform Services Controller. All Platform Services Controller services are consolidated into vCenter Server.
Which services are installed with vCenter server?
PostgreSQL – a DB bundled and preinstalled. It is a VMware distribution of PostgreSQL database for vSphere and vCloud Hybrid Services.
vSphere Client – HTML 5 UI which can be accessed through web browser. No more Macromedia/Adobe Flash.
ESXi Dump Collector – The vCenter Server support tool. You can configure ESXi to save the VMkernel memory to a network server, rather than to a disk, when the system encounters a critical failure. The vSphere ESXi Dump Collector collects such memory dumps over the network.
vSphere Auto Deploy – Allows deployment of stateless hosts. You can specify the image to deploy and the hosts to provision with the image. Optionally, you can specify host profiles to apply to the hosts, and a vCenter Server location (folder or cluster) for each host.
vSphere LifeCycle Manager Extension  – New in vSphere 7. enables centralized, automated patch and version management for VMware vSphere and offers support for VMware ESXi hosts, virtual machines, and virtual appliances.
vCenter Lifecycle Manager – vCenter Lifecycle Manager automatically places servers based on their location, organization, environment, service level, or performance levels.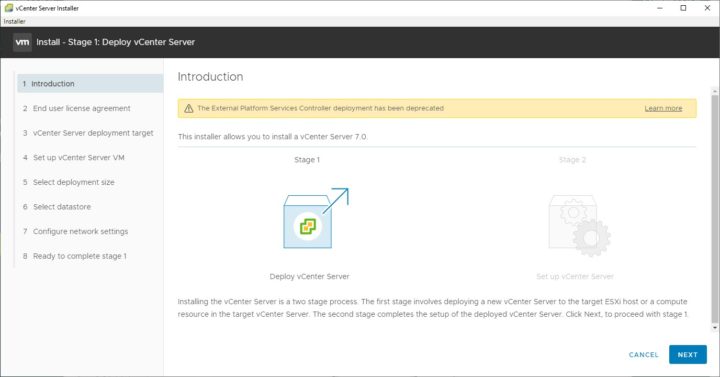 then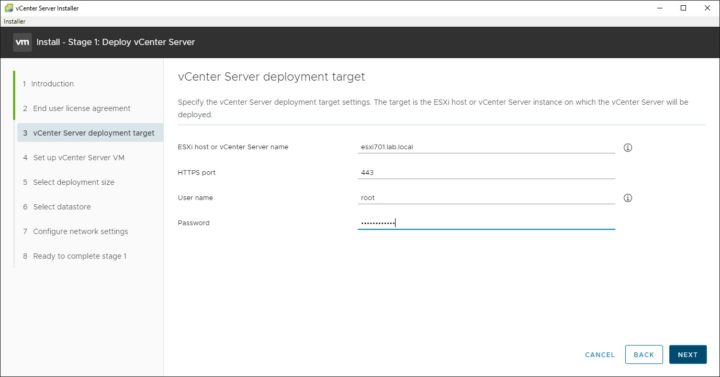 then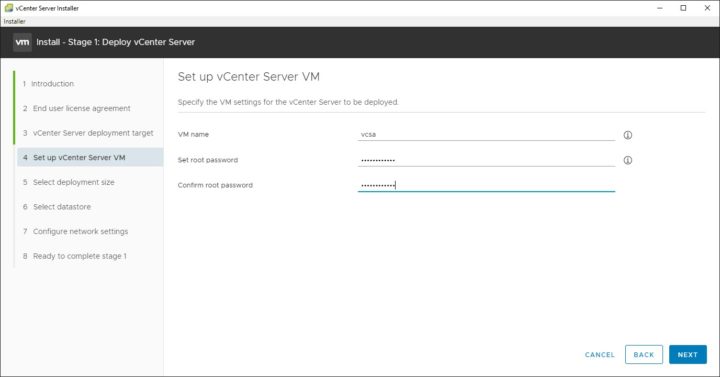 then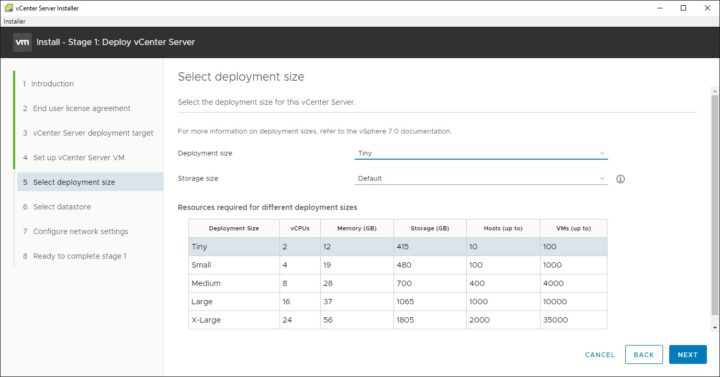 then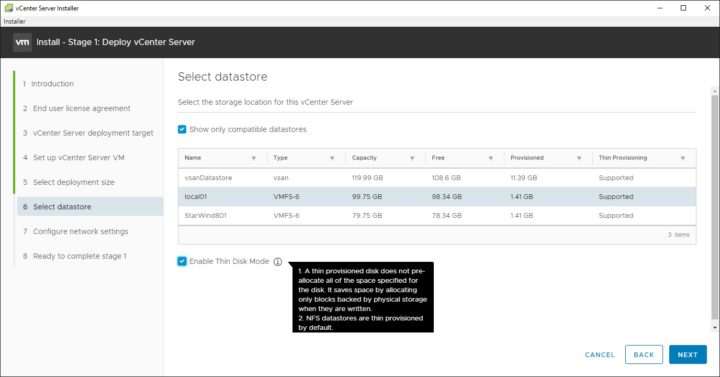 then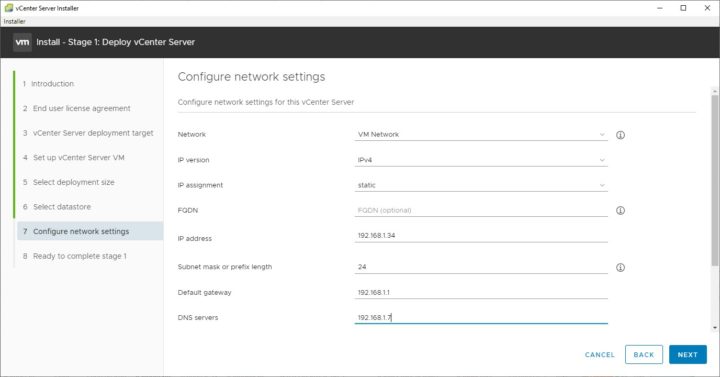 then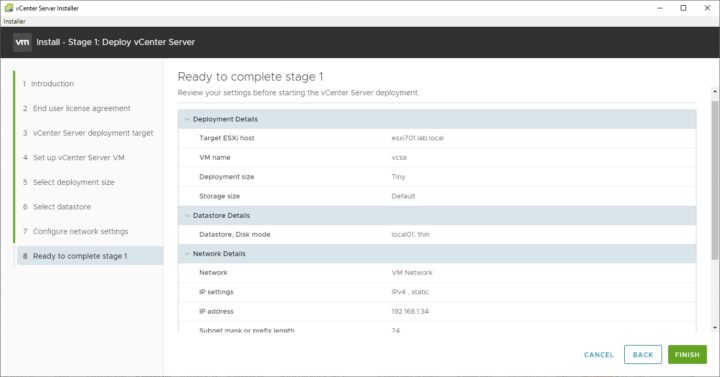 And you'll see the progress screen which indicates the Part 1 (deployment) progress.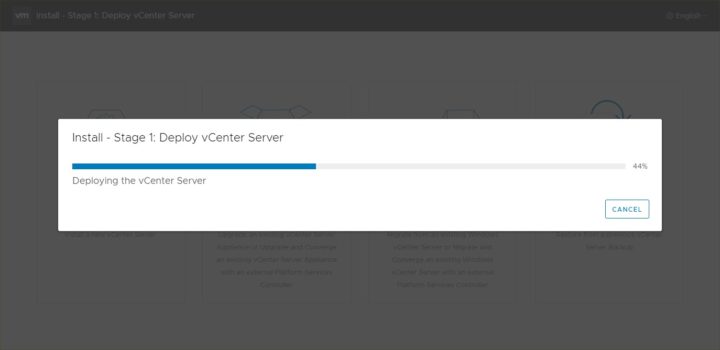 This part takes some time to finish.
When you deploy a vCenter Server appliance, you are prompted to create a vCenter Single Sign-On domain or join an existing domain. The domain name is used by the VMware Directory Service (vmdir) for all Lightweight Directory Access Protocol (LDAP) internal structuring.
You can give your domain a unique name. To prevent authentication conflicts, use a name that is not used by OpenLDAP, Microsoft Active Directory, and other directory services.
vCenter Enhanced Linked Mode
vCenter Enhanced Linked Mode allows you to log in to any single instance of vCenter Server and view and manage the inventories of all the vCenter Server systems in the group.
You can join up to 15 vCenter Server appliance deployments with vCenter Enhanced Linked Mode in a single vSphere Single Sign-On domain. You can create a vCenter Enhanced Linked Mode group during the deployment of vCenter Server appliance.
You can also join a vCenter Enhanced Linked Mode group by moving, or repointing, a vCenter Server from one vSphere domain to another exisitng domain.

The Part 2 – configuration

Click Continue to start.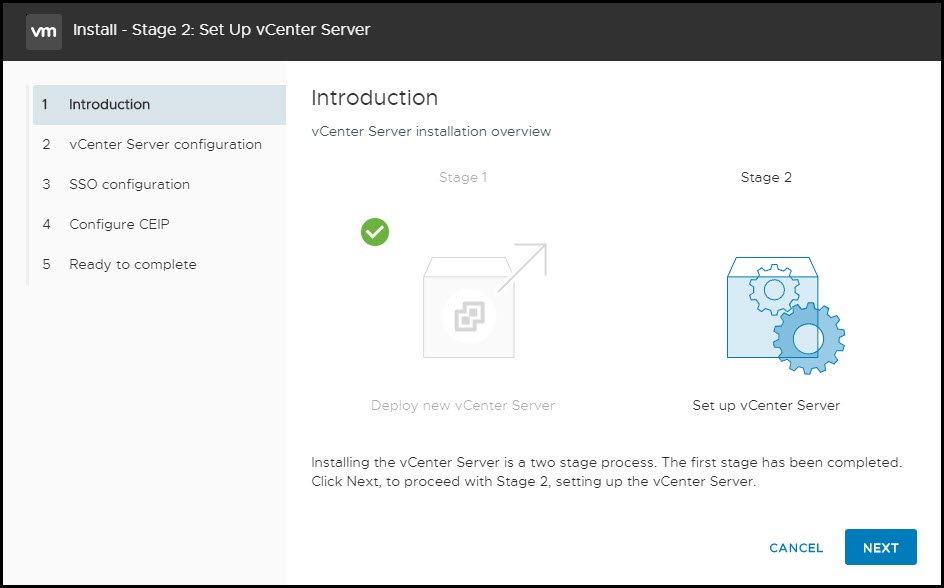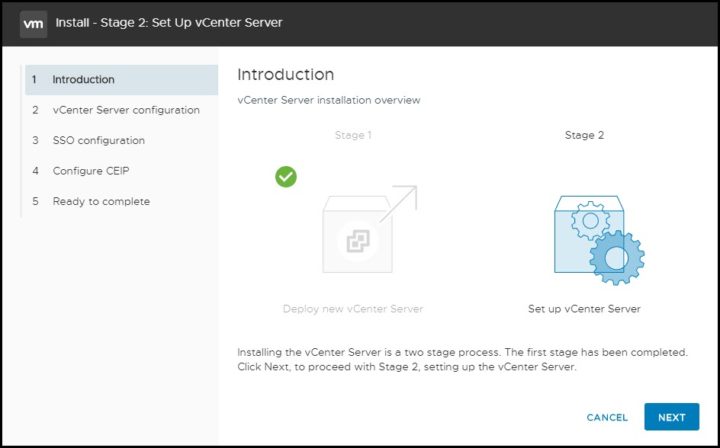 Then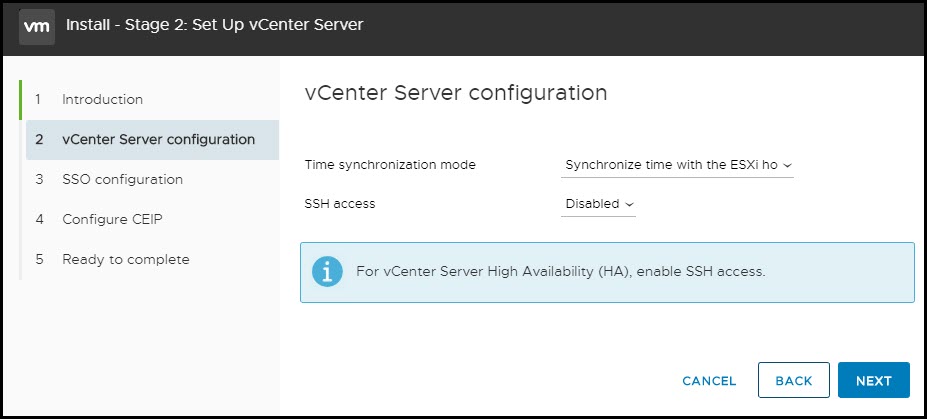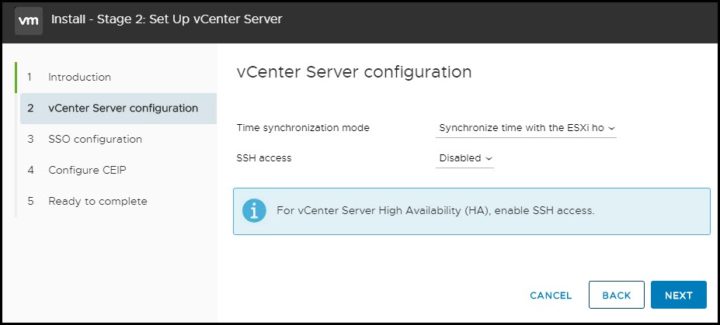 Then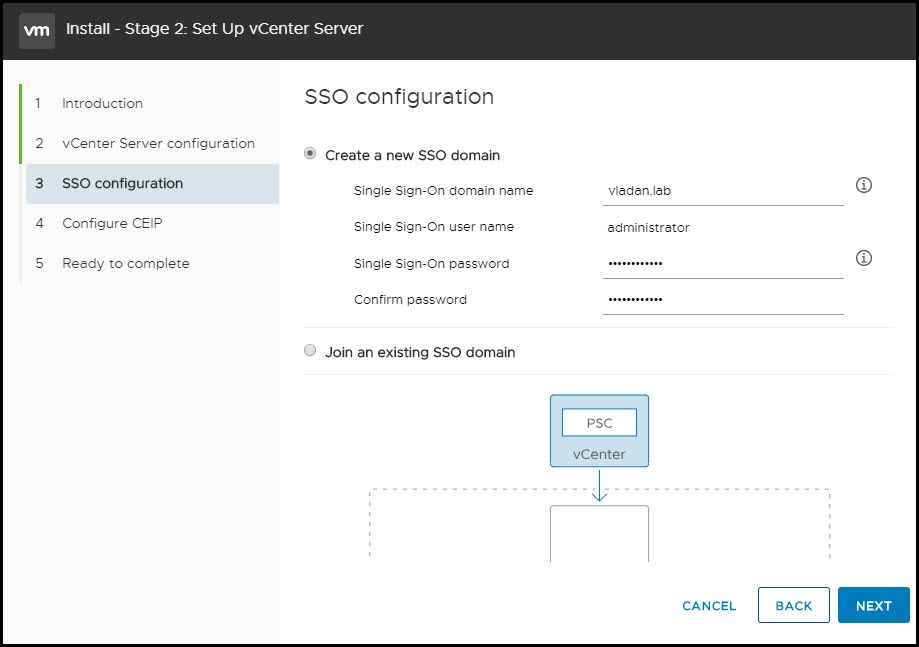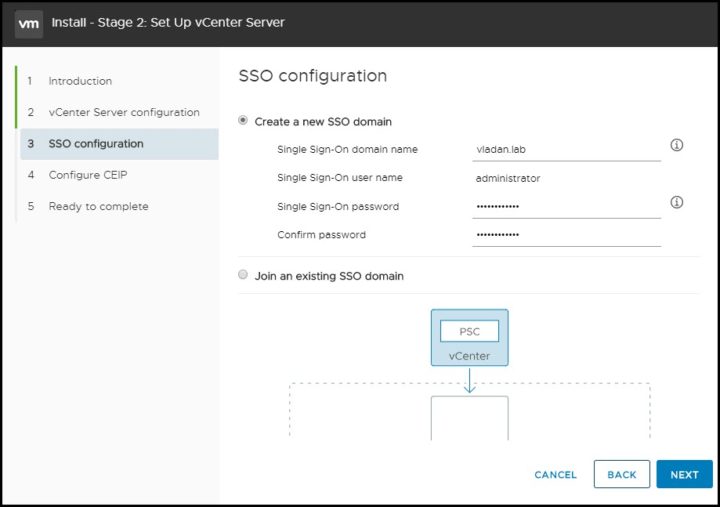 Then CEIP. If you check the box, VMware is allowed to collect some technical information about the infrastructure. Which firmware/driver combination you have present (important for vSAN for example as the wrong combination can impact the performance and even lead to the purple screen of death – PSOD).
The config data such as settings of the cluster environment,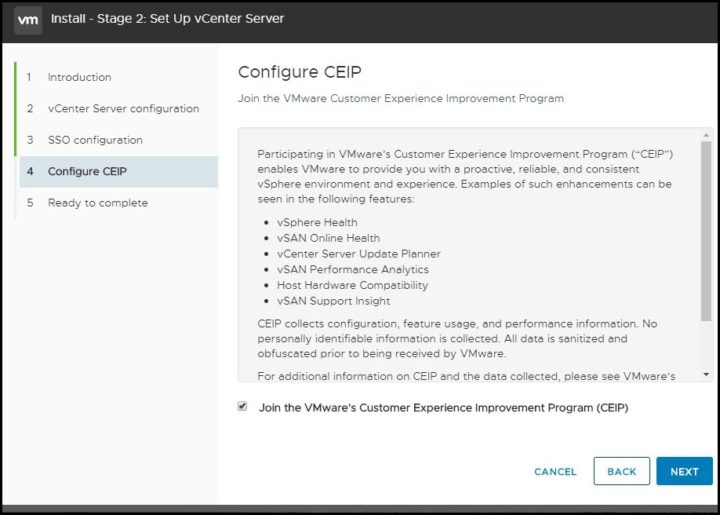 Then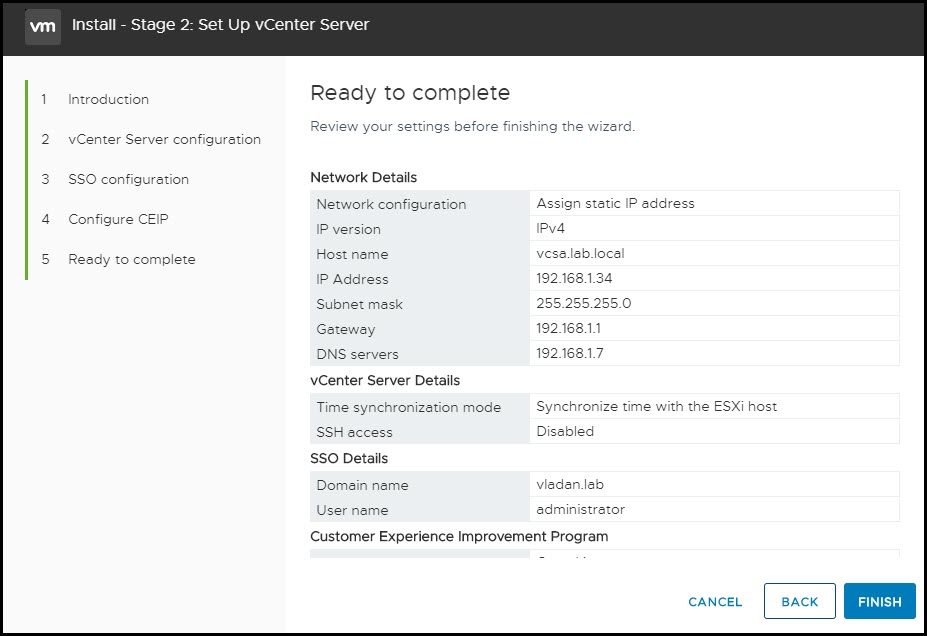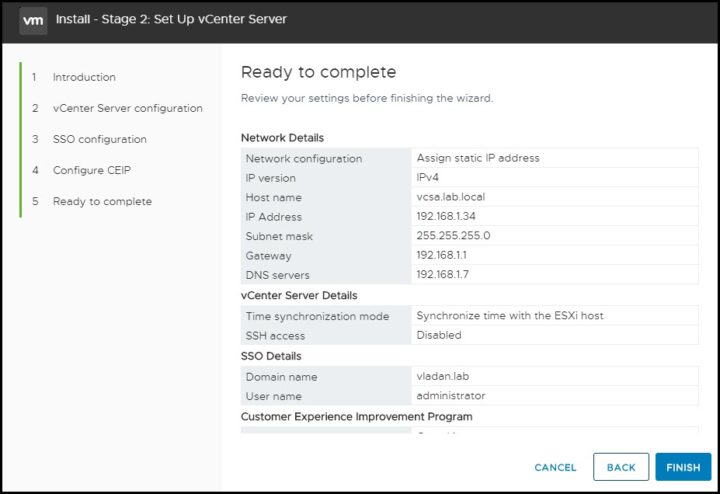 Then just go for a coffee to kill some time. It'll take at least 15 min to complete, configure, and start all the VCSA services. You won't be able to login before all this is not proceed.
Check the VCP-DCV 2020 Study Guide page for other Objectives.
Do use the official VMware documentation for your study. Do not rely only on information found on this blog.
More from ESX Virtualization
Stay tuned through RSS, and social media channels (Twitter, FB, YouTube)