After upgrading to vCenter Server 7.0, you can use Lifecycle Manager to upgrade ESXi hosts and virtual machines. Within the lifecycle manager, there you can use the Update Planner to examine available vCenter Server updates and upgrades. You can generate interoperability reports for installed VMware products within your environment as well.
You can also compare your source (current) and target vCenter Server versions. It is possible to generate pre-update reports to make sure that your system meets the minimum software and hardware requirements. The report shows you whether there are upgrade issues before the upgrade starts and provides potential remedy actions.
In the vSphere Client, select a vCenter Server in the inventory pane and navigate to Updates > Update Planner.
Select a target vCenter Server version (major upgrade or minor update).
Note: My vCenter in the lab has the latest version so I can't show you what they're asking for.
NEW: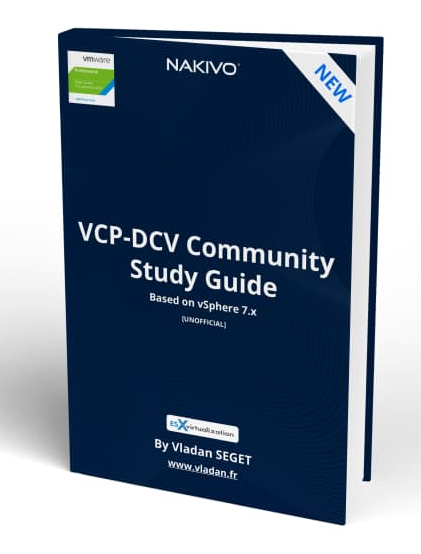 Download FREE Study VCP7-DCV Guide at Nakivo.
The exam duration is 130 minutes
The number of questions is 70
The passing Score is 300
Price = $250.00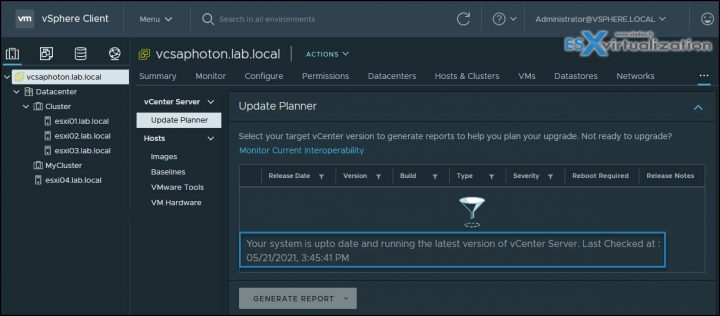 Click Generate Report > Pre-Update Checks.
Click Export to save the report as a comma-separated values (CSV) file. Step 5. Optionally, click Open Appliance Management or Download ISO.
However, in order to use Update Planner, you must join the VMware Customer Experience Improvement Program (CEIP), but I see no issues with this. vSphere Lifecycle Manager has more functionality than Update Manager was able to give you with earlier vSphere releases. It is a service running within your VCSA and is automatically enabled in the vSphere Client.
Starting with vSphere 7.0 it is possible to use vSphere Lifecycle Manager images to perform some tasks on a set of hosts at the cluster level. You must choose between using Images or baselines. Not both. With Images you can:
Install the desired ESXi version on each host
Install and update third-party software on each ESXi host
Update the firmware of each ESXi host
Update and upgrade each ESXi host in a cluster Check the hardware compatibility of each host against hardware compatibility lists, such as the VMware Compatibility Guide and the vSAN Hardware Compatibility List.
Important Note:
When you start using Lifecycle Manager images as you create a cluster, you need to switch to this mode. Otherwise, you can switch from using baselines to images later. However, after switching a cluster to use images, you cannot revert the cluster back to using baselines.

As a workaround, you can move the hosts to another cluster that uses baselines, there do the update, and move it back.
And another gotcha:
If you set up an image for a cluster and remediate all the hosts in the cluster, then all standalone VIB and non-integrated agents are deleted from the hosts.
You can leverage vSphere Lifecycle Manager for VMware Tools and virtual machine hardware upgrade operations on virtual machines running on ESXi 6.5, ESXi 6.7, and ESXi 7.0 hosts.
To get started using vSphere Lifecycle Manager, in the vSphere Client, you can navigate to Menu > Lifecycle Manager (which is called the Lifecycle Manager home view) and select a vCenter Server. Here you can configure Lifecycle Manager by using the Settings tab.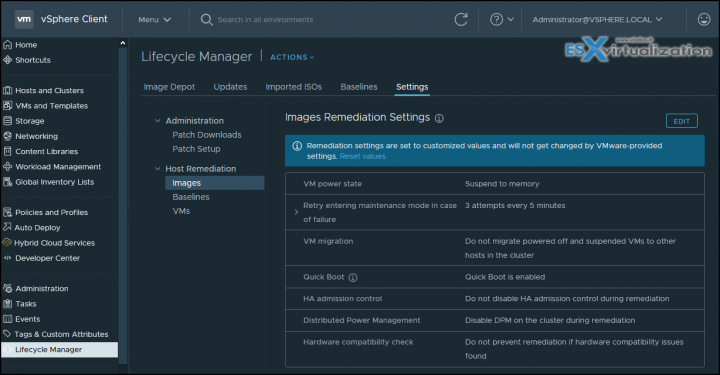 Find other chapters on the main page of the guide  – VCP7-DCV Study Guide – VCP-DCV 2021 Certification,
VMware Direct download/buy links:
More posts from ESX Virtualization:
VMware Education (On Demand Courses)
***********************************
VCA | VCP | VCAP or VCIX exam vouchers
***********************************
VMware Learning Credits – Learning Credits provide the dual benefit of funding a well-trained IT staff, along with discounts options of up to 15 percent. Customers can schedule training when and how they need it. Customers can buy credits at the time of license purchase or as a stand-alone purchase
Stay tuned through RSS, and social media channels (Twitter, FB, YouTube)