Today's topic towards VCP-DCV 2019 exam is called VCP6.7-DCV Objective 1.5 – Manage vCenter inventory efficiently. Let's see what we'll find to match this. We do follow VMware blueprint which gives us topics for our VCP-DCV 2019 Study Guide.
This guide is not perfect, not complete. As such, you should always study from several different sources, use your homelab or POC gear at work for your study.
From our past experience, we received quite a lot of good feedback on our previous study guide for VCP6.5-DCV (still valid and allowing you to pass VCP-DCV 2019 exam too).
Quote from VMware:
The Professional vSphere 6.7 Exam 2019 validates that an individual can implement, manage, and troubleshoot a vSphere V6.7 infrastructure, using best practices to provide a powerful, flexible, and secure foundation for business agility that can accelerate the transformation to cloud computing.
Ok, let's get started.
This guide is available as Free PDF!
Free Download at Nakivo – VCP6.7-DCV Study Guide.
One of the less known but powerful features of vSphere is tags. Efficient management through tags might be one of the topics which you don't always think to study.
Tags allow you to attach metadata to objects in the vSphere inventory to make these objects more sortable and searchable. A tag is a label that you can apply to objects in the vSphere inventory. When you create a tag, you assign that tag to a category.
VMware tags are the tags you are going to use along with the categories you are going to put them into. Categories allow you to group related tags together.
When you define a category, you can also specify which object types its tags can be applied to and whether more than one tag in the category can be applied to an object.
For example, if you wanted to tag your virtual machines by guest operating system type, you might create a category called 'operating system'. You can specify that it applies to virtual machines only and that only a single tag can be applied to a virtual machine at any time.
The tags in this category might be "Windows", "Linux", and "Mac OS".
If multiple vCenter Server instances are configured to use Enhanced Linked Mode, tags and tag categories are replicated across all these vCenter Server instances. Manage vCenter inventory efficiently.
Tagging is useful in large environments but I would not bother for smaller ones. I'd say, those with less than a hundred VMs, tagging those are not that interesting. You should choose some meaningful names for your tags and categories, cause then they'll live with the users and the admins unless they change their names.
Apply tagging only to those objects you consider important.
To access the Tags, Select Menu > Tags and custom categories.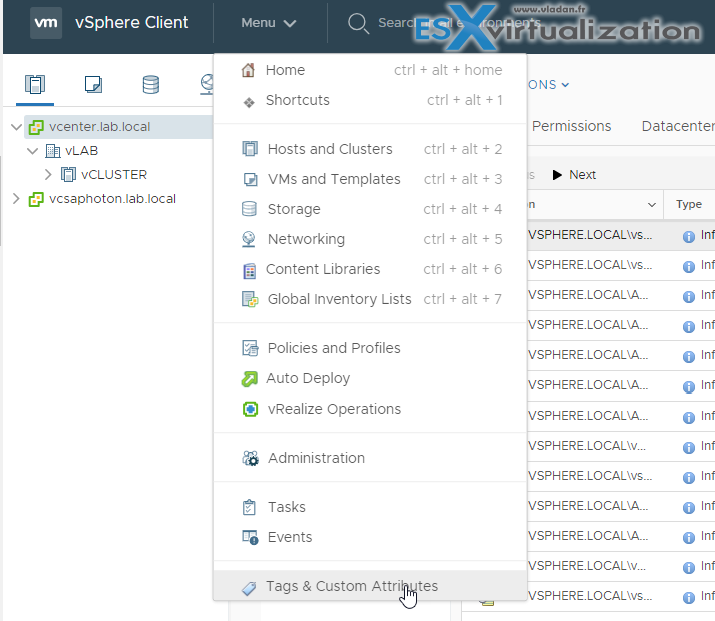 Then click on the Categories tab > Click on the New Category icon > Fill in the details, specify the options and associate the category with one or more object types. Uncheck the All Object and select just Virtual Machine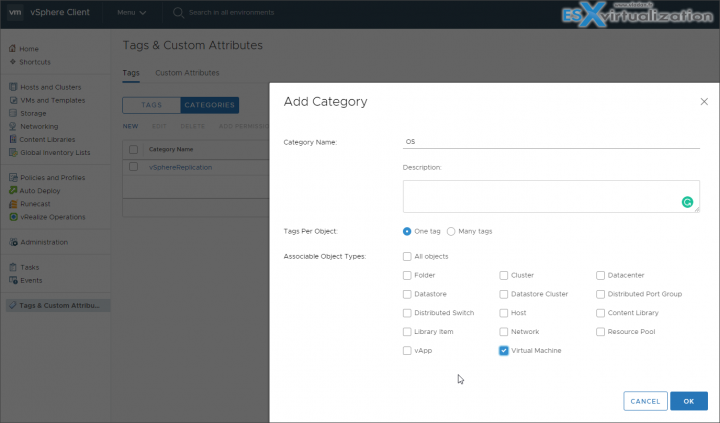 You can tag more than just VMs in your environment, but my example only shows that as it is more simple. You can also associate a category with the following object types, or simply select All Objects.
Cluster
Content Library
Datacenter
Datastore
Datastore Cluster
Distributed Port Group
Distributed Switch
Folder
Host
Library Item
Network
Resource Pool
vApp
Virtual Machine
You can change the object types later too.
After you have set the associable object types for a category, you can change a category that is associable with a single object type to be associable with all object types, but you cannot restrict a category that is associable to all object types to being associable to a single object type.
And then click on the Tags tab > Click on the New Tag icon > Fill in the details for the tag and assign it to an existing category from the drop-down menu.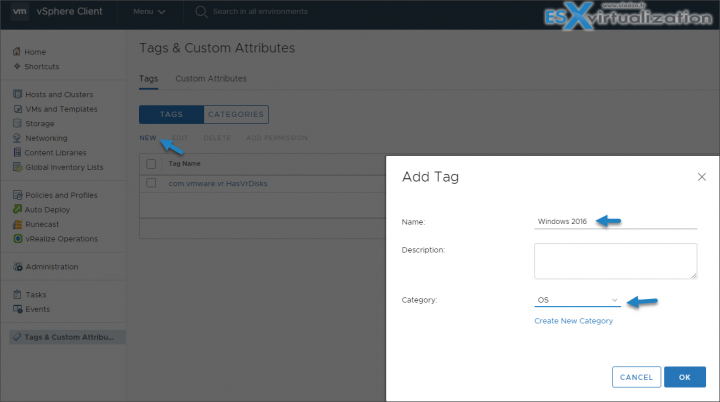 Assigning Tags to objects
applied a Windows OS tag to all my Windows VMs. To begin with, change the view to either Hosts and Clusters or VMs and Templates and select the Virtual Machines tab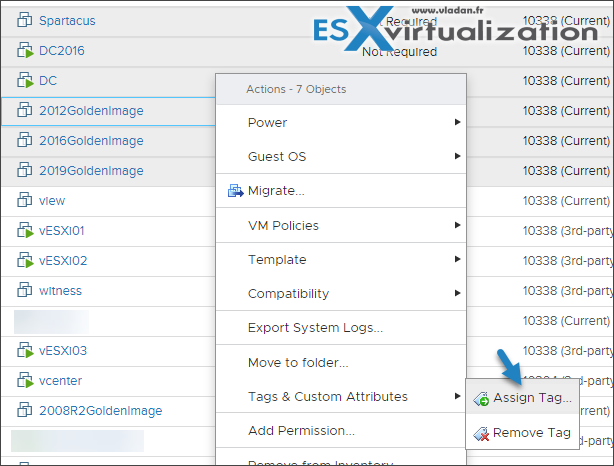 and then click the Assign button.

To remove tags, just simply repeat the same process but choose Remove Tag instead.
Searching using Tags
Many ways can be used to search for and display tagged objects.
Let's try this – Using Quick Filters.
A simple way of doing this is to use the Quick Filters in vSphere.
This method works in both views.
vSphere web client (Flash).
Click on the Quick filter button. This brings the filter web component into view.
Click on the More Options button. This should load a tag selection window.
Select a tag from the list and press OK.

Once the filter is applied, you'll only see the VMs carrying the selected tag. You can also type in the tag name to let the tag be filled.
To remove the applied filter, just click on the Clear All Filters icon or on the cross displayed next to the filtering tag name when highlighted. That's all.
List tagged objects.
If you wondered where to list the tagged objects, you'll have to go again to Menu > Tags and there click the actual tag you created.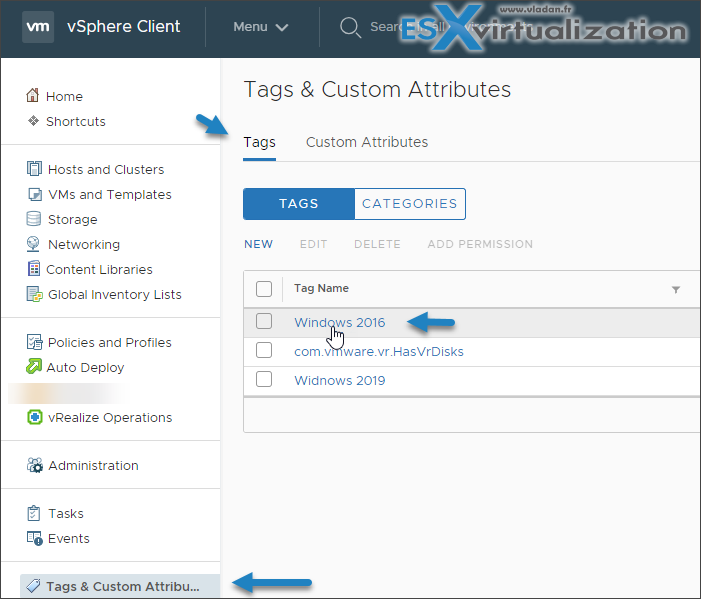 There simply clicking on an individual tag from the Tags & Custom Attributes page shows you which objects are associated for this or that particular tag.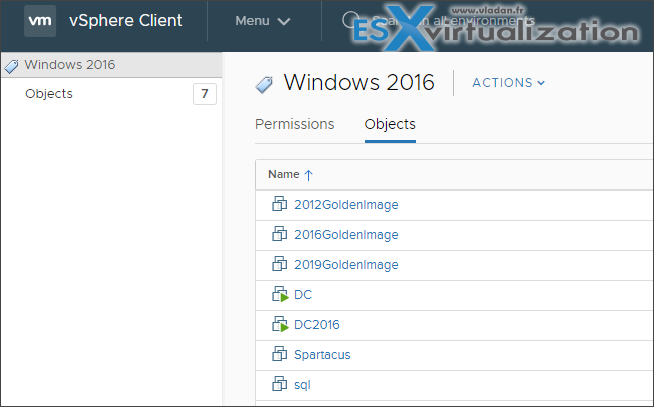 Using tags is simple. Once you created the categories and tags, all you have to do is to associated them with the objects you want. If you haven't used tags before, you should at least try. It might or might not be useful for the exam.
To become VCP-DCV 2019 certified you have 3 different choices of exam:
Professional vSphere 6.7 Exam 2019
VCP6.5-DCV: VMware Certified Professional 6.5 – Data Center Virtualization exam (our VCP6.5-DCV Study Guide Page which is complete)
VCP6.5-DCV DELTA: VMware Certified Professional 6.5 – Data Center Virtualization Delta exam
Note: You must be VCP5, or VCP6. If, not, you must attend a class and you have no "Delta" exam option.
Use the official documentation as well as your home lab for the study. Follow the progress of the VCP6.7-DCV Study Guide page for further updates.
Well, this is it for today.
More from ESX Virtualization
Stay tuned through RSS, and social media channels (Twitter, FB, YouTube)