Today we'll have a look at different possibilities for logs in VMware vSphere products. vSphere records events in the vCenter Server database. System log entries include such information as who generated the event, when the event was created, and the type of event. You have a possibility to view, export or redirect those logs to a remote syslog server. Today's topic – VCP6.7-DCV Objective 4.1 – Understand basic log output from vSphere products.
This post is another post covering Professional vSphere 6.7 Exam 2019. We have a Study page created in WordPress – Follow the progress of the VCP6.7-DCV Study Guide page for further updates.
The default ESXi log file location is /scratch/log directory if there is local storage. However, many ESXi hosts are often deployed that they redirect to a shared location and only use shared storage instead of local storage.
As such, it's often remote syslog server which is configured as a destination for collecting logs.
This guide is available as Free PDF!
Free Download at Nakivo – VCP6.7-DCV Study Guide.
You can check for logs through vSphere Web client.
Select a vCenter Server instance in the vSphere Web Client navigator.
Click Monitor, and click System Logs.
From the drop-down menu, select the log. You can export those logs if you need to send it to VMware support as well.
Click Show All Lines or Show Next 2000 Lines to see additional log entries
Note: I'm using vSphere Flash version of Web client as apparently the HTML5 Web client in this release did not make it just yet. Stay tuned -:).
Here is the view. You can select which log you want to look at via the drop-down menu (in my example I selected vCenter server log).

Remote syslog server
After you enable remote streaming, vCenter Server Appliance starts streaming and only the newly generated events are streamed to the remote syslog server. All syslog messages begin with a specific prefix. You can distinguish the vCenter Server Appliance events from other syslog messages by their Event prefix.
The syslog protocol limits the length of syslog messages to 1024 characters. Messages that are longer than 1024 characters split into multiple syslog messages.
Redirect vCenter Server Appliance Log Files to Another Machine
You can redirect the vCenter Server Appliance log files to another machine, for example, if you want to preserve storage space on the vCenter Server Appliance.
After login via https://IP_or_FQDN:5480 go to Syslog > Configure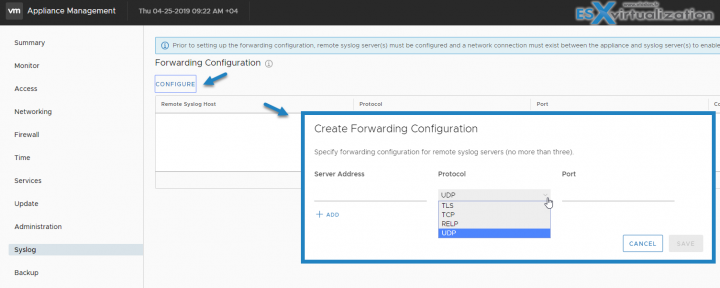 In the Server Address text box, enter the FQDN or IP address of the machine on which you want to export the log files.
In the Port text box enter the port number to use for communication with the machine on which you want to export the log files.
From the Protocol drop-down menu select the protocol to use.
Configure ESXi host to send logs to a remote location.
In general, any syslog compatible software can do the job. However, you have to configure the advanced parameter Syslog.global.logHost to expose the log files through either TCP or UDP. Depending on your syslog application, you would set the parameter to tcp://hostname:514 or udp://hostname:514.

In large environments, you can use host profiles to deploy this configuration to all of your hosts, but there is also a product which can remotely configure that for you (VMware vRealize Log Insight, Runecast Analyzer etc…)
The different options are listed below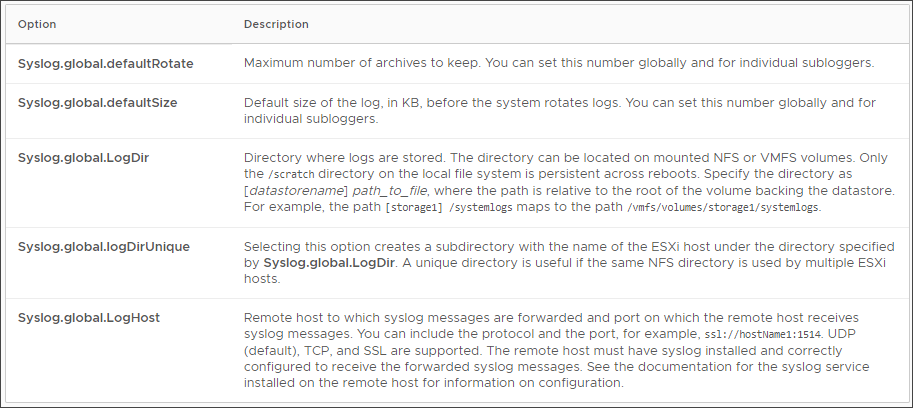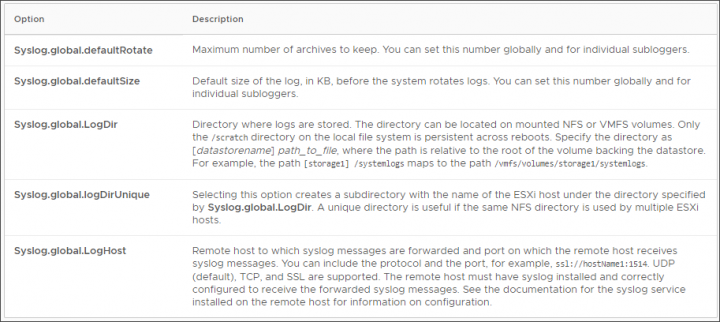 Monitor individual ESXi
You can also access directly to ESXi to check the logs, in case vCenter is unavailable or it is a host not managed by vCenter.

Access logs via a web browser through alternative URL
This might be a handful when there is a problem with the ESXi host client. There is a short url to access logs:
https://ip_or_fqdn/host
and you'll get access to logs directly via a web browser.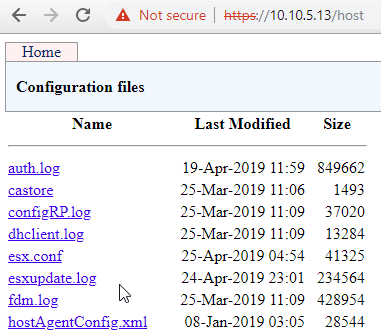 To become VCP-DCV 2019 certified you have 3 different choices of exam:
Professional vSphere 6.7 Exam 2019
VCP6.5-DCV: VMware Certified Professional 6.5 – Data Center Virtualization exam (our VCP6.5-DCV Study Guide Page which is complete)
VCP6.5-DCV DELTA: VMware Certified Professional 6.5 – Data Center Virtualization Delta exam
Note: You must be VCP5, or VCP6. If, not, you must attend a class and you have no "Delta" exam option.
Use the official documentation as well as your home lab for the study. Follow the progress of the VCP6.7-DCV Study Guide page for further updates.
Do not rely on our guide ONLY, when it will be completed. Use other resources, your home lab, and, also an official VMware documentation.
More posts from ESX Virtualization:
Stay tuned through RSS, and social media channels (Twitter, FB, YouTube)