Today we'll cover VCP6-CMA Objective 1.2 – Install and Upgrade vRealize Suite Components. The chapter is part of the VCP6-CMA Study page which we just started. The journey to cover all objectives is long, but we know that doing every day a bit will finally cover all objectives. If you're studying towards traditional "data center" VCP6 exam, you might want to check the VCP6-DCV Study Guide page.
The exam page with details can be found here. (2V0-631). The exam duration is 100 min and there is 85 questions (Single and Multiple Choice, Proctored) with passing score 300. This exam tests your skills and abilities installing, configuring and administering a VMware vRealize® environment. It's based on vRA 6.2 as VMware recommends VMware vRealize Automation: Install, Configure, Manage [V6.2] training. You can also test yourself and do a Practice exam online where you'll take 25 questions and can give you an overview of your current knowledge. You have 45 min and it is recommended that you answer one known item with an incorrect choice to keep your score just under 100%.
VMware Knowledge
Deploy and configure appliances for distributed vRealize deployment (e.g. SSO, automation, DB)
Install or upgrade IaaS components
Configure default tenant and any additional tenants
Appoint administrators and configure load balancer(s)
Integrate vRealize with external systems
Manage SSL certificates
Resolve deployment and configuration issues
Perform upgrade of vCAC 6.1 to vRealize Automation
Download and install updates to vRealize component appliances
VMware Documentation Tools
Deploy and configure appliances for distributed vRealize deployment (e.g. SSO, automation, DB)
VRA (vRealize Automation) has a built-in component called VMware Identity appliance, which has truly SSO capabilities, with a user portal and IaaS components.
At first, you should get SSL Certificates (SAN), then need to deploy and configure the single sign-on appliance.
Deploy and configure the single sign on appliance > log via web browser into the VAMI port 5480 as root
Configure time settings > Import SSL Certificate Configure SSO (SSO Tab) – Default domain is vsphere.local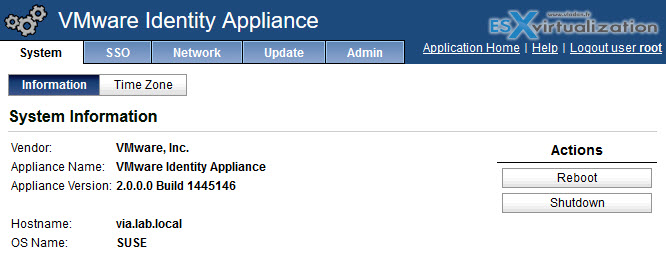 Join to Native AD Domain

Optional unless you are using the migration tool

Identity appliance cannot be load balanced. It should be protected by cluster level HA
vSphere SSO deployed in a HA pair, load balanced with an external load balancer is supported

vRA 6.2 supports vSphere SSO 5.5 U1b, U1c, U2, U2a, U2b
U2b is the recommended version
PSC v1.0 is also supported

The default tenant must remain as vsphere.local
Install or upgrade IaaS components
The vRealize Appliance (vRA) is a pre-configured virtual appliance. The vRA does the deployment of the vRealize Automation server. The vRA with the vRA Server are the base of the portal facing the end users (consumers) and also it is the back-end for the admin.
The components deploys a traditional way. The first thing you need to do is to download the 5Gb OVA file, then start the deployment by validating the OVF file through vSphere client. I particularly chose the "old" vsphere client over the web client to see if there were any issues with the deployment – nope.
Note that the exam is based on vCAC 6.1 (6.2) and the vRA install is an install of v 7.0…. (I'm ahead on this…)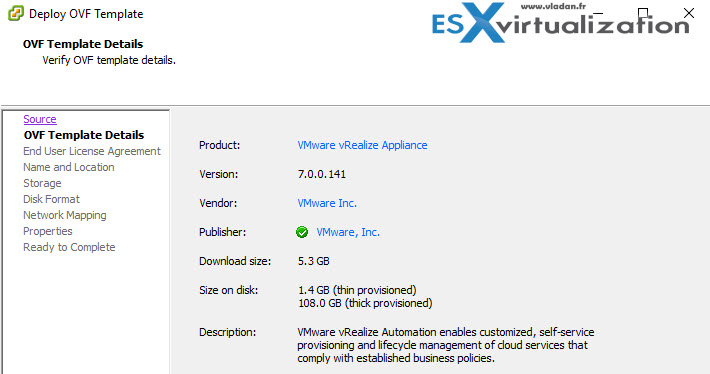 You can check all details of "simple install" in this post – vRealize Automation 7 Simple Install.
…
A simple installation installs all of the components on the same Windows server, but the SQL server database will be installed by the admin on the separate server.
System requirements of that Windows Server:
Microsoft Windows Server 2008 R2 OR Microsoft Windows Server 2012
Database Server Requirements:
SQL Server 2008 x64 (but only for vRA 6.2.2), OR SQL Server 2012 and 2014 – x64 (for vRA 6.2, 2.2.1, 6.2.2)
Note that when you change the checkbox to "Enterprise deployment" the number of steps on the left change and also the image on the right changes…
Here is the view for that..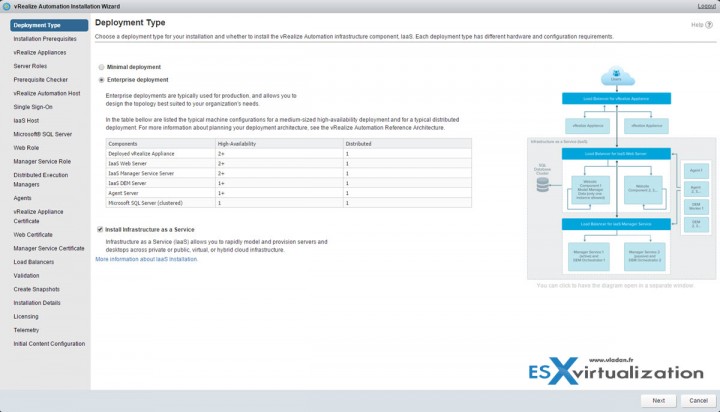 Configure default tenant and any additional tenants
Then hit finish to close the overlay window and go to the main page ( In my case simple to https://10.10.7.12). There you have direct links to sub-components of VRA:
Main console
Management console (via 5480)
To install vRealize Automation IaaS components on Windows
To vRealize Orchestrator client
To vRealize Orchestrator control center (stopped by default)

Let's connect to the main console with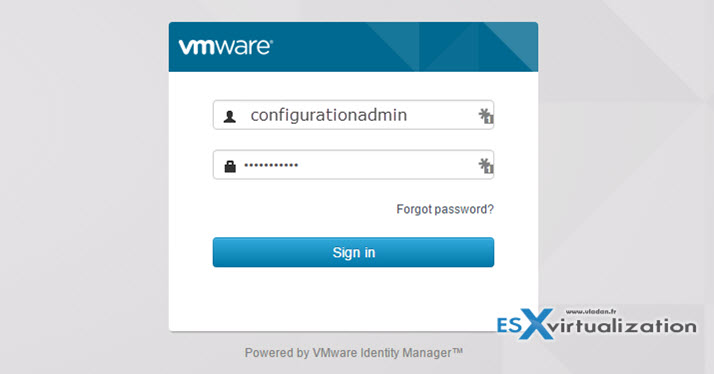 And when clicking the Catalog tab you can see that there is already some content…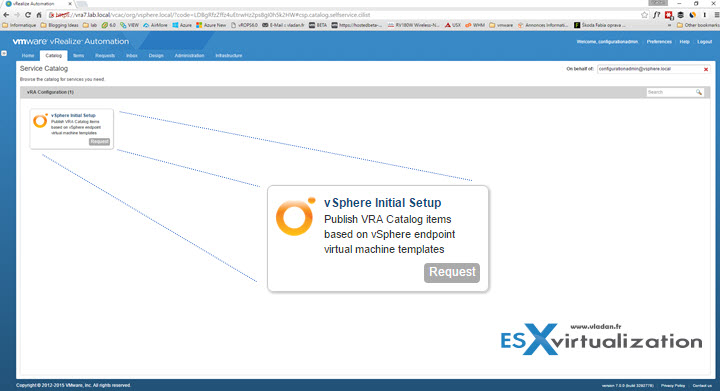 Which allows you to publish VRA Catalog items based on vSphere endpoint virtual machine templates.
The system admin can configure the default tenant and create additional tenants as he (she) wishes.
Appoint administrators and configure load balancer(s)
Log in to the vRealize Automation console as a system administrator. Configure the Identity Stores for the Default Tenant.
Outline:
Select Administration > Tenants > Click the name of the default tenant, vsphere.local > Administrators tab > Enter the name of a user or group in the Tenant Administrators search box and press Enter.
If you have installed IaaS, enter the name of a user or group in the Infrastructure Administrators search box and press Enter.
Verify that the user or group names you chose appear in Tenant Administrators and Infrastructure Administrators lists. Click Update.
For migration, make note of the tenant administrator you appointed. You must supply the tenant administrator credentials to the pre-migration tool when you are prompted for the default tenant administrator credentials.
Integrate vRealize with external systems
vRealize Automation uses agents to integrate with external systems. A system administrator can select agents to install to communicate with other virtualization platforms. vRealize Automation uses the following types of agents to manage external systems:
Hypervisor proxy agents (vSphere, Citrix Xen Servers and Microsoft Hyper-V servers)
External provisioning infrastructure (EPI) integration agents
Virtual Desktop Infrastructure (VDI) agents
Windows Management Instrumentation (WMI) agents
Manage SSL certificates
To replace certificates, follow the online documentation steps at VMware Online documentation.
Resolve deployment and configuration issues
lab, lab, lab…
Perform upgrade of vCAC 6.1 to vRealize Automation
Docs…
Documentation for all versions of vCloud Automation Center and vRealize Automation at:https://www.vmware.com/support/pubs/vcac-pubs.html and Upgrading to vRealize from vCAC 6.1
Download and install updates to vRealize component appliances
The process of updating is well documented here: https://kb.vmware.com/kb/2091012
Where the upgrade IaaS components can be found here: https://pubs.vmware.com/vCAC-61/index.jsp?topic=%2Fcom.vmware.vcac.61upgrade.doc%2FGUID-0FF1B1BE-2162-4404-8EA9-BA5ED415B060.html