Describe the role of vSphere in the software-defined data center (SDDC) is a large topic. In this post, we'll describe some bases and talk about SDDC in general, not technical. This post is a part of a free Study Guide when preparing to pass the VMware VCP-DCV certification exam. In our free guide, we cover all topics from VCP-DCV 2021 exam that are listed on the original VMware blueprint that has 80 objectives. Check out VCP-DCV 2021 Study Guide Page.
VMware Software-Defined Datacenter (SDDC) is a data center that uses local infrastructure services that are abstracted from the underlying physical infrastructure. It allows any apps to run on a virtual platform that uses underlying physical hosts, physical servers. SDDC is a perfect architecture for private, public, and hybrid clouds.
VMware SDDC includes vSphere and compute virtualization, NSX with network virtualization, as well as software-defined storage (vSAN or vVOLs). SDDC gives us abstraction, pooling, and automation of the compute, network, and storage services. There is also vRealize Automation, vRealize Operations, which gives us other services such as policy-based automated management of the whole datacenter, apps, or VMs.
VMware vCloud Suite is an enterprise application, a software suite with vSphere for data center virtualization, and also VMware vRealize Suite for cloud management.
NEW: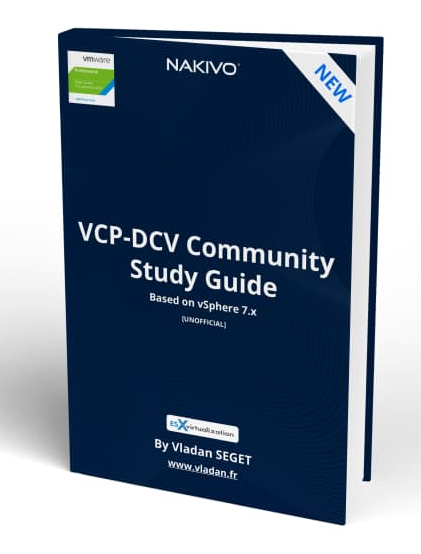 Download FREE Study VCP7-DCV Guide at Nakivo.
The exam duration is 130 minutes
The number of questions is 70
The passing Score is 300
Price = $250.00
VCF and Hybrid cloud environment is a cloud that includes private cloud, public cloud, and also on-premises infrastructure. It's a combination of your home (in-house) data center with cloud environments.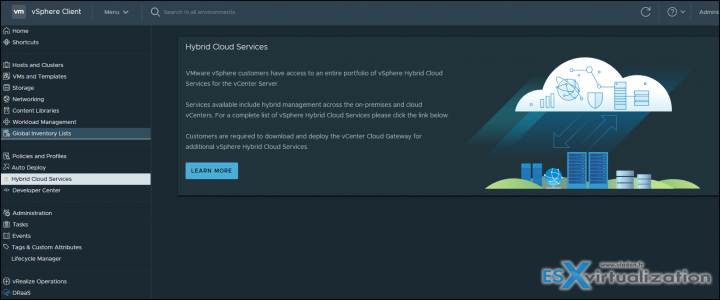 VMware Cloud Foundation (VCF) is a set of software tools with an integrated installer. It has not only vSphere, ESXi, but also VMware vSAN and NSX or vRealize suite.
It brings a simple path to the hybrid cloud by using common infrastructure and a consistent operational model for on-premises and off-premises data centers.
VMC on Amazon Web Services (AWS) is an integrated cloud offering that has been developed in common with VMware and Amazon. It has a highly scalable and secure service that offers to businesses to expand their own on-premises infrastructure to AWS cloud. You can not only expand, but also migrate back and forth your VMs and make DR plans.
VMware vCloud Director – vCD is a cloud service delivery software used usually by cloud providers. It allows the automatic provision of secure, efficient, and elastic cloud resources to many customers via self-service portals.
Note: You can still earn the VCP-DCV 2021 certification while you'll pass not the 2V0-21.20, but the 2V0-21.19, based on vSphere 6.7. VMware maintains this exam until June 21st 2021. Note that we have a Free Study Guide based on vSphere 6.7 for that exam and you can download it as a PDF from our partner.
Find other chapters on the main page of the guide  – VCP7-DCV Study Guide – VCP-DCV 2021 Certification,
VMware Direct download/buy links:
More posts from ESX Virtualization:
VMware Education (On Demand Courses)
***********************************
VCA | VCP | VCAP or VCIX exam vouchers
***********************************
VMware Learning Credits – Learning Credits provide the dual benefit of funding a well-trained IT staff, along with discounts options of up to 15 percent. Customers can schedule training when and how they need it. Customers can buy credits at the time of license purchase or as a stand-alone purchase
Stay tuned through RSS, and social media channels (Twitter, FB, YouTube)