VMware Cloud Foundation has recently released 3.5 version, but some of our readers might don't know What is VMware Cloud Foundation? As we reported in our post during VMworld Barcelona 2018, VMware Cloud Foundation is an integrated software stack, with compute virtualization (VMware vSphere), storage virtualization (VMware vSAN), network virtualization (VMware NSX), and cloud management and monitoring (VMware vRealize Suite).
It is a single platform that can be deployed on premises as a private cloud or run as a service within a public cloud. The main piece is SDDC Manager, which now uses (since 3.0) interface based on the next-generation Clarity interface framework.
VMware Cloud Foundation is composed of some base blocks such as VSAN, NSX, and vSphere. So by integrating vSphere and NSX, Cloud Foundation allows the admin to use micro-segmentation to attach policies to the application and improve security.
The Cloud foundation includes also VMware vRealize Suite, VMware Integrated OpenStack, VMware Integrated Containers and VMware Horizon, and it leverages VMware vCenter Server for VM management, monitoring, and provisioning.
NOTE: Only one vCenter Server license is required for all vCenter Servers deployed in a Cloud Foundation system.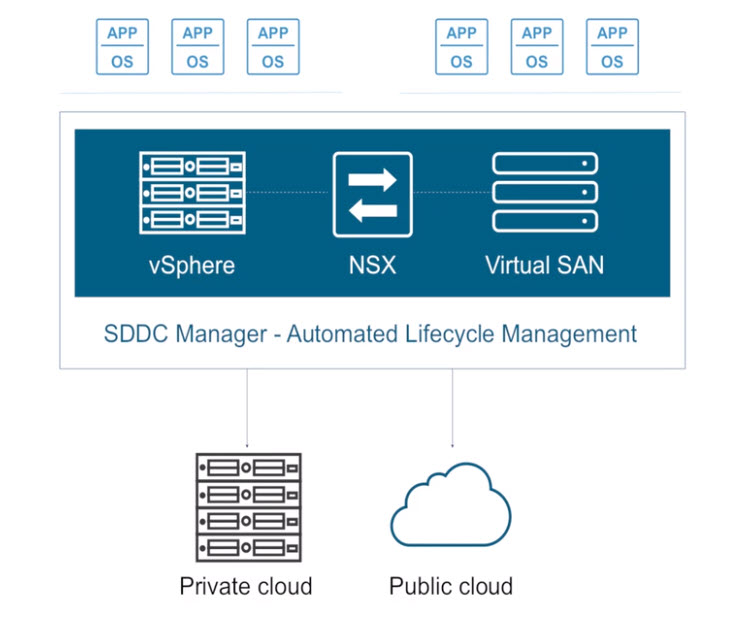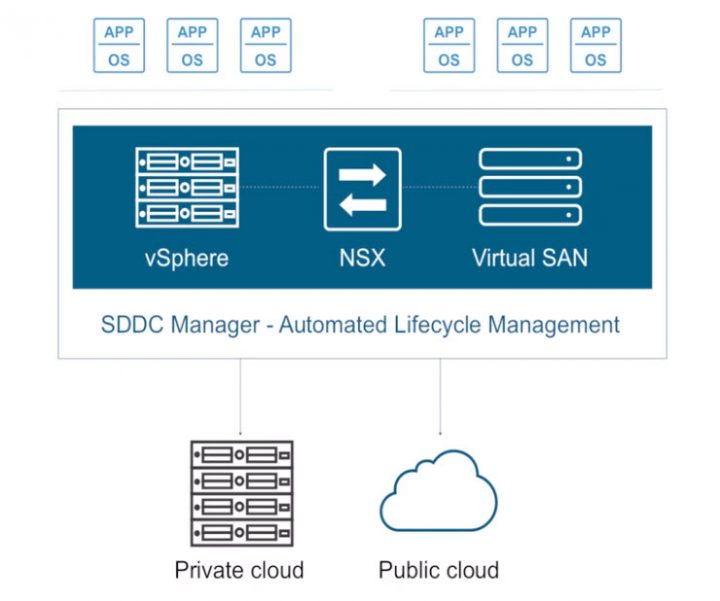 The whole system can be installed in about 1.5 hours, including configuration of two top of the rack switches. Note that you'll need at least 4 ESXi hosts to get started. The maximum limit is 32 hosts, which is lower than current cluster limit of 64.
What's new in VMware Cloud Foundation 3.5?
Support for NSX-T Automation – Enables deployment of workload domains with NSX-T.
Support for NFS Storage Automation – Allows users to leverage existing NFS storage investment with NFS-based workload domains.
Deeper Integration with Composable Infrastructure – SDDC Manager is now integrated with Redfish Composability APIs, with HPE Synergy as the first certified partner.
Bulk Host Commissioning and De-Commissioning – It is possible to commission and de-commission multiple hosts at the same time.
Improved Interface for Password Management – Has new controls for managing password rotation and manual password updating.
Updated Certificate Replacement Workflow – You can see clearer error messages and fewer errors.
VMware Cloud Foundation – What software is in?
The latest 3.5 release has many software includes. Here is a list from VMware Documentation page:
| | | | |
| --- | --- | --- | --- |
| Cloud Foundation Builder VM | 3.5 | 13 DEC 2018 | 11215871 |
| SDDC Manager | 3.5 | 13 DEC 2018 | 11215871 |
| VMware vCenter Server on vCenter Server Appliance | 6.7 U1 | 12 OCT 2018 | 10244745 |
| VMware Platform Services Controller | 6.7 U1 | 16 OCT 2018 | 10244745 |
| VMware vSphere (ESXi) | 6.7 EP5 | 09 NOV 2018 | 10764712 |
| VMware vSAN | 6.7 EP5 | 09 NOV 2018 | 10764712 |
| VMware NSX Data Center for vSphere | 6.4.4 | 08 DEC 2018 | 11197766 |
| VMware NSX-T Data Center | 2.3 | 25 SEP 2018 | 10085361 |
| vRealize Suite Lifecycle Manager | 2.0 | 20 SEP 2018 | 10150522 |
| VMware vRealize Automation | 7.5 | 20 SEP 2018 | 10053539 |
| VMware vRealize Log Insight | 4.7 | 04 OCT 2018 | 9983377 |
| VMware vRealize Operations | 7.0 | 24 SEP 2018 | 10098133 |
| VMware NSX content pack for vRealize Log Insight | 3.7 | n/a | n/a |
| VMware vSAN content pack for vRealize Log Insight | 2.0 | n/a | n/a |
Some Q and A:
Can I install the Cloud Foundation software myself?
Yes. VMware provides documentation for customers to deploy the Cloud Foundation software on their own. You can also work with VMware Professional Services or your Solution Provider to receive assistance with your deployment. Visit the Documentation page for more information on how to deploy Cloud Foundation.
Can I purchase the SDDC Manager separately?
SDDC Manager is only available for Cloud Foundation. In situations where the customer possesses licenses for all other software components, SDDC Manager licenses can be purchased incrementally. For example, you'll also need vCenter server. SDDC Manager is not part of VMware vCloud Suite. SDDC Manager is available exclusively with and for Cloud Foundation.
What is the difference between SDDC Manager and vRealize Automation?
SDDC Manager and vRealize Automation automate different aspects of building and running private and public clouds. SDDC Manager automates the installation and lifecycle management of the vSphere, vSAN, and NSX from bring-up and configuration to patching and upgrading, making it simple for the cloud admin to build and maintain the SDDC. SDDC Manager also automates the installation and configuration of vRealize Log Insight, vRealize Operations, and vRealize Automation.
What are the software components in Cloud Foundation?
At a minimum, customers purchase Cloud Foundation Basic edition, which includes compute (vSphere ENT+), storage (vSAN ADV), networking (NSX DC PRO), and lifecycle automation (SDDC Manager). Standard, Advanced, and Enterprise Cloud Foundation editions also include cloud management (vRealize Suite and vRealize Network Insight) in corresponding levels of functionality.
Note: vCenter Server is sold and licensed separately.
link to the full FAQ pdf is here.
As you can see, the VMware Cloud foundation is packed with products. Concerning hardware you can leverage vSAN ReadyNodes in Cloud Foundation, which is much easier then to design your own hardware. We all know that vSAN is tricky when it comes to HBA storage adapters and their support through HCL (firmware, drivers…).
More from ESX Virtualization:
Stay tuned through RSS, and social media channels (Twitter, FB, YouTube)