Few weeks back Veeam has announced the first feature from Veeam Availability Suite 9.5. This obviously answers questions about what's next release of Veeam. The first feature that has been mentioned in this announce is another storage vendor integration – Nimble Storage.
Veeam Availability Suite 9.5 and Veeam, in general, is more and more used not only in SMBs and mid-sized enterprises but also large businesses, which often invests in enterprise class storage systems, like the ones from Nimble. No surprise to see Veeam going the way what clients are asking for – Storage Integration. In this post, we'll look at what's coming and why storage snapshots are a game changer. Veeam in the v9 already supports many other vendors like HP 3Par, EMC, NetApp…
Veeam Backup From Storage Snapshots – The first main benefit of using storage snapshots is the fact that the enterprise storage isn't stressed by creating hypervisor snapshots and then backing up VMs. It does leverages Nimble storage snapshots and does the backup out of those, without creating a pressure on the production environment.
Lower the additional impact from backup activities on your production storage by retrieving virtual machine (VM) data from Nimble Storage snapshots on primary storage and replicated copies on secondary storage.
It means that in case you're having in place a storage replication between two Nimble units, you can setup Veeam to take backups from the second SAN and completely avoid any
The product will have also new Veeam Explorer for Storage Snapshots. Veeam Explorer for Storage Snapshots which will allow to recover individual items or entire VMs quickly from Nimble snapshots and replicated copies.
Veeam Availability Suite 9.5 will be able to take advantage of On-Demand Sandbox for Storage Snapshots. What is it? This feature will use storage snapshots on primary and secondary storage to create complete isolated copies of your production environment. Can be used for fast and easy development, testing and troubleshooting.
As an IT and virtualization admin, I believe that not only fast storage counts but also fast and integrated backup product is the way to move forward. Storage integration with backup products creates a faster backup infrastructure which has only advantages over traditional backup architecture.
Image from Veeam …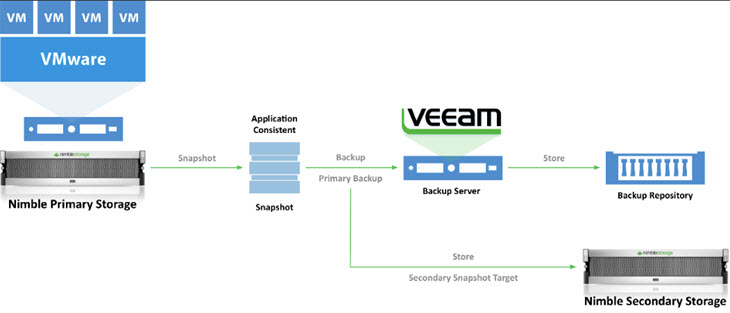 The release date of Veeam Availability Suite 9.5 isn't known just yet.
Nimble Integration will allow using the storage snapshots in different ways:
Schedule Nimble storage snapshots which will contain application-consistent VM images, thus allowing storage snapshot replication orchestration.
Restore from Nimble storage snapshots – restore full VM, individual files or Application items like Emails, AD objects etc. Also, restore from Replicated copies of Nimble storage snapshots (from secondary Nimble SAN)
Backup from Nimble storage snapshots (or from Replicated copies).
Check this post where you can see How-to upgrade to Veeam Backup 9 – (Detailed Post + HD Video) – requirements, recommended practices (backing up Veeam SQL DBs) and step-by-step, the whole upgrade in a lab went quite smooth.
You want to try Veeam? Try the full product during 30 days !
Source: Veeam Blog