There is a big release from Veeam a few days ago. They just released their latest Veeam Backup and Replication 11a version. There is an up-to-date iso will be available. The product is now RTM and the new ISO has an updated AWS plug-in and fixes an upgrade issue for backup servers which also have Veeam Backup for Microsoft Office 365 installed.
Veeam Backup and Replication 11a include over 2000 minor enhancements and fixes based on customer feedback. It also includes fixes from all cumulative patches for the original V11 release.
Veeam has added Microsoft Windows Server 2022 and Windows 10 21H1 support. W11 support through readiness based on the pre-release build.
Imagine that your whole on-prem data center is destroyed. Your backup server which sitting in your office across the street is just fine…. But you don't have any servers left to restore to.
Drum roll, drum roll…..
Google Cloud is now fully supported as a restore target. 
Amazing. Even if everything is lost, you can still restore your Veeam backups to the cloud. Google was the one missing in Veeam's options.
Screenshot from Veeam's presentation to Vanguards..

Get the latest ISO of Veeam Backup and Replication
VMware vSphere 7.0 U3 readiness based on the pre-release build. The official support will require full regression testing of the GA build when it becomes available. This article will be updated with a supporting statement afterward.
As you know, vSphere 7 U3 has just been announced (but not released yet).
Requirements for installation/upgrade
You'll have to run at least 9.5 U4b or later before you upgrade.
If Veeam Backup for Microsoft Office 365 is installed on the same server, it must be upgraded to at least version 5d (build 5.0.3.1033) prior to installing Veeam Backup & Replication 11a.
If you're all ready to jump in and start using Windows Server 2022, just read on. Veeam recommends doing only fresh installations of repositories as upgrades cause performance issues.
Quote from Release notes:
WARNING: Avoid upgrading your existing Server 2019 based ReFS backup repositories to Server 2022 and/or mounting ReFS volumes from Server 2019 to new Server 2022 installs until Microsoft addresses the known regression in the ReFS format upgrade code.
Heads up as the performance of REFS should be better than in WS 2019 and WS 2016….
New native cloud-specific Veeam Backup Appliances are available
Cloud-native capabilities for AWS, Microsoft Azure, and Google Cloud Platform
v11a relies on the new releases of native, cloud-specific Veeam Backup appliances to deliver the following additional functionality:
Native protection of additional services: Expand native backup and recovery to Amazon Elastic File System (Amazon EFS) systems and Microsoft Azure SQL Databases.
Lowest cost archive storage: Achieve long-term retention goals for cloud-native backups within budgets. New support for Amazon S3 Glacier and Glacier Deep Archive, Microsoft Azure Archive Storage and Google Cloud Archive storage cuts data archival costs by as much as 50X.
Increased security and control: Safeguard encrypted backup data from ransomware and other cyber threats. Integrations with AWS Key Management Service (KMS) and Azure Key Vault, as well as new RBAC functionality, increases security with streamlined control over access authorizations.
Fully integrated Google Cloud Platform (GCP) support: GCP protection is now built directly into the Veeam Backup & Replication console. Further, with V11a, customers can now restore image-level backups created by ANY Veeam product directly to a GCE VM for cloud disaster recovery of any workload. With these additions, Veeam now supports centrally managed cloud-native backups and Direct Restore functionality for all three leading hyperscalers.
More new Features
Instant Recovery to Nutanix AHV – With the new Veeam Backup for Nutanix AHV v3 included in this update, Veeam expands its patented instant recovery functionality to additional hypervisors. Customers can now instantly recover image-level backups created by ANY Veeam product to a Nutanix AHV VM for instant disaster recovery of any workload – cloud, virtual, or physical. This functionality requires Nutanix AHV 6.0 or later.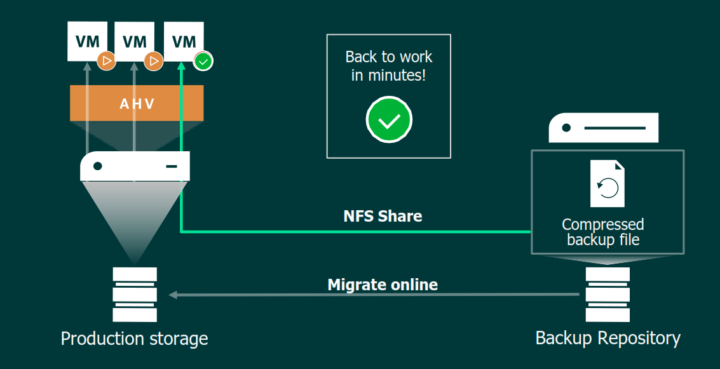 Centralized management for IBM AIX and Oracle Solaris protection – Veeam Agents for IBM AIX and Oracle Solaris jobs can now be centrally monitored and managed through the integration with Veeam Backup & Replication protection groups of the "Computers with pre-installed agents" type. In addition, you can now perform file-level recovery from such backups in Veeam Backup Enterprise Manager.
Red Hat® Virtualization (RHV) support readiness – With support for a fourth hypervisor in a supported public beta, Veeam Backup & Replication v11a offers reliable integrated backup for Red Hat Virtualization (RHV) 4.4.7 or later so customers can create efficient backups of RHV VMs utilizing native change block tracking and be prepared for any disaster.
Kasten by Veeam K10 integration readiness – With the new integration released as part of Veeam Backup & Replication v11a, K10 and Veeam customers will be able to leverage existing investments in backup infrastructure. The upcoming Kasten K10 v4.5 will be able to direct backups of Kubernetes clusters that leverage VMware persistent volumes to a Veeam Backup & Replication repository where its lifecycle can be managed and additional Veeam features and capabilities leveraged. This article will be updated with any additional requirements once the integration is validated on the K10 v4.5 GA code.
Other (major) Enhancements
Veeam Continuous Data Protect (CDP): improved performance and reduced CPU usage during the initial synchronization, added better monitoring and reporting for replication conveyor issues, added compatibility with a number of VMware Virtual Volumes (vVOLs) implementations, removed existing limitations on maximum I/O journal size for VMware vVOLs and VMware vSAN target storage.
Improved health check performance: storage-level corruption guard functionality will now also use the advanced data fetcher technology, which should significantly improve its performance on enterprise-grade backup storage hardware.
Elliptic curve cryptography: in addition to data encryption, elliptic curve based keys are now supported for registering Linux servers with Veeam Backup & Replication using the SSH public key authentication method.
Restore directly from Capacity Tier: when a restore process is initiated from backups stored in the Capacity Tier (using the Backups > Object Storage node), we will no longer read matching data blocks from the Performance Tier and instead use solely the data from object storage. This capability can be useful for performing periodic non-disruptive restore tests directly from the cloud without putting your Performance Tier into maintenance mode.
Object storage compatibility: to help object storage devices with limited scalability, you can again enable your backup jobs to use the 8MB block size to reduce the number of objects created. To make this option visible, create the UIShowLegacyBlockSize (DWORD, 1) registry value under the 'HKLM\SOFTWARE\Veeam\Veeam Backup and Replication' key on the backup server. Keep in mind that this option significantly increases incremental backups size and requires an active full backup to be activated.
External repositories: backup server will now detect the presence of new restore points as they appear, instead of having to wait for daily and/or manual rescan to be performed, thus addressing various inconsistencies in the user interface.
Microsoft Azure authentication library: we have switched from ADAL to the recommended and more secure Microsoft Authentication Library. Microsoft plans to discontinue ADAL support entirely in mid-2022.
Microsoft SCVMM: we added the infrastructure caching service to improve the performance of SCVMM-integrated jobs and user interface operations in large Hyper-V environments registered with Veeam via SCVMM server.
VMware vSAN integration: the task scheduler now uses the dedicated threshold of a maximum number of open VM snapshots per vSAN datastores, with the default limit of 32 snapshots. You can control this setting with the VSANMaxSnapshotsNum (DWORD) registry value under the 'HKLM\SOFTWARE\Veeam\Veeam Backup and Replication' key on the backup server.
Performance improvements

New Agents Updates, now supporting W10 21H and Windows Server 2022!!
New Veam Agent for Linux support updated OS:
RHEL/ CentOS 8.4
Ubuntu 21.04
Debian 11
SLES 15 SP 3
OpenSUSE Leap 15.3
Fedora 34
Links:
Release notes for Veeam Backup and Replication 11a
****************************************************************
Save 15% On Veeam Backup for Microsoft 365 NOW !!
****************************************************************
Check out also FREE Veeam Products:
There are products from Veeam that are free. Did you know?
****************************************************************
Free Trial of Veeam Backup and Replication  – Latest ISO.
****************************************************************
More posts from ESX Virtualization:
Stay tuned through RSS, and social media channels (Twitter, FB, YouTube)