If you have missed Veeam Live where all those features were announced, don't worry. We'll take care of it in this article where we'll show you some of the new features of Veeam Backup and Replication v11.
Update: Veeam Backup and Replication 11 has been released. Announce here.
****************************************************************
Free Trial of Veeam Backup and Replication v11   – Latest ISO.
****************************************************************
There are too many to include them all in one article and in fact, there are 11 areas of improvement and each of those areas has some features added or improvements. In total there might be like 100 improvements over the v10. Currently, the product is in beta 2 so the screenshots down here are from that beta. As a result, the labels aren't finished yet.
The backup console no longer requires the local administrator's rights. However, the local admins are still required for the "copy to FLR browser" when you basically using a file-level restores. You also need the local admin account for mounting the backups locally when using Veeam's Explorers (for AD, Exchange.. etc).
CDP : Continuous Data Protection
I guess you've heard about Veeam Continuous Data Protection (CDP) already so real quick. Veeam CDP will be able to continuously replicate (via replication jobs) VMs from one site to another with RPO in seconds. The technology behind this is that Veeam is leveraging VMware's VAIO (vSphere API for I/O filtering).
To use this feature you'll need to first activate (deploy) the CDP filters onto your ESXi hosts (that must be in "community supported" mode) from the Veeam UI.
Screenshot from Beta 2 installed in the lab below….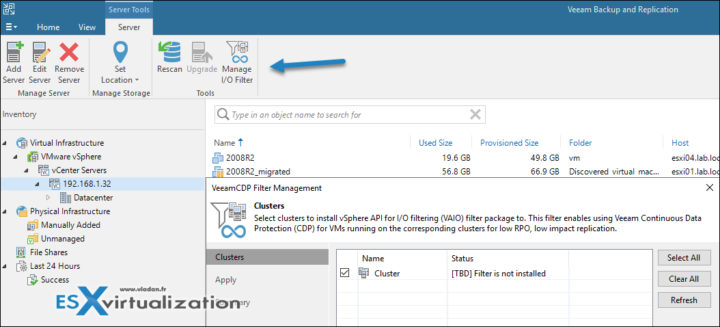 Then you'll need to add a CDP proxy. It's a machine where the component will be deployed remotely. You should chose a server that is Windows server and that does not have the CDP proxy role already. Those machines can however have other roles.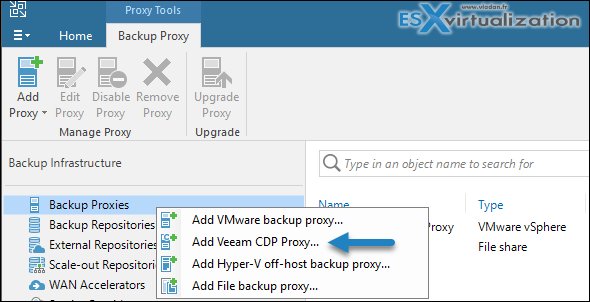 Async Processing
Veeam will enable async processing for all functionalities that read data from backup repositories. While this is beneficial for the enterprise-grade hardware mostly, this can be turned off via registry if there is no noticeable performance increase on your infrastructure.
Backup Copy Retention
Backup copy job retention policies will now have the same logic as UI as primary backup job GFS (Grandfather-Father-Son) strategy that you know already within the backup job.
vSphere Tags
Enhancement here as well where you have a now possibility to use "AND" operator and chaining 1-2 or 3 tags together to match your search. In case you select let's say 2 tags, only the VMs that have both tags will be protected.
Favorite filtered views
You'll be able to add your favorite filtered view to the management tree together with filters. The access shall be easier.
Hardened Linux Repository
Linux repositories, where you store your backups, you will be finally able to use the immutability feature. If you don't know what is it it is fairly simple, it is making those backups impossible to delete.  
Screenshot from the Veeam presentation (Thanks to Michael..)

Additionally, when adding the Linux repository to your Veam backup server, you'll use Single-Use access credentials. Those are credentials that are used only once to connect to the Linux box and they're thrown away. This again is to help to harden the access to the Linux box by stealing possibly the credentials from the Veeam server.

With those two features for Linux repost, the malware and hackers will have a much harder job to get your backups, delete them, or whatever.  If they scramble most of your machines on your network, you'll still have those backups you can recover from!
You'll be of course willing to use an XFS file system on Linux in order to take advantage of block cloning technology that is faster.
Linux File Restore without helper appliance
v11 won't need helper appliances (but are still available in v11) for restoring individual files. You'll be able to mount backup to any Linux machine. The recovery will be faster because you'll no longer need to spin a helper appliance first.
Additionally, you'll be able to recover Linux files from environments that do not have hypervisor access.
This also applies to Veeam agents that are backing up Linux based systems. You'll be able to recover individual files from IBM AIX, MAC and Oracle Solaris systems without a helper appliance.
Improved Linux Backup Proxy Modes
You now will be able to use not only hot-add (this was with v10), but also other modes (network mode, Direct SAN with NFS, iSCSI and FC, and also backup from storage snapshots). Again here, great improvements for the Linux eco system compared to the v10 where it just started.
Newly added:
Network Mode (NBD)
Direct SAN (NFS, iSCSI and FC)
Backup from Stroage Snapshots (iSCSI, FC)
Again, let me borrow a screenshot …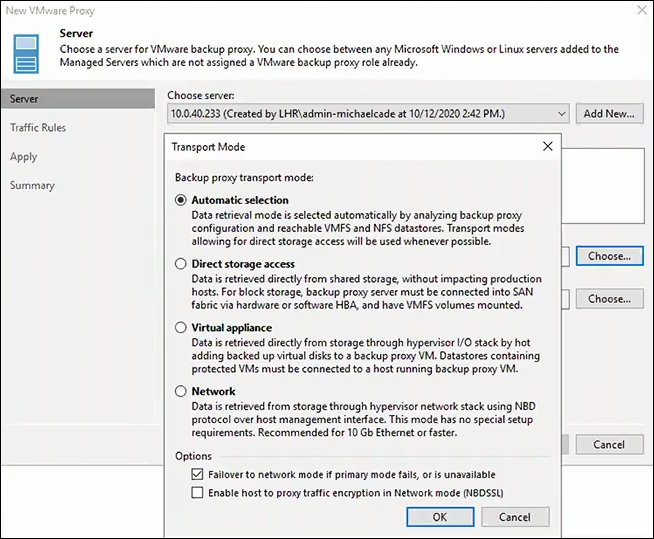 Service Provider Features
As I'm not from the service provider world I just quickly recap what's being said during the Veeam presentation.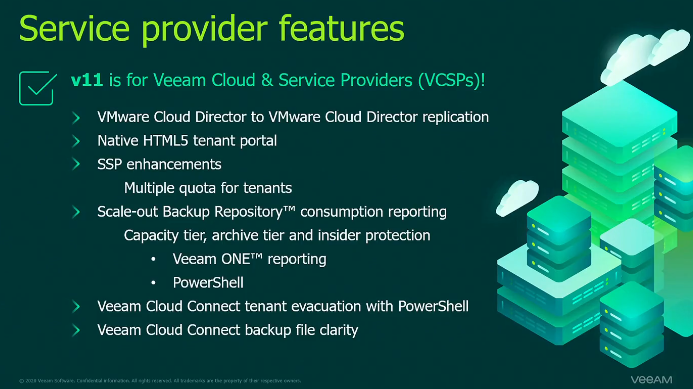 Storage Snapshot Integration
The goal of storage snapshot integration is to offload processing from the hypervisor level (VM) , to the storage device. If you have physical Windows Server, and leveraging iSCSI LUN, Veeam will be able to use the storage integration rather than using Veeams agents that sees the data as a disk. Veeam will be able to pull the data from the storage array, from the snapshot of the LUN directly into the Veeam repository.
PowerShell Module for Veeam Backup and Replication
There will be an integrated PowerShell module. It's installed as part of the console, by default. You can manually add that as well.
I'm just rewriting what's being announced there.
It is a fully functional binary module,
PowerShell 6.0 and higher are supported
Compatible with scripts calling classes in our assemblies
First step towards a truly decoupled module
New Rest API for VBR
I'm not a RESTfull API expert.
With many possibilities, there is one which might be your interest. You'll be able to do an export into a JSON file and to import this file on another location.  But stay tuned for the final news about that.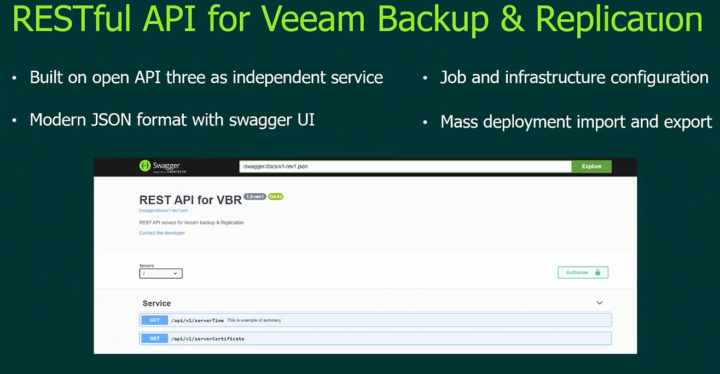 Final Words
We have just scratched the surface on couple of new features from v11. Yes I know. It's a massive update that's coming and like the v10 last year, the v11 is bringing a lot to the table. Stay tuned for the release date (not known just yet) and other blog articles about Veeam Backup and replication v11.
Note that we have not talked about Agents, O365, Enterprise console……  or about Archive Tier, Google Cloud Storage, Instant NAS Recovery, Instant DB Recovery and the new Veeam Agent for MacOS.
Source: VeeamLive Session with Michael and Anthony.
****************************************************************
Save 15% On Veeam Backup for Microsoft 365 NOW !!
****************************************************************
Check out also FREE Veeam Products:
There are products from Veeam that are free. Did you know?
****************************************************************
Free Trial of Veeam Backup and Replication  – Latest ISO.
****************************************************************
More posts from ESX Virtualization:
Stay tuned through RSS, and social media channels (Twitter, FB, YouTube)