Veeam Backup and Replication v9 which was released recently is again, a major evolution (if not to say revolution) of the product that we all like. In fact, in this post, I wanted to focus on a feature that was named Bitlooker, but which perhaps not so well known outside of the Veeam community and Veeam users. In this post, you'll understand how Bitlooker works and which space savings are possible…
Bitlooker feature is called Exclude deleted file blocks. It's a simple checkbox. It works only for NTFS-based systems (Windows) as it reads an MFT to see which blocks were marked as deleted. Bitlooker is data reduction technology allowing to further reduce backup file size (up to 20%).
Please note that even if I throw in some numbers from my lab, those numbers might not be the same as yours as I'm using lab environment and that your production environment is certainly different than mine, even if I try to get as closer as possible with my home lab, to simulate production workloads.
What are deleted blocks?
Simple. You have a VM that is perhaps a file server. You add files, delete files. Right? Let's assume you have a file server that you add 100 Gb of files. The thin-provisioned VMDK will grow from 40Gb to 140 Gb. Correct?
Next, you delete those 100 Gb of files you just added. (I know it's not what's happens usually, but to give you the picture). The VMDK stays the same size – 140 Gb as you only delete pointers to the blocks. The Windows OS correctly report the files as deleted, but the VMware host from the outside does not. You would have to use a utility like sdelete to zero out all deleted blocks.
Here comes Bitlooker:
Analyzes the NTFS Master File Table (MFT) to identify blocks belonging to deleted files, and skips those blocks from image-level processing to reduce backup file sizes and replication bandwidth consumption.
Where to check if Bitlooker is enabled in Veeam's jobs?
Let's move on with the space savings and Veeam's storage options. First, we should know where the options are set as those are buried down in the advanced options in each backup job! Here it is:
Edit job > Storage > Advanced > Storage Tab > Check box Exclude deleted file blocks
In my example I also changed the compression level to Extreme …. (the default is Optimal).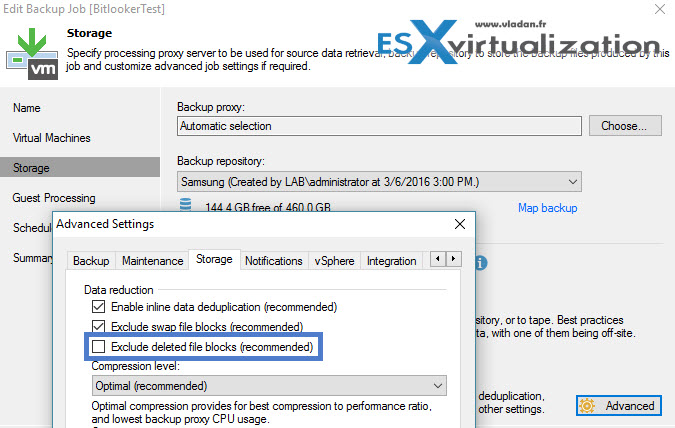 A simple test?
Step 1: Full Backup. Our VM with thin-provisioned VMDK grew in size (now 117Gb) and after full backup, we get a big Veeam's VBK file…..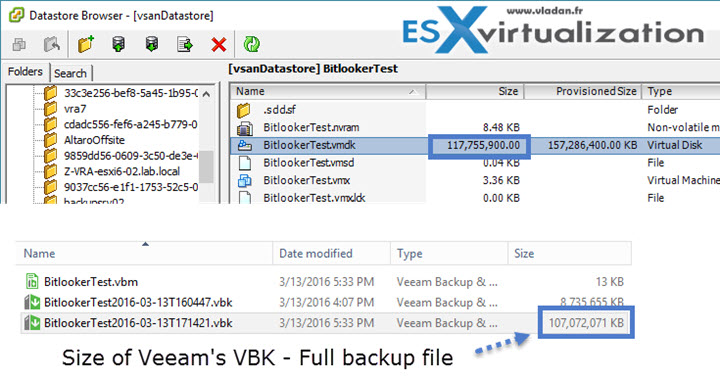 Step 2: I deleted about 100 Gb of files from my VM….. (for the purpose of this test it was different installation and ISO files, as well as office files etc…).
The guest OS (Windows 2012 R2) can see the difference…. before and after deletion of those files. Normal.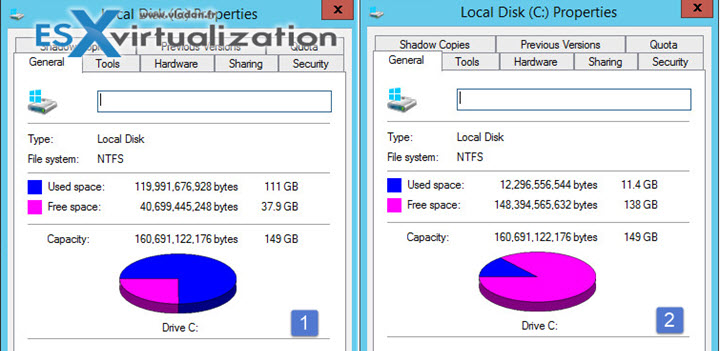 I enable the Bitlooker features – the checkbox.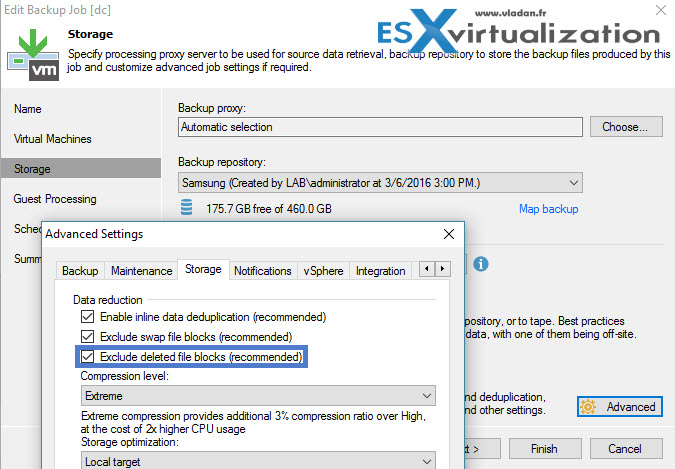 Step 3: After enabling the Bitlooker feature and new full backup we can see that
A VMDK stays the same size as previously
Veeam's VBK file size is much smaller now (only 7Gb).
All the deleted blocks were skipped so the Veeam's VBK file size is much smaller….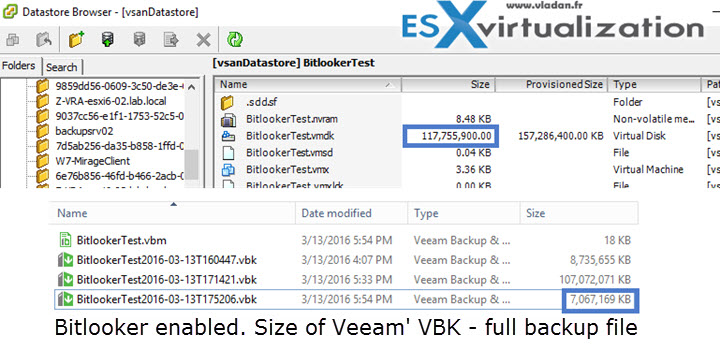 ——————————————————————————————-
Incremental backup benefits?
Let's say that you wonder if you see any benefits when you backup job is set to incremental and we all know that Incremental backups use CBT (changed block tracking). We have done another simple test. We just deleted the 100 Gb of file and execute full backup with Bitlooker OFF,

Full Backup with Bitlooker OFF. Our VM has All data in place (system + about 100Gb of data). In total, there is about 140 Gb on the C: drive.
Deleting the 100 Gb of data and creating Incremental backup with Bitlooker OFF
Re-enabling Bitlooker and creating an Incremental backup.
Active Full Backup (Bitlooker ON)
————————————————————————————————————-
Wrap UP:
Veeam's Bitlooker feature works. As you could see we saw some huge space saving between the 1st and 4th steps in the photo above. The size of VBK backup went down from 107 Gb to only 7 Gb, after we enabled the checkbox Exclude deleted blocks. The incremental backup Veeam will only process changed blocks, which does not belong to deleted files so no savings (almost no difference in size) here. But once you do an Active Full backup you should see a difference!
The time to do a backup with Bitlooker ON was shorter as well. The Active full backup (4) took only 2 min 48 sec compared to full backup (1) with Excluded Deleted Blocks OFF which took 19 min 32 sec.
Just one last thing. Bitlooker is present in all Veeam Backup versions (except the free), not only Enterprise Plus, Enterprise but also Standard. Want to test Veeam Software? You can download Free Trial which is a Full version valid during 1 month. Get your copy !
Check other posts – Veeam 9: