A fellow Vanguard, Dave Kawula, that's attending VeeamON 2022 in Las Vegas, has released a Veeam Backup for Microsoft 365: Operations Guide for users of Veeam Backup for M365 v6. It's available through Amazon.
The authors: Dave Kawula, Cristal Kawula, Cary Sun, Emile Cabot.
The foreword is written by "Rickatron" himself, Rick Vanover.
Imho, this is definitely a good read so if you're using or thinking of using Veeam Backup for M365, this book is a must. It's a 570 pages book so quite a read. The book has 9 chapters.
Screenshot from the Amazon web page.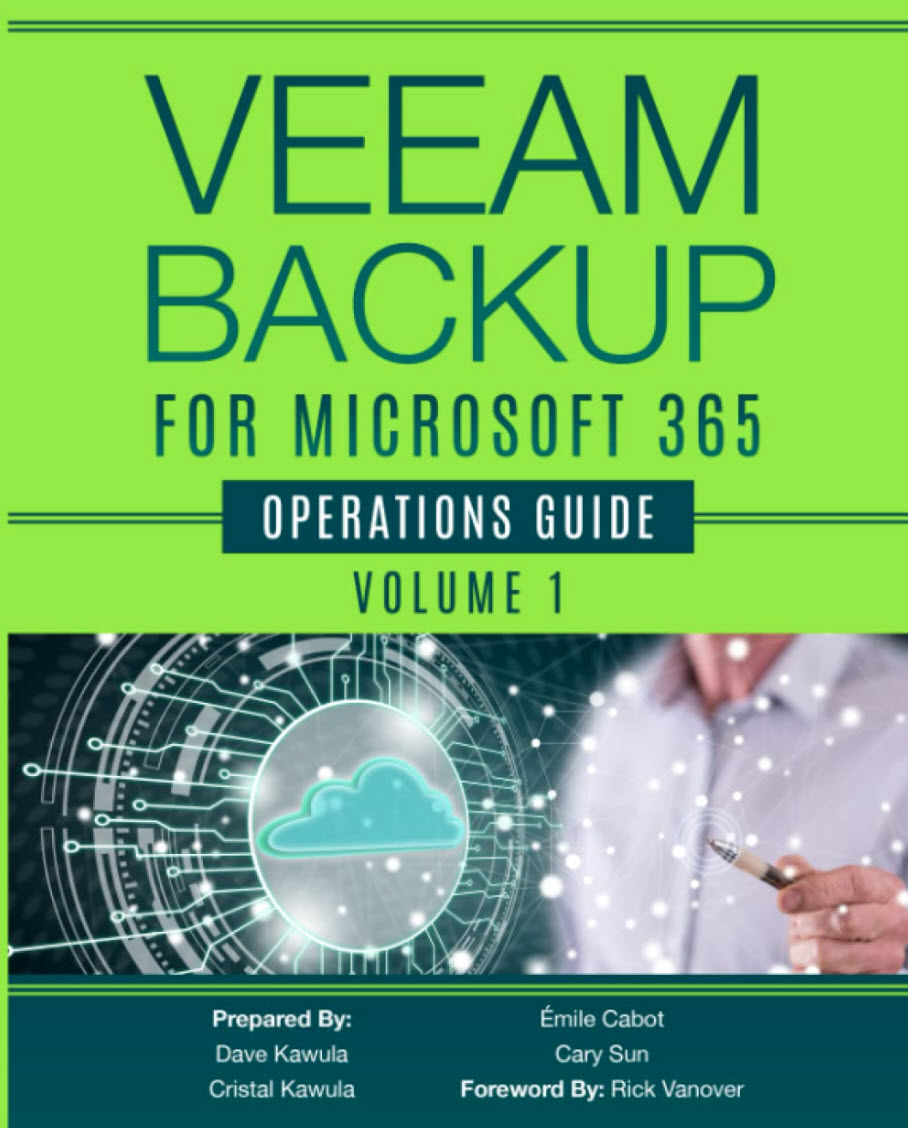 Quote from the overview:
Protecting your organization from threats beyond your network is one of the most important tasks for any Microsoft 365 administrator. This operations guide will showcase how to protect your cloud assets using Veeam Backup for Microsoft 365. In addition, it will show steps from installation, configuration and, most importantly, all of the tasks required for day-to-day operational support teams.
Check further details on Amazon here.
The Content
There is 9 chapters wih sub-chapters each.
Chapter 1 – Prerequisites (all you need to know about Exchange, SharePoint organizations, Veeam backup management server, firewall ports or REST API Server)
Chapter 2 – Deployment ( Instal/upgrade/REST API and/or Backup Proxy server)
Chapter 3 – Configuration ( Adding M365 organizations, modern authentications, Azure AD, configure REST API, restore portal, restore operator role …)
Chapter 4 – Data backup and backup copy ( backup job with local repositories, specific users, groups, sites, teams, backup jobs with Azure blog cool tier repos…)
Chapter 5 – Data Restore ( Exchange Oline data, OneDrive for business, Restore Teams data….)
Chapter 6 – Restore portal ( Restoring Exchange online data, OneDrive for business, SharePoint data)
Chapter 7 – Reporting ( Mailbox protection reports, creating storage consumption reports, creating license overview reports)
Chapter 8 – Troubleshooting ( Different errors and solutions found by users during their usage)
Chapter 9 – Join us at MVPDays and meet great MVPs like this in person ( MVPDays content promo).
Today it's the first day of the VeeamON 2022 conference. As we have already reported, you can attend online (Free) or in-person. It's a hybrid event. I'm staying tuned as this week Veeam will unveil the latest upcoming Veeam Backup and Replication v12 product. Stay tuned for more …
Check out VeeamON 2022 – registration link.
****************************************************************
Save 15% On Veeam Backup for Microsoft 365 NOW !!
****************************************************************
Check out also FREE Veeam Products:
There are products from Veeam that are free. Did you know?
****************************************************************
Free Trial of Veeam Backup and Replication  – Latest ISO.
****************************************************************
More posts from ESX Virtualization:
Stay tuned through RSS, and social media channels (Twitter, FB, YouTube)