Because of Covid-19 many physical IT conferences will be Online only during 2020 (and I hope that only for 2020). That's the case for VeeamON 2020 too. It will be an Online event only. This is something expected for sure as Covid-19 won't go away fast as no vaccination treatment is nearby.
However, whenever you might be living and if you have attended a real, physical VeeamON already or not in the past, you can register and attend online for FREE. You can experience the online VeeamON 2020 from the comfort of your house/apartment or whenever you live. It will be 2 days of goodness (June 17-18), sessions, discussion with industry experts and you'll be able to even access the hands-on labs!
Well, yeah. I know, everyone would prefer a physical contact and real event, but this isn't really possible right now.
As for me, I'm already registered. Register here for FREE.
June 17-18
Save the dates.
There will be technical sessions, interactive discussions, breakout sessions, networking, product updates, best practices…. All as it would be a real, physical event. If you know Veeam, you know that when they promise things, it just works..
Quote:
Level up your skills with insightful keynotes, plus live‑streaming and on‑demand content that will accelerate your career and help you unlock the power of your data with the latest Veeam® technologies.
Many, many topics will be covered during those 2 days. Depending on which Veeam products are you using and you're interested in, you might want to check some sessions while not interested in others.
From FAQ:
Will the conference program change now that the conference is online?
Changes may occur, but the current program structure and topics will carry over to the rescheduled conference online. You will have access to live and a on demand content catalog of more than 30 sessions, including visionary keynotes. And, we will bring to you the legendary Veeam party as well as opportunities for engagement including access to live chats and collaboration with attendees, our first virtual TechFest, Hands on Labs, and more.
The Veeam party might not be as epic as usually, but that's not Veeam's fault -:)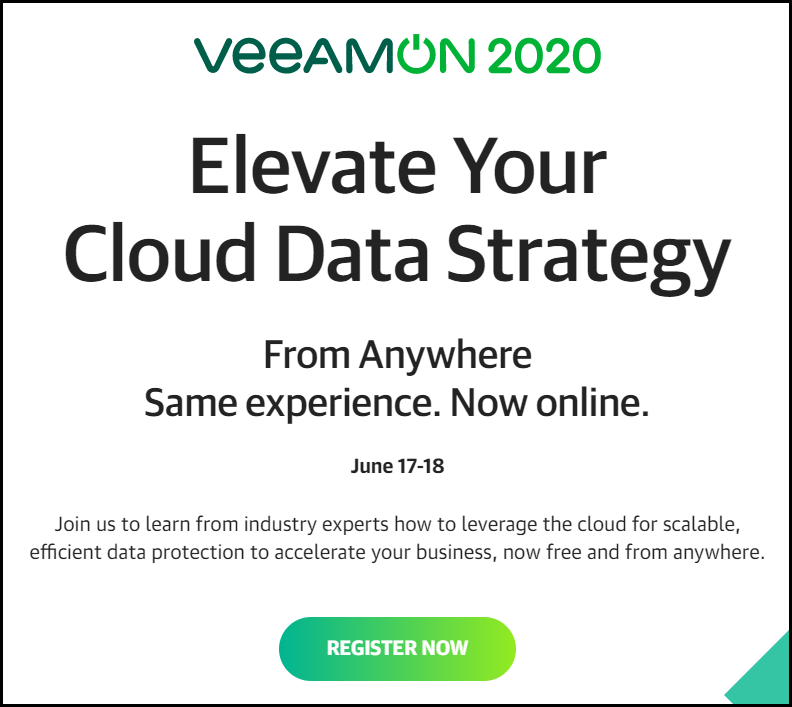 Here are some topics which will be covered:
There will be more information added to the VeeamON website during the next 2 weeks…..
Top Under-the-Hood Enhancements and Hidden Gems of v10
Best Practices of Backing up Enterprise Applications With Veeam
Service Provider Tips and Tricks for Veeam‑powered Solutions
Storage Integration Deep Dive
File and NAS Backup Best Practices
Veeam Object Storage Best Practices
Implementation and Sizing for Veeam Availability Suite: Components and Data Flow
Tips for Success in the War on Ransomware
Top Designs for Orchestrated Disaster Recovery With Veeam
Optimizing Healthcare Data Protection: Shifting Focus to Care
Making Your Backup Data Work for You: Go Beyond Basics With Veeam
A ProPartner Blueprint for Success in the 2020s
Cloud Data Management: What It Is and Why It Matters to Your Business
Architects vs. Support vs. the Real World: Top WORST Practices With Veeam
From the Architect's Desk: Design and Implementation of Veeam Availability Suite
Sneak Peek Into What's Coming From Veeam
Veeam Backup for Microsoft Office 365 Best Practices and Scaling
Veeam Agents Best Practices and Tips for Success
Tips and Tricks for AWS and Azure Backups
Here is a quick video from Veeam (just released)….

Check out Veeam Community Edition and my latest post – How to Install and Configure Veeam Backup and Replication 10 Community Edition
Step-by-step installation of Veeam v10 Community edition FREE
Connection to VMware vSphere
Connection and remote deployment of Veeam Agent for Windows on a laptop (from within Veeam backup console)
Recovery of a single file from the backup of this remote system
Creation of Veeam Recovery media USB stick
Bare-metal restore of corrupted system
*****************************************************
Download Veeam Backup And Replication v10 FREE Trial
*****************************************************
More from ESX Virtualization
You might want to check our Free Tools page where you can find VMware utilities, but also utilities for Microsoft systems or other "Swiss Knife" software there
Stay tuned through RSS, and social media channels (Twitter, FB, YouTube)