Veeam v.10 will bring an interesting feature to an existing Veeam Capacity Tier. Basically, Veeam Capacity Tier is native integration with object storage such as Azure BLOB, AWS S3 or other on-prem object storage. Today we'll talk about Veeam Copy Mode Feature added to the cloud tier in v.10.
Veeam Copy Mode of the Capacity Tier is a v.10 feature so you'll have to wait until the v10 will become generally available. But after that, while using a Veeam Scale-out backup repository (SOBR), you'll be able to activate the copy mode.
Hopefully, everyone knows SOBR. If not check my other article about SOBR here. Basically SOBR allows you to use multiple local repositories and create an aggregated storage where you can store your backups. SOBR groups several backup repositories which are called extents. When you configure the scale-out backup repository, you actually create a pool of storage devices and systems, summarizing their capacity. In fact, you only need one or more extents and one object storage repository to be able to use the cloud tier.
Veeam Capacity Tier is basically an extension of the Scale-out Backup Repository (SOBR), which uses object storage at Amazon, Microsoft Azure or IBM Cloud. It moves blocks of data from local storage to offsite storage and back depending on the configuration and retention policy. (older chunks are moved to the cloud etc…)
With Veeam 9.5 U4 we only had one option when configuring Capacity Tier:
Moving backup files – this option is for backups that ages out of the operation restore window. You'll be able to move them to cheaper cloud storage – public cloud, or on-prem object storage solution. It allows you to reduce long-term retention costs and move older backups to object storage and free some on-prem space.
You can still restore from those backups, but some bits which are missing on the on-prem repo will obviously need to be pulled from the object storage.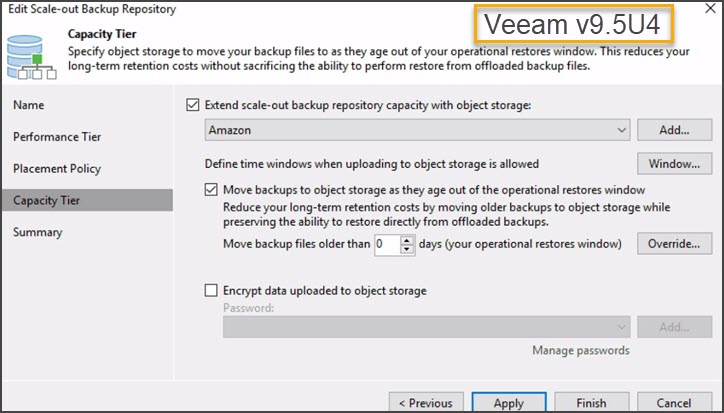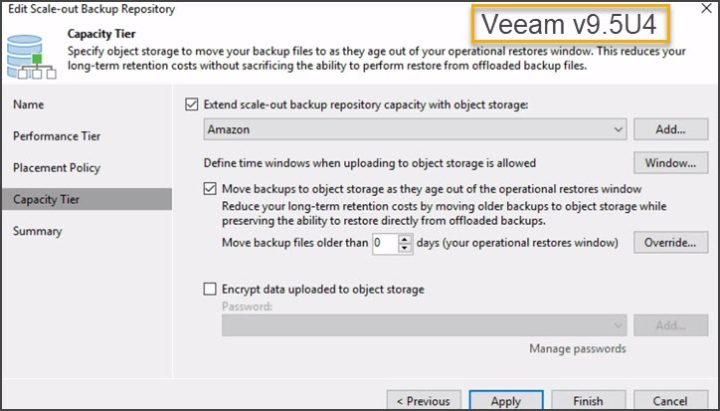 New in Veeam Backup and Replication v10 – Copy Mode Feature
Now if you want all your backups to be copied to the object storage once they are created on your on-prem storage, you simply check this box within the settings of your SOBR repository. This is just perfect for 3-2-1 backup rule! You'll be able to have one full copy of your data off-site, and not create a separate copy job for it -:). When running your backup job and creating local backup files, they're immediately copied to the capacity tier, within the same job.
Image from Veeam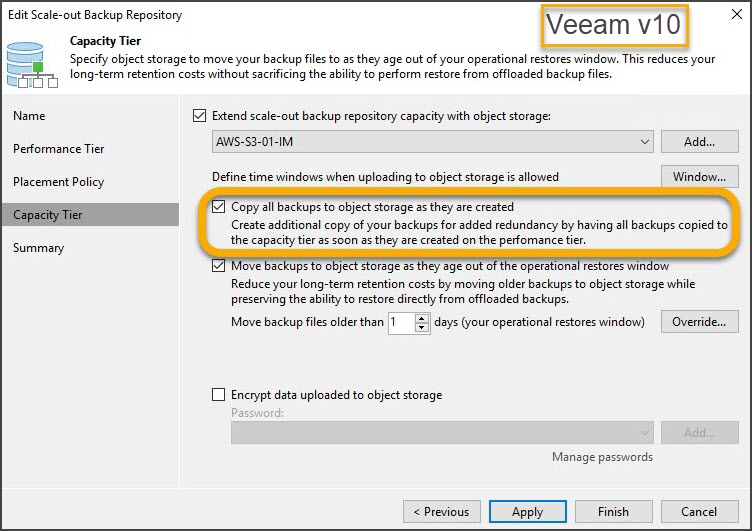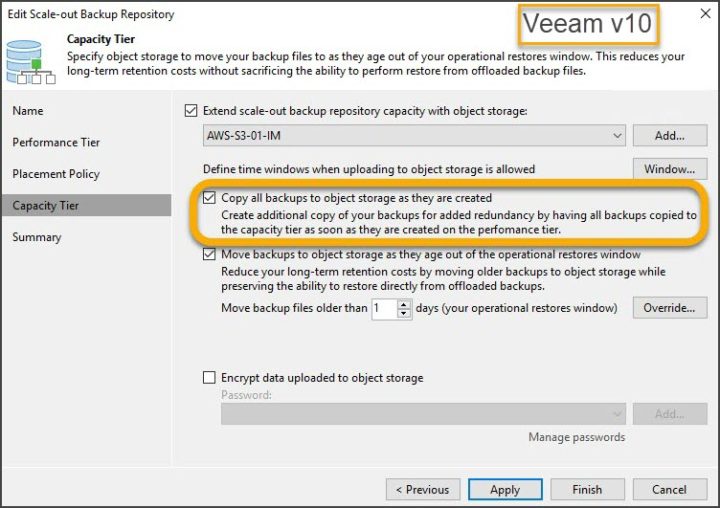 Veeam Scale-Out Backup Repository (SOBR) – some details.
Here are some details about different backup repos you can use to add them to SOBR, which is only a logical view of all those extents.
To deploy a scale-out backup repository, you must configure a number of backup repositories and add them to a scale-out backup repository as extents. You can mix backup repositories of different types in one scale-out backup repository:
Microsoft Windows backup repositories

Linux backup repositories

Shared folders

Deduplicating storage appliances
The extents have to have at least a capacity to hold a single backup file as Veeam Backup and Replication does not split one backup file across multiple extents.
Links:

<<<<< Veeam Backup and Replication 9.5 U4b – Trial >>>>> 
<<<<< Veeam Backup Community Version FREE >>>>>

Final Words:
The Copy Mode of the Capacity Tier is definitely another plus which will be a "feature to have". It allows you to secure your environment by separating backup files and storing them on different sites via a simple checkbox.
Don't miss Veeam-On Virtual. Check my post about it here.
More from ESX Virtualization
Stay tuned through RSS, and social media channels (Twitter, FB, YouTube)