There will be a major datacenter event organized by Veeam, later in November. We're approaching fast that date even though we have VMworld Barcelona before that.
But for those of you who miss the possibility to join Veeam in Barcelona during VMworld, you can attend VeeamOn Virtual 2019 online.
Update: I was present during VMworld Barcelona – Check updates on our VMworld 2019 Page.
Join the premier virtual conference where Veeam brings the latest and greatest in data protection, security and management directly to you. There will be over 5,000 attendees and you'll be able to receive exclusive access to sessions and content.
There is an Agenda listed on the site:
Vision & Strategy
Implementation Best Practices
Cloud-Powered
Architecture & Design
One of my favorite topics is Ransomware protection. It's a very serious topic today. On a regular basis, we have some news about a company which activity has been crippled because of a ransomware attack and when it happens it's already too late.
There will be topics presenting Veeam's new innovations which will be here soon with the upcoming Veeam Availability Suite v10 and other Veeam Availability solutions. Also other software solutions from Veeam, such as Veeam Availability Orchestrator, Veeam Agents, Veeam Backup for Microsoft Office 365 v3 and others.
November 20, 2019 is the day to be Online and watching best datacenter protection sessions!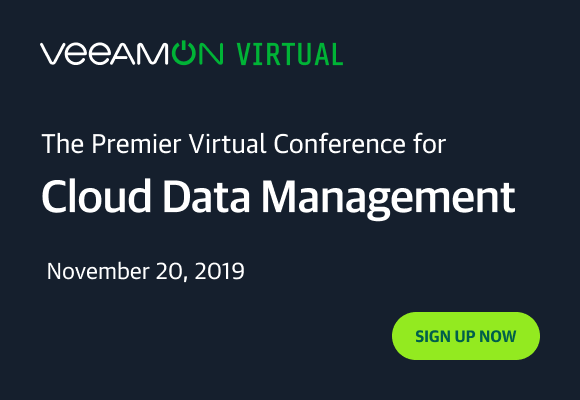 I say be ready before that happen by preparing your infrastructure and making sure that your backup architecture follows some simple guidelines.
The content, the agenda, and the involvement in this is pretty phenomenal:
20+ Speakers
5 000+ Attendees
1000+ Minutes of content
24h online streaming
Register free here – VeeamON Virtual 2019 Here.
Watch comfortably while at home -:).
I like virtual events since I don't have to travel and can just sit in my chair and watch the sessions…
—————————————————————
More about Veeam:
Veeam Community Edition
Did you know that the Veeam Community edition has also a replication function?
Replication
Yes, there is also a replication feature included, which means that you can set up a second location with a remote office where you'll be sending those replicas (your VMs) and which, in case of failure of a primary datacenter can be powered On.
As you can see, this is pretty much awesome all you can do with this Community Edition.
>>>>> Veeam Backup Community Edition 9.5 U4b ISO – Download Now <<<<<
Limitations of the Veeam Community Edition
Application-level monitoring
No email customization
Some reporting functionality is not available
10 VMs instances
The Community Edition starts with Veeam Backup and Replication 9.5 Update 4b which brought many new features and functions to the product. Let's recap those as well.
We have done a clean installation and quick configuration. Check out this video:
So get your copy of Veeam today…
Veeam community edition is one of the best free solutions on the market today to protect Virtual and physical workloads, with the limit up to 10 instances (10 VMs or 10 physical servers, laptops, desktops…).
Links:

<<<<< Veeam Backup and Replication 9.5 U4b – Trial >>>>> 
<<<<< Veeam Backup Community Version FREE >>>>>

Other useful links about Veeam
More from ESX Virtualization
Stay tuned through RSS, and social media channels (Twitter, FB, YouTube)