Vebmbu Backup and Disaster Recovery Suite ( Vembu BDR) is a backup solution for VMware, Hyper-V. Today we will focus on one of the most wanted features which allow restoring a deleted user account from Microsoft Active Directory (AD). We will use Vembu Backup for VMware vSphere to restore an AD object.
In this post, we won't go into details on how to install and configure the product. If you're interested, you can read our review post [sponsored] where we have done in details not only the installation and configuration, but we have also setup few backup jobs and validated some of its features.
Today's admins need speed and granularity. When something goes wrong within your Active Directory (AD), someone does an error and deletes a user account. The first moment it is a panic. What to do? Usually, when you have a backup solution and backing up your domain controller on regular basis, the only thing you should think of is – how to restore just this deleted account to the same location. But you should not wait for this to happen, but rather be prepared and do some tests.
Vembu Universal Explorer Free utility recovers application items from Microsoft Exchange, SharePoint, SQL and Active Directory without restoring the entire VM backup and disk image backup.
And that's what we will investigate today, in our lab, with Vembu product. At first, you'll have to install Vembu Universal Explorer Free Utility. In my case, I'm running Vembu Backup for VMware (and Hyper-V) on a dedicated Windows Server 2016 so I launched the installation of the Free Explorer utility on this server. It's a shame that the utility isn't actually installed during the initial product setup which would facilitate the recovery process, but we may see this included in one of the future releases.
You can skip the Prerequisites if you not using SQL, Sharepoint or Exchange. If not you have to manually download and install them.
How to Restore Deleted User Account From Microsoft Active Directory:
Connect to your Vembu BDR Console, click Recovery > Chose the Backup you want to restore from and click the Restore icon.
*********************************************************************
Shop for vSphere licenses at VMware Store:
*********************************************************************

Then Chose the restore type, pick an option File level Recovery.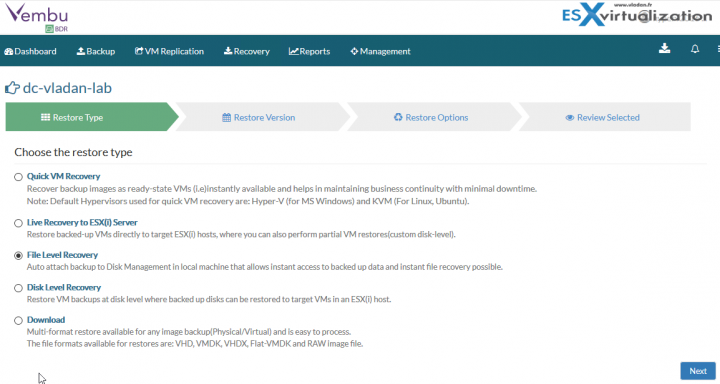 The assistant walks you through and offers you different restore points. Chose the one the closest to when you deleted the user.

Click the next button and confirm the restore. (Two more screens).
The product will mount the restore point as an additional disk drive visible through Windows Explorer.
Next, start the Vembu Universal Explorer Free utility and choose an Active Directory restore.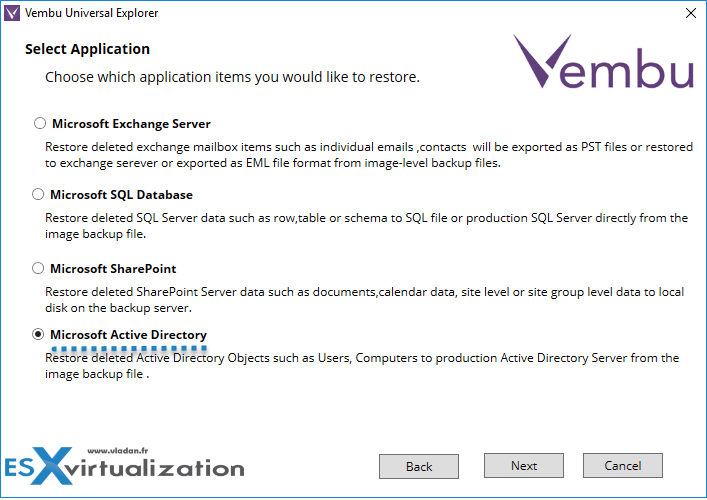 Now, you might have a different letter than I have in my lab. It depends on which letter is free so Vembu can mount the backup. But basically, you'll see that there is another Windows installation. (normally your system is installed on the C: drive and the mounted backup is appearing in my system as G: drive).

Click the big icon Add Database and browse for the Active Directory database file.
The file is located normally at:
Windows\NTDS\ntds.dit
As this: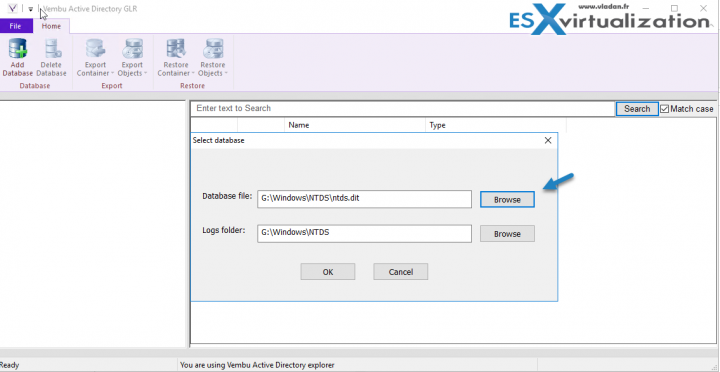 You'll see the AD with all the objects appear. Pick the user or object you want to recover and do a right click. You'll see several options but in my case, I was recovering to another domain than the Vembu backup server is located in, so I picked this option.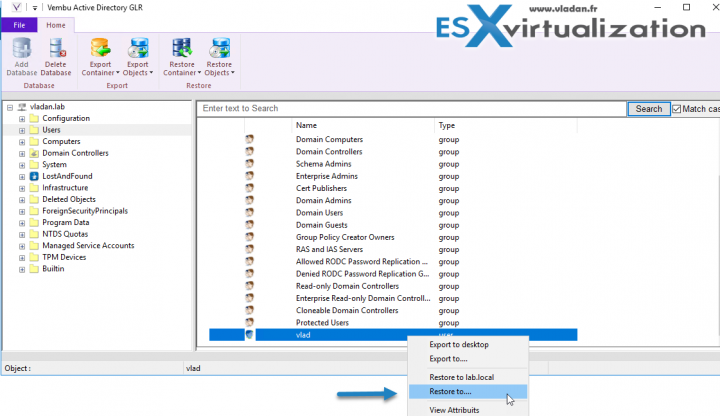 Then point to your server where is your Active Directory located and specify administrative credentials so the tool can access the server to restore the object there.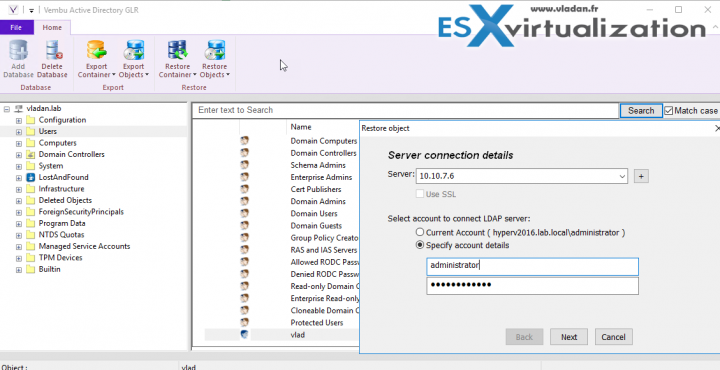 Then you have another option.
Where to restore? Usually, you want to restore to the original container but there can be use cases when you don't.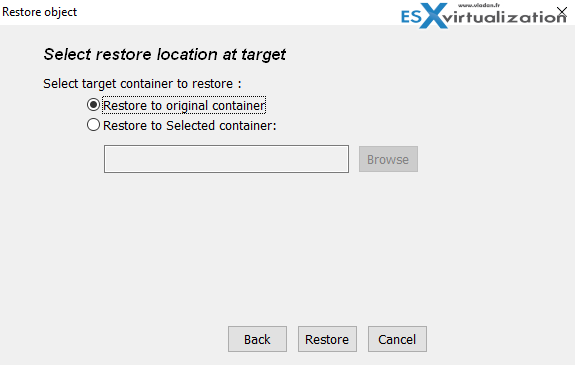 Then you just see a confirmation report, and we can see that our object was restored.

We can then go to our AD and hit refresh to see if the user will show up. And it does…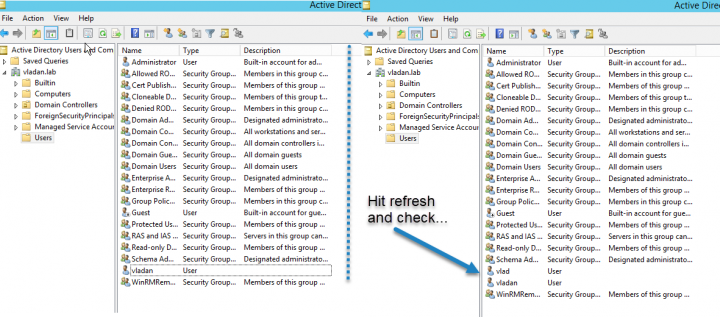 Wrap Up:
Within our small test, we could confirm that the tool is working as expected. Note that to fully take advantage of all different types of recovery, such as E-mails, SQL server objects or Sharepoint objects recovery you'll have to have a machine with all the requirements installed. If not you'll lose time when you'll need fast recovery. I'd recommend when installing this backup product, at the same time, install all the requirements and also the Vembu Universal Explorer.
The product has web based UI. It's different from traditional console UI but feels pretty good and pretty fast to work with. Administrators with some virtual environment as well as physical systems will appreciate the "single console to manage it all" as you can have the critical desktops/laptops as well as your VMs being protected by this backup product.
More from ESX Virtualization
Stay tuned through RSS, and social media channels (Twitter, FB, YouTube)