Reviewer guides are very popular as they have step-by-step install/config guidance so whether you just doing a POC or trying to deploy it in the lab, it saves your time. You don't have to search through the manual to understand the ins and outs. You have the guidance. VMware App Volumes Reviewer Guide is simply a must when you're working with VMware technology and especially VDI.
App Volumes provides real-time application delivery and life-cycle management. It can use App Volumes to quickly deliver applications and data to users without compromising the user experience.
The first time we covered App Volumes, (previously called Cloud volumes) it was with a demo video during VMworld Barcelona a few years back. The product was a game changer at that time….. Since then the product continues to evolve providing tighter integration with not only the whole VMware stack but also integration with Microsoft AD.
Quote from the PDF:
Applications are captured to VMDK or VHD files, called AppStacks, and provisioned to desktops through user, group, or computer assignment. Administrators manage this process with the App Volumes Manager, a web-based interface that is integrated with Active Directory (AD) and vSphere.

Applications are presented to the operating system (OS) as if they were natively installed. Quickly providing users with applications that require no installation reduces infrastructure strain and overhead and simplifies application life-cycle management. When an application is no longer required, you can easily remove it.
Screenshot from the PDF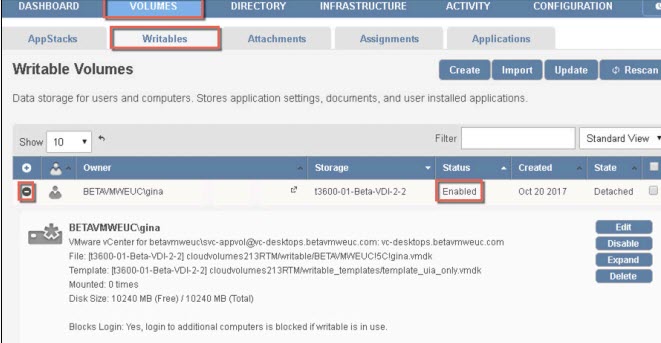 What are App Volumes for?
Delivers dozens of applications in seconds
Orchestrates the required infrastructure components, storage, Active Directory communications and if required hypervisor communications
Provides the interface to create and manage volumes
Manages assignments of volumes to user, groups, and machines
Provides archival information on the usage of AppStacks and Writable volumes
How do App Volumes work?
Each desktop has to have an agent installed. See image below.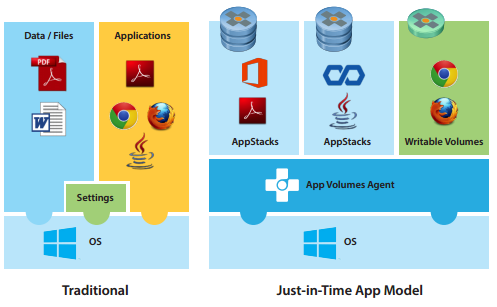 Applications, data, settings and configurations act as separate, layered containers.
Application Stacks (Read Only)  – containers, when in read-only mode
Writable volumes – when a read-write mode
The PDF introduces you to App Volumes and how it fits into the VMware End-User-Computing vision. You learn about App Volumes architecture and components, including storage, network, and security. The installation and configuration sections present a basic App Volumes deployment. Exercises in the remaining sections allow you to evaluate some of the product's key features.
The Reviewer's Guide for VMware App Volumes was written and updated by Gina Daly, Technical Marketing Manager in End-User-Computing Technical Marketing, VMware. But there are many other contributors and authors. Check the last page of the PDF.
Get your free copy of App Volumes Reviewer's Guide here. (direct link, please inform me if broken).
More from ESX Virtualization
Subscribe to RSS, and social media channels (Twitter, FB, YouTube)