An excellent resource PDF providing step-by-step configuration of VMware vSphere  StarWind Virtual SAN has been released by our friends at StarWind. In fact, by following those steps, you'll be able to configure easily your VMware vSphere and HyperConverged 2-Node Scenario from StarWind.
It is the simplest scenario as you only need 2 servers with local storage. No SAN or NAS to provide shared storage as traditional architectures. The PDF has all the details and all the necessary tweaks and configuration steps you need to accomplish in order to get the minimalistic 2-Node solution up and running.
I'll list few examples from the config, but there are many steps to accomplish (91 steps in total).
I think it's pretty interesting to learn from others, how they do or which part of the configuration you would do a different way, with different steps.
You can follow those steps via this blog post at StarWind. You can also download the PDF, for offline reading.
Depending on your experience with VMware, you may or may not need some guidance. The document can help absolutely newbies, but also experienced admins, as there are some StarWind specific steps to accomplish and some additional tweaks to do.
Basically, first, you'll need to prepare both ESXi hosts (install and config), configure local storage, configure networking, physically connect cables etc.
Only after you'll find out about the Installation and configuration of StarWind VMs, configuring automatic storage rescan, provision storage through StarWind, add discover portals, create datastores and find out about some additional tweaks.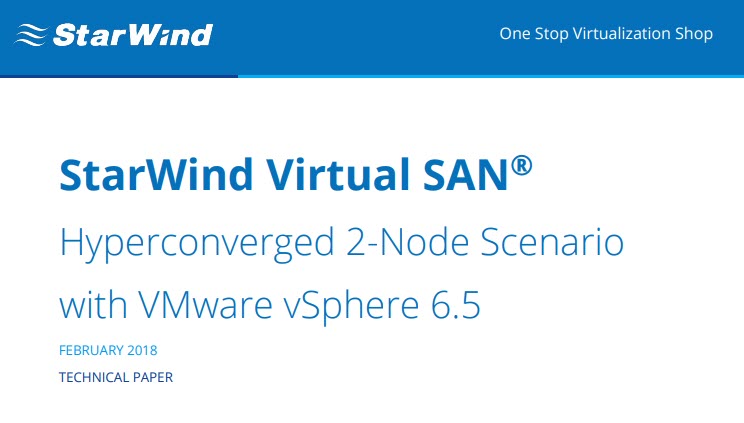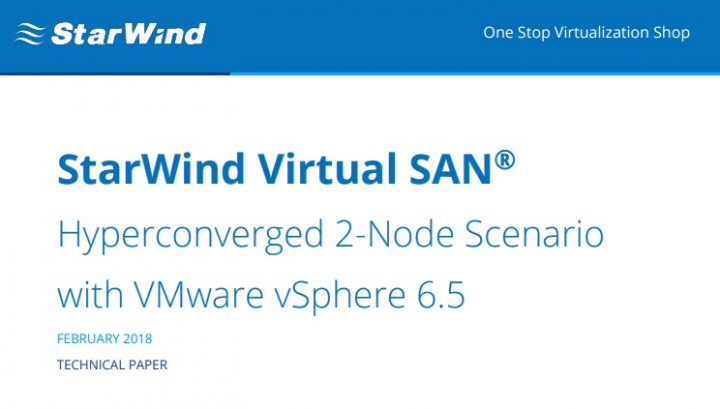 For example, after you're done with the creation of StarWind datastore, you'll be instructed to connect via SSH and
Here is a quick quote from the post:
For devices, adjust Round Robin size from 1000 to 1 using the following command:
esxcli storage nmp psp roundrobin deviceconfig set –type=iops –iops=1 –device=

NOTE: Paste UID of the StarWind device in the end of the command. Also, this parameter has been already added into the Rescan Script and this action is performed automatically.
Example here: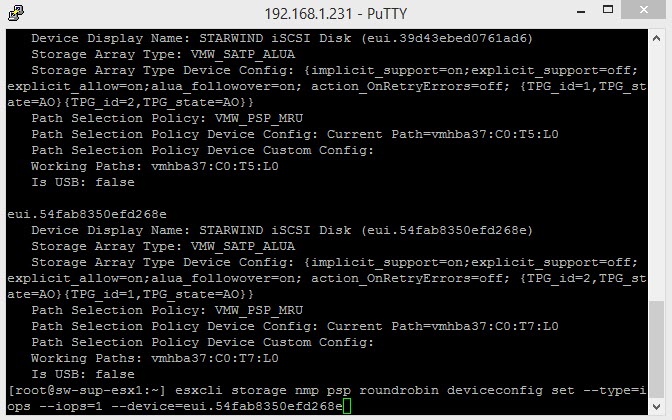 As you can see, the document has some tweaks very specific to StarWind and they know why. And the example above is not the only one. So having a good support document it's always the best way to do stuff.
Wrap Up:
Using StarWind VSAN, the local storage of both ESXi hosts is converted into a fault-tolerant shared storage synchronously "mirrored" between the nodes. Synchronously means that when a disk IO is performed by the application or by the file cache system on the primary server, the system waits for the IO acknowledgment from the secondary server, before sending the IO acknowledgment to the application or to the file system cache.
On the other hand, Asynchronous replication works different (the IOs are placed in a queue on the primary server but the primary server does not wait for the IO acknowledgments of the secondary server).
Download the PDF from this blog post at StarWind.
Just to recap for new readers. StarWind has Free and Paid version of their product. The paid version has support and cloud VTL.
StarWind Virtual SAN FREE Version Features:
StarWind Virtual SAN Free is completely unrestricted: it is allowed for production use, supports all usage scenarios of the commercial version, has a perpetual license, and is not feature- or functionality-limited version of StarWind VSAN.
No Capacity Restrictions – you can use as many capacities for your mirrors, as you like (previously restricted)
No Scalability Restrictions – as many nodes as you like. (previously limited to 2-nodes only)
No Time Limit on License – The Free license if for life. After 30 days, the only management option you'll have is PowerShell or CLI.
Production use – can be used in production, but if anything goes wrong, you will only find support through community forums.
PowerShell Scripts – StarWind Virtual SAN Free is shipped with a set of ready to use PowerShell scripts allowing users to quickly deploy the Virtual SAN infrastructure.
No StarWind Support – only community-based support.
StarWind HA – The shared Logical Unit is basically "mirrored" between the hosts, maintaining data integrity and continuous operation even if one or more nodes fail. Every active host acts as a storage controller and every Logical Unit has duplicated or triplicated data back-end.
No virtual tape library VTL (Only paid version).
More about StarWind from ESX Virtualization:
Stay tuned through RSS, and social media channels (Twitter, FB, YouTube)