Measuring performance of VMs can be a difficult task. Several tools, several methods… VMware has released a new tool which helps to monitor a performance of selected VMs, or rather VMDKs. The tool is called IOInsight. The tool is packaged as a virtual appliance, so the deployment takes just a few minutes. The title of this post is How to use VMware IOInsight – Free IO Testing Tool.
Let's get started. IOInsight captures I/O traces from ESXi and generates various aggregated metrics that represent the I/O behavior. This tool is a web-based tool with some nice graphics, allowing also generating export files in case you need to send them to VMware support. There is no sensitive information about the application itself within those reports.
The tool was built by Midhun K, Nidhi Naik and Sankaran Sivathanu from the VMware Performance Group.
Download the zipped file and extract the OVA > The open your web client or host client and deploy the application. The tool is using VMware Photon OS, same Linux OS as VMware VCSA 6.5 is using. It seems that all VMware appliances from now going forward will be on Photon OS.
IOinsight can help for following scenarios (quote from the product page):
Customers may better tune and size their storage
When contacting VMware Support for any vSphere storage issues, including a report from IOInsight can help VMware Support better understand the issues and can potentially lead to faster resolutions.
VMware Engineering can optimize products with a better understanding of various customers' application behavior.
The default login password combination for the console login:
login: root
Pass: changeme

Well, you don't really have to go to the console to start using it, but you can do so, and change the default root password there.
After changing the password, you can login and change the IP address if necessary. You can see the IP address through the console (via ifconfig command) or via vSphere client, host client or web client.
https://IP_of_IOninsight
Connect to vCenter server.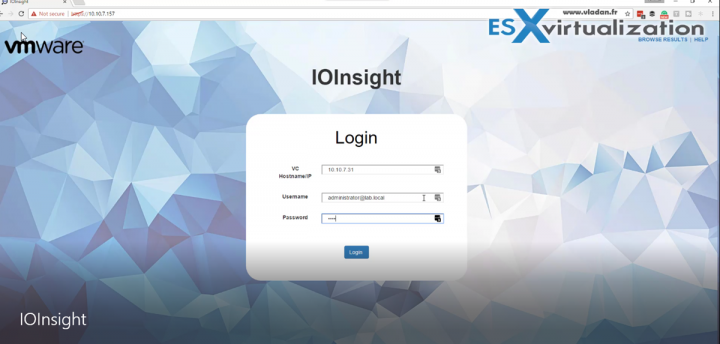 After connection to your vCenter, you'll see your individual hosts. Pick one of your hosts and connect. You'll be asked to provide the root password for that host. Once done, you can select a VM, and then a VMDK.
I just picked a test SQL server with single disk. There is not much IO going on… -:(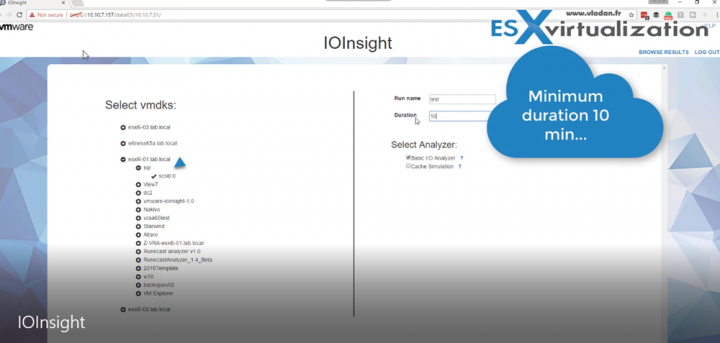 Download IOinside from VMware Labs here. Within the area, you can also download a user guide in PDF and check the comments of other users testing it.
I have recorded a quick video from the installation and configuration process. The video is in Full HD (1080p) so it's best to watch it in Full screen. Enjoy…

Wrap up:
the tool is easy to deploy and use. Now, I just did this small test so I don't know how it behaves with heavy workloads, different scenarios, but it is worth to try. In a situation where you have experiencing storage performance problems, you might need to send some logs to VMware and as VMware build this utility for this purpose, why not using it?
Check more articles from ESX Virtualization:
Stay tuned through RSS, and social media channels (Twitter, FB, YouTube)