Quietly released recently – VMware Converter 6.1.1. This time only updates and security fixes. All the new features that has been added in the previous release of VMware Converter I already reported in my detailed post here.  In case y ou missed that one, you might be interested that Converter supports:
The VMware vCenter Converter Standalone 6.1 has:
Support for additional guest operating systems: Windows 10, Ubuntu 15.
Offline conversions for HyperV 2012 R2 virtual machines.
SSH key based authentication for the Linux sources during conversion.
Support for VMware Workstation 12.
It's not a big deal, but it's good to know that security fixes had been released and Converter is now fully compliant.
Quote from the release notes:
Note: The latest VMware vCenter Converter Standalone version is 6.1.1. If you are using VMware Converter Standalone 6.1, upgrade to VMware vCenter Converter Standalone 6.1.1 due to security fixes.
Get Your copy and check the release notes from below.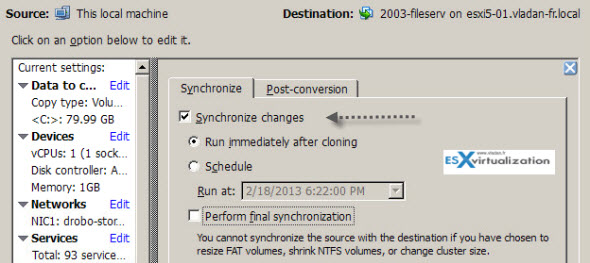 The screenshot above is from one of my older post where I'm explaining how to use the converter software for "offline" conversions and synchronize changes from time to time – How to use VMware Converter to Synchronize changes when P2V (or V2V)
You might be new to the IT and virtualization and wonder what can be VMware converter used for? VMware converter is used for physical to virtual conversions. You convert physical server with Widnows or Linux installed, into a virtual machine which can run along with other VMs on the same ESXi server (called host). The process is called consolidation.
One of the first posts on this blog was actually How to convert physical server using VMware converter. Whether a conversion can be simple, there might be gotchas with software installed, which is tightened into the old hardware. It's best practice to uninstall this software before the conversion. There are also some post-conversion tasks to do, like cleaning "ghosted" devices. Those are basically hardware elements that are not active inside the VM but they are still part of the device manager (advanced view) and that might be causing performance issues.
Here are few posts from our archives showing some tips and tweaks for conversions, getting more speedy conversions etc etc…
Also, you might want to read two interesting posts from a fellow reader Richard Robbins, which did recently NT4 to ESXi 6.0 (P2V) conversion !!