The latest release of VMware Converter Standalone 5.5.1 is available since few days. It's a build 1682692 and you can download it from here. It's a maintenance release which fixed several bugs, but with a bonus added a support for VMware VSAN. You can check out the release notes from this page.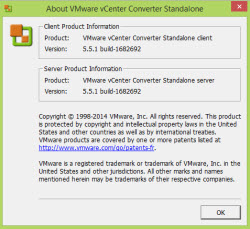 VMware Converter standalone adds those new features:
Support for vSAN
Support for DSA authentication for Linux conversions
As concerning the resolved issues, the release notes of VMware converter 5.5.1 standalone mentions those following fixes:
Converting Linux physical machines fails if the size of a destination disk is 2TB or larger – If you try to convert a Linux physical machine, the conversion job fails at 2% with an error message CalculateGPTPartitionLocations failed, if a destination disk is 2TB or larger.
Workaround: In the most cases, you can resolve this issue by decreasing the size of the destination disk to less than 2TB by shrinking the destination volume or splitting the volumes across several destination disks.
VMware Converter free software is used for converting physical systems into virtual machines, but can also be used for reconverting (cloning) existing VMs. This might be usefull when you run free ESXi without vCenter and can't clone, or with a situations where you want to downgrade virtual hardware of some of your VMs.  You can use the VMware converter  to downgrade virtual hardware version.
You would want to do that in case you're managing  your VI from a Windows based vSphere client and wanting to change the configuraiton of the VM. Since Virtual hardware 10 (vmx-10) you can't edit the configuration of the VM. You can start or stop the VM but no modification.
So if you would want to downgrade from Virtual hardware 10 (or VMX-10) introduced in vSphere 5.5 into Virtual hardware 9 (vSphere 5.1) or Virtual Hardware 8 (vSphere 5.0) you might want to look for this solution.
For VMs which runs locally on your desktop in VMware player or Workstation, you have an option to downgrade the virtual hardware through a menu (in VMware Workstation). I already wrote about that option in my article here –  VMware Workstation 10 can also downgrade virtual hardware. Did you know?