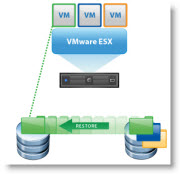 With vSphere there is also new backup program called Data Recovery. There is a quite a lot of new information coming from VMware since the lauch of vSphere. So what Data Recovery is? How it's works?
It is a disk-based backup and recovery solution. Easy to install, because VMware Data Recovery is a virtual machine that runs on VMware ESX and ESXi hosts !! You can restore individual files or entire Virtual Machines as needed.
Data Recovery uses one console with centralized management interface to enable backup and recovery of your VMs directly through VMware vCenter Server. The whole inventory of your environement is automatically identified through VMware vCenter Server.
Supports Volume Shadow Copy Service (VSS) to enable backup of Microsoft Applications.
I found a little video on YouTube you can watch here: