It seems that Microsoft hasn't said their last word concerning GUI management for Microsoft Server systems. In this post we will discuss the new Project Honolulu but get back to Nano Server which seems to be dying fast. In fact, after trying to develop Nano server for some time, a very lightweight server node, recent news announced the end of life of Nano server (Spring 2018 !!). Today we'll show you which direction for management is Microsoft preparing. It's called project Honolulu and it is a very very cool, especially for SMBs.
Project Honolulu is a flexible, lightweight browser-based locally-deployed platform and solution for Windows Server management scenarios for troubleshooting, configuration, and maintenance. It's not sure how it scales with large server management platforms, but as I said, perfect web management platform might just be around the corner.
The End of Multiple Consoles?
Probably, and it is a good news. You can replace multiple management and configuration tools, such as MMC snap-ins, Server Manager, Task Manager, etc., with a simplified server management experience.
All this is promised by Project Honolulu. For now, the project just got out of beta and it is in public tech preview. But many folks attending last week's Microsoft Ignite simply loved the presentations and demos there.  The product is still in active development.
How about Nano?
But let's get back to Nano server first as we liked the idea of having a small lightweight server which could do a good job for some apps, such as web app etc. It seems that Microsoft has phased out Nano server and that current users will simply have to migrate their workloads somewhere else.
Some of Nano features which have been present so far will simply disappear from next release.
Quote:
However, starting with the new feature release of Windows Server, version 1709, Nano Server will be available only as a container base OS image. You must run it as a container in a container host, such as a Server Core installation of the next release of Windows Server.
Is Nano server dead?
It seems that yes.
Quote:
Windows PowerShell, .NET Core, and WMI are no longer included by default, but you can include PowerShell and .NET Core container packages when building your container.
What about existing Nano users?
They'll have to rebuild their nodes with Windows Server 2016 Server Core ( or desktop).
Server Management Platform called Project Honolulu – how does it look like?
What Microsoft says about the project Honolulu?
Quote:
Our vision continues with simplifying the experience where appropriate. Deployment is quick and easy, with no Internet dependency. Tools are familiar, and cover the core set of administrative tasks for troubleshooting, configuration, and maintenance. Some Windows Server capabilities, which were previously manageable only via PowerShell, now also have an easy-to-use graphical experience.
A web-based management for next decade? Will see…
Screenshots from Technet… (source link at the end of the article).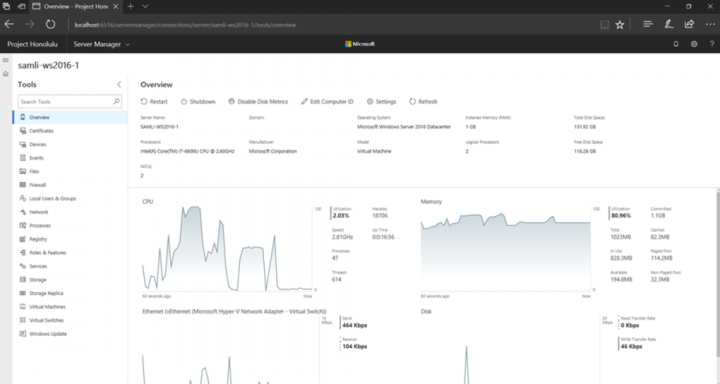 Stay tuned for more about this very promising product which might be integrated into the next release of Windows Server 2016.
A hyper-converged infrastructure with Project Honolulu….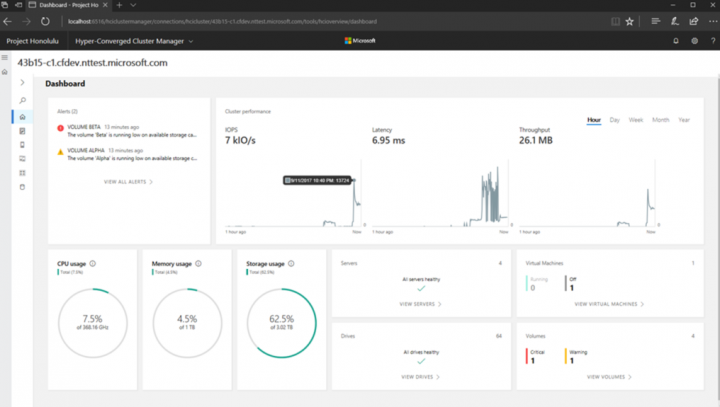 System Requirements for Installation
First of all, it's necessary to understand that you can have two different kinds of installation:
Local (W10 only)
Gateway (WS 2016)
Directly on Management Server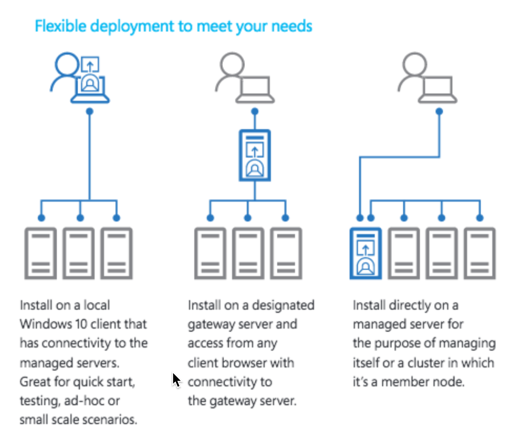 Get a PDF Poster of Project Honolulu…
While you can install it on Windows 10 management computer, It installs as a network service on Windows Server 2016. And further requirements are needed, such as certificate (can be self-signed).  You must specify the port that the service listens on, and it requires a certificate for HTTPS.
The installer can create a self-signed certificate for testing, or you can provide the thumbprint of a certificate already installed on the computer. Note that Windows Server 2012R2 isn't supported for the installation as Project Honolulu needs some underlying Powershell which isn't present on Windows Server 2012.
You'll need another browser than Internet Explorer, IE isn't supported.
Note from Microsoft:
Honolulu requires PowerShell features that are not included in Windows Server 2012 and 2012 R2. If you will manage Windows Server 2012 or 2012 R2 with Honolulu, you will need to install Windows Management Framework (WMF) version 5.0 or higher on those servers.+

Type $PSVersiontable in PowerShell to verify that WMF is installed, and that the version is 5.0 or higher.

If it is not installed, you can download WMF 5.1.
Wrap Up:
It is certainly a good move from Microsoft which finally listen to customers willing to manage their Windows server with all their functions and configurations, including troubleshooting, with a single console. It's been quite a long time that different configuration functions needed different console every time. Sure, there was PowerShell, but not every admin is up-to-date with their PowerShell knowledge and practice. Having a possibility to configure, validate and change different configurations options within a light-weight web based console will certainly make more people happy.
More from ESX Virtualization:
Stay tuned through RSS, and social media channels (Twitter, FB, YouTube)
Source: Technet