VMware Mirage is a product which is not well known among virtualization community, and it's a shame as the product has more potential than you think. We'll try to do several posts which will highlight some of the advantages over traditional image backup tools such as Acronis, Veeam Agent for Windows and others. Because it would be too simple to call VMware Mirage a backup tool only. This post will try to explain What Is VMware Mirage.
Is VMware Mirage Only a backup product? The answer is not only. VMware Mirage has this one particular feature which other backup products do not have. It's called Layering. IT administrator has the option of creating and managing standardized layers that are stored in the data center and applied to user endpoints.
It's possible to create a base layer (for Base OS and system drivers) and on the top different kind of application layers. (accounting apps, developers apps, …) Those apps layers can be "pushed" to the desktops (or VMs) via VMware Mirage console no matter which base image the endpoint uses.
The base layer will include the OS, system-level software such as AV software, perhaps VPN clients, as well ass all the necessary patches and service packs. All those core applications will be installed and configured on a "golden" image which will serve as a base image.
The application layers are pushed (distributed) to the systems (which are called "endpoints") in the background so users can continue working. Reboot is required, but let's say you install Windows patches which require reboot, with applications, you can combine both to do a single reboot.
VMware Mirage is file based. Any files that already exists at the destination endpoint will not travel over the network a second time. Once the Mirage client is installed on the endpoint, the machine is "centralized" through Mirage management server, always only the missing files are downloaded.
However, it uses block-level deduplication…
Quote:
The Distributed Desktop Optimization mechanism optimizes transport of data between the Mirage server and clients, making the ability to support remote endpoints feasible regardless of network speed or bandwidth. Distributed Desktop Optimization incorporates technologies that include read-write caching, file and block-level deduplication, network optimization, and desktop streaming over the WAN.
Some applications, however, needs to be deployed within the base layer. Those are usually some AV software or apps which use system drivers, .NET or Java, global Windows configuration, and settings changes shall also be done within the base layer.
VMware Mirage Continuous Backup
After installation of the backend, installing "agents" in the client's systems, VMware Mirage then works silently in the background while you work, with no system performance issues, and sends any changes you make on your PC, to a central location. There is no need to track any backup jobs and verify if the job had failures etc.
As you can see, VMware Mirage is not only a backup or restore tool, but a whole application management system allowing you to recover quickly physical (or virtual) systems running Windows OS. This can be a fleet of desktops or laptops your users are working on, spread through multiple geographical locations.
Overview of VMware Mirage Architecture…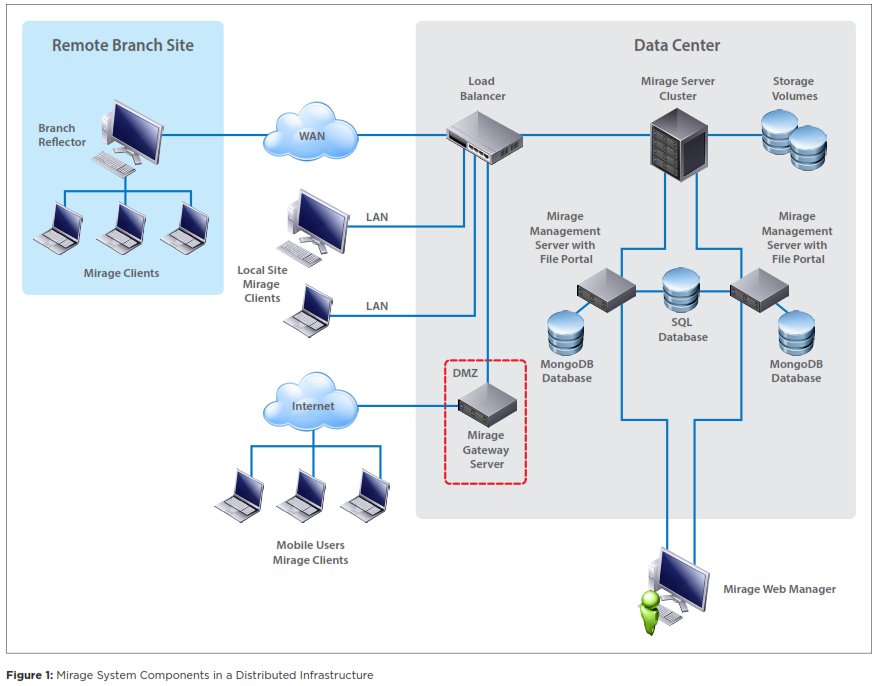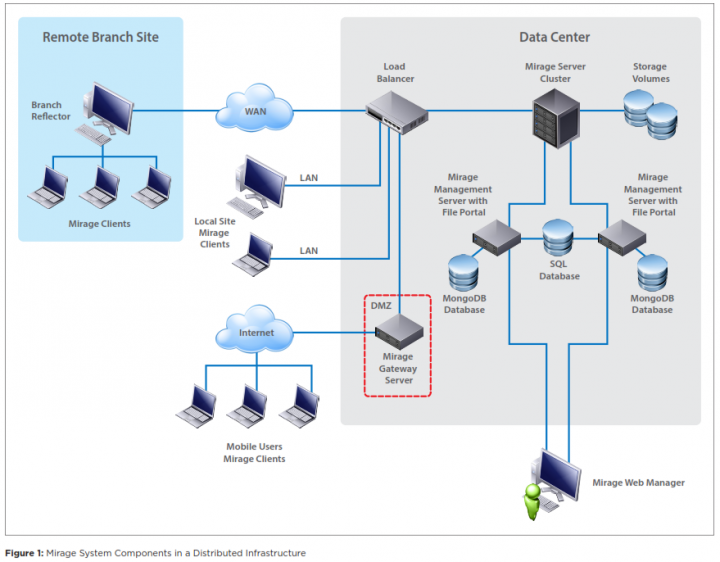 VMware recommends installing multiple Mirage Management servers to assure application HA. You can install only one, but a message pops up in the Mirage Management Console whenever you connect to a server inside a cluster with only one enabled Mirage Management Server.
Remote Office can benefit from Branch reflector feature which can be activated on one of the endpoints at the remote site.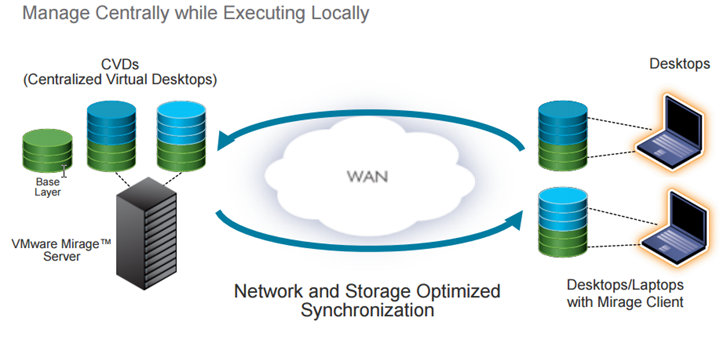 VMware Mirage Licensing and pricing
VMware Mirage has a simple licensing system. You can buy it either as:
Standalone VMware Mirage product
Horizon View Advanced or Horizon Enterprise.
VMware Mirage standalone sells in a package of 10. (or 100 licenses). So if you buy 1 copy and it allows you to manage 10 endpoints.
There is an option only to license the Windows migration feature. In this case, you're buying a 6-month term license focused on subscription.
From the Licensing PDF…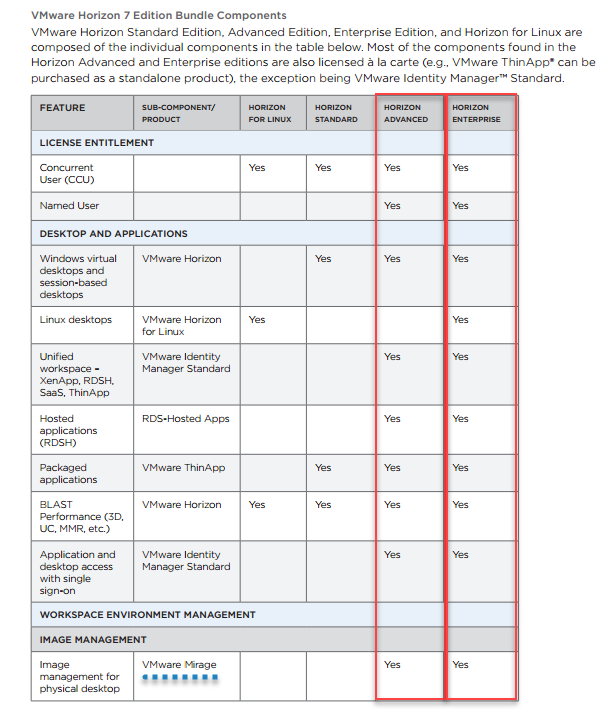 All the management servers and components are within the download.
Bellow, a screenshot from the lab showing the whole "Mirage package". As you can see, there are also some WinPe environments for booting unbootable or corrupted systems before restoring with VMware Mirage image….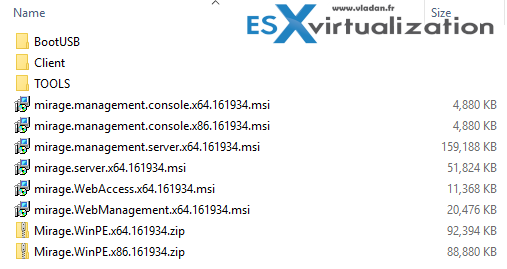 What's the restore options?
When you recover an endpoint, you will have three options to select from:
Restore the entire device (OS, apps, user data and profile).
Restore just the applications, user data and profile.
Restore just the user data and profile.
Is Mirage customizable?
Mirage contains settings that allow the IT admin to customize how the Mirage system works, for example:
How often snapshots are taken
What types of files are (and are not) centralized
How endpoints get centralized to the system
Role-based authentication controls for the Mirage Management System
Etc, etc…
VMware Mirage Guide
This guide will more less evolve over time. In the past, we have done some posts about VMware Mirage already, but it was like 2-3 years ago. It's about time to do some refresh as the product has evolved quite a bit.
(Work in progress...)
Server Installation and Configuration
What is VMware Mirage? – [This Post]
Image Management (through Mirage console)
VMware Endpoint Management
More from ESX Virtualization
Stay tuned through RSS, and social media channels (Twitter, FB, YouTube)