New Check this: vSphere 6 Training Course at PluralSight
Learn with Your VMware LAB for 365 days – VMware's EVALExperience !!!
Expand your knowledge of innovative IT technologies
Explore VMware technology for a 365 day period in a  non-production environment
Enhance skills through a hands-on experience with selected desktop and infrastructure software for personal use
Easily access nine applications for testing and evaluation;
Included in your VMUG Advantage Subscription.

What's Included?
VMware and VMUG have partnered with Kivuto Solutions to provide VMUG Advantage Subscribers a customized web portal that provides VMUG Advantage Subscribers with self-service
capability to download software and license keys. Licenses to available VMware products are regularly updated and posted to the self-service web portal. The licenses available to VMUG
Advantage Subscribers are 365-day evaluation licenses that require a one-time, annual download. Annual product downloads ensure that Subscribers receive the most up-to-date versions of products.
Included products are:
A new 365 entitlement will be offered with the renewal of your
yearly VMUG Advantage Subscription. Software is provided to
VMUG Advantage Subscribers with no associated entitlement to
support services, and users may not purchase such services in
association with the EVALExperience licenses.
Principal VMware Certified Professional certifications:

New Exam: VMware Certified Professional 6 – Desktop (VCP6-DT)
There is four VMware Certified Associate (VCA) certification. And with good news is that there is no obligatory training in order to pass those certifications and get the VCA certification!
So for example to became the VCA-DCV you can (it's recommended only – not an obligation) follow the VMware Data Center Virtualization fundamentals, which is a freely accessible online course.

.
Here is a certification Road map from VMware.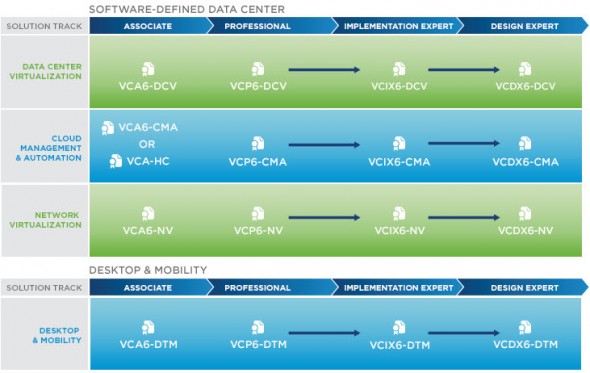 VMware Training by VMware Education.
There is a large choice of Official Vmware Training courses. There are training for every level of people: beginner, confirmed, advanced.