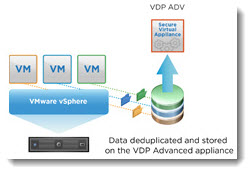 VMware vSphere Data Protection Advanced Version is GA. VDP Advanced is a new product is an enhanced version of VDP and I already reported on that few weeks back during the announcement. The VDPA scales up to 8Tb of deduplication storage as well as 400 VMs per VDP appliance.
The product is sold separately with Per Physical CPU Socket licensing – $1095 per socket). Rather pricey for an European SMB. The SMBs in the US are rather larger, as what I heard.  The availability of VDPA has been announced on VMware SMB blog here.
Quote from the original source article at VMware vSphere Blog:
One of the issues corrected with the release of VDPA was quiescing with Microsoft Volume Shadow Copy Service (VSS) on Windows Server 2008 R2 – see this VMware KB article for details.
Being part of the virtualization community, blogging and writing reviews,  I've came through different backup products with many features and different licensing plans – Per CPU Socket is the most common (Veeam, vRanger), Per physical host (PHD Virtual), Per Site (Trilead)….. – or the backup VDP product bundled with vSphere Essentials Plus which protects VMs present on maximum three physical hosts. (limit of VMware vSphere Essentials and Essentials Plus).
There are also new backup companies in which offers "Essentials licensing" (half price of the same product's list price) for clients on vSphere Essentials or Essentials Plus. That's the case for Nakivo (read my post here).
With slightly different approach, but they do their job as well, backup products that uses agents remotely deployed to VMs to push those backups to central location (Dell/Appassure, Idera), those backup products can provide per server or per VM licensing model.
But most important is the reliability and features. With $1095 per socket for VDPA one could expect more than just backup product. It is certainly quite expensive for a product that lucks features like replication or testing validity of backups. At this price point the product competes with products from companies like Veeam, which specialty is backups of VMs, replication and verification of backups. VDPA lucks those features that Veeam provides out of the box. Correct me if I'm wrong.
VDP Advanced brings additional features to VDP standard:
In addition, compared to the VDP standard, the product can backup Exchange, SQL and other database based servers. Here are all the other enhancements compared to VDP standard:
In the vSphere Data Protection user interface, the Configure tab now includes a Log tab, which is used to view detailed log information (this tab also includes an export to file option)
Integration with vCenter alarms and alerts notification system
Ability to clone backup jobs
New filters for Restore tab
Added restore rehearsal (launched from the Action menu)
Added more post-restore options (for example, automatically power on, NIC reconnect)
Expands capacity up to 8 TB per appliance
Supports the ability to expand existing datastores
Supports guest-level backups of Microsoft SQL Servers
Supports guest-level backups of Microsoft Exchange Servers
The VDP standard, even if easy to deploy is packed with bugs and it is rather scary to put into production, as I could see here on VMware Communities. Or was it just the first release of VDP? Will be fixed in the X.1? We are definitely very inpatient to see future updates to VDP standard.
We would like to see VMware to put more accent on reliability of those backup products bundled for SMBs. Remember VDR? Why not to put more human resources on fixing those bugs rather than playing CloudCred?
Feel free to subscribe to our RSS Feed.