Installing View agent inside the Golden Image VM.
To successfully setup VMware View in your lab, you need to build a Golden VM image. It's basically an optimized VM with desktop Operating system like Windows XP or Windows 7, fully optimized for running in virtual environments.
There are plenty of guides on which services to deactivate, turn off screensaver, hiberfile.sys etc, etc. But recently one free program from Quest software did simplify this to the max.
This software is part of my Free Tools page here. It's called vWorkspace Destkop Optimizer. This Tiny little tool optimizes in few click the desktop OS for you.
You can also install your different applications in the Golden Image.  But you should know that by using tool like Thinapp, you can easily virtualize an application. The advantage of those Virtualized applications are numerous. One of them is that they can be easily upgraded (or updated) without touching the rest of your virtual desktops. This "thinapped" (virtualized) application can be executed in some kind of  "bubble" without being installed in the virtual desktop. This tool can handle the future updates of those applications as well and so the base image can stay completely application-less.

Installing VMware View Agent – this component is an essential part of VMware View architecture. It must be installed in the desktop system in order to be detected by VMware View.  To install the VMware view agent, you will use the VMware Viewagen file which you previously downloaded from as a part of your trial. Depending of your base OS, if it's 32 or 64 bit system, you choose the package which fits your needs.
Those are the files which I downloaded from VMware Site and I'm storing them locally.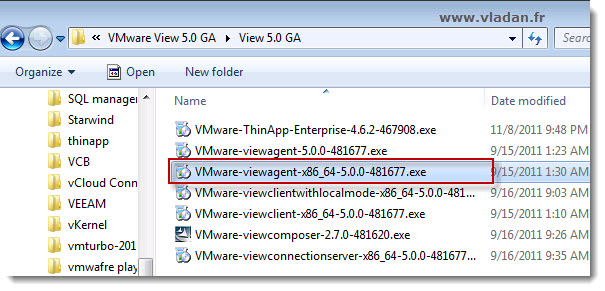 The installation of the agent – there is nothing fancy. Just you can have a look at the components which gets installed. Note the new Persona Management component.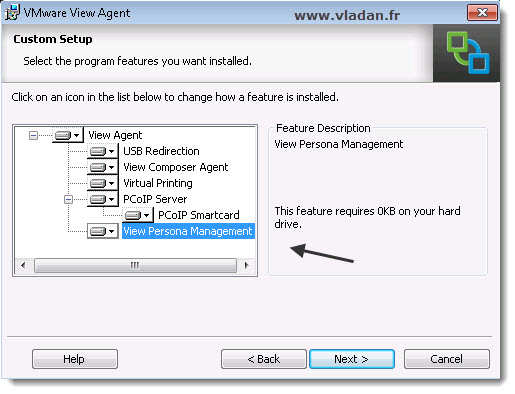 You'll have to restart your desktop VM to validate the installation.
And on the image bellow you can see that there is many options which can be optimized in the base (Golden) image, before proceeding with a Base Snapshot. But, if planning to use in production, make sure you test !!!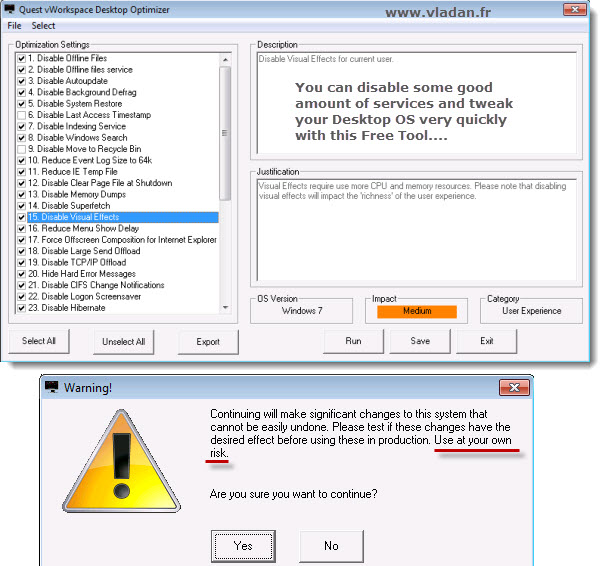 After the Installation of the agent, you'll have to take a base snapshot of your virtual desktop in order for the VMware view connection server to use that snapshot for the cloning and creating the desktops. To take snapshot of a VM? Easy….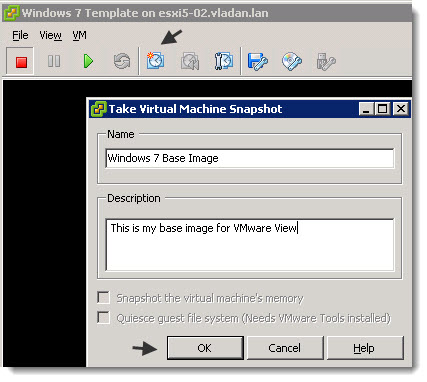 And while looking at the console, you'll be able to see this snapshot there….

So the part of preparing the Virtual Desktop to be integrated into a desktop pool (automated or manual) is finished. The creation of a pool of desktops will be will be another article…..
Slowly we're putting in place the small VMware View architecture. It's not that difficult to put in place, but there is some stuff you must know, like what component to install, and where etc…. I'm trying to explain all that in this serie. I'm not saying it's perfect, but at least I try to keep it simple… (KSS – keep it simple silly)…
Stay Tuned via RSS or e-mail….
The full serie – VMware View 5 Install, configure – How-to in my lab :
How to install VMware View Agent in the Virtual Desktop plus more – this post