Configuring the VMware View Persona Management. The VMware View Persona management enables you to manage user's profiles in you organization by using your existing Microsoft domain and infrastructure. RTO Software acquired by VMware has developed this solution and so it's been successfully integrated in the Vmware View 5 (not the 4.6 release).
In a very nice and effective manner of dealing with user's data. No need to deal with roaming profiles, the new Persona management from VMware View 5 brings it's own GPOs. And I'll show you in this article on what do you need to put this in place.
The existing Domain Infrastructure will be leveraged. In my lab I run a couple of domain controlers, vSphere 5 cluster with 2 physical whiteboxes and also VMware View 5 desktop pool. It's testing lab, so the goal is to learn VMware latest technologies here to be able to implement those for my clients. I recently passed my VCP 5 – see my post Ressources to prepare VCP-510 Exam, where you'll be able to read the user's testimonials from the exams (links to blogposts). My lab does not use server hardware, the white-boxes are cheaper. They have 18 Gigs of RAM each. The lab was built about one year ago, so you might find better deals with more recent hardware now… Note that you can also build a nested vSphere lab – read my post How to setup nested vSphere Lab on a PC by using VMware Workstation
By installing and configuring the View Persona Management GPO's, the user profiles for destkop VMs will get redirected to shared location on the network. In my case I'm redirecting to my file server.
The configuration steps:
01. First you'll have to locate the View Persona Management ADM Template file ( ViewPM.adm) and copy it to your Domain Controler server.  The ViewPM.adm file is located in the install_directory\VMware\VMware View\Server\extras\GroupPolicyFiles directory on the View Connection Server host.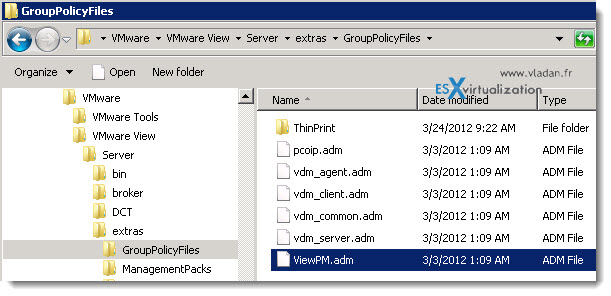 02. On your DC, Start > run > gpmc.msc > and create a new GPO. I called it persona-mgmt GPO as you can see it in the image below. Then, right click this new GPO and choose Edit. This opens new window as you see on the right.
There, choose the Computer Configuration > Administrative Templates > Add/remove Templates and browse for the  ViewPM.adm file to import it.
You can click on those images to see a larger view.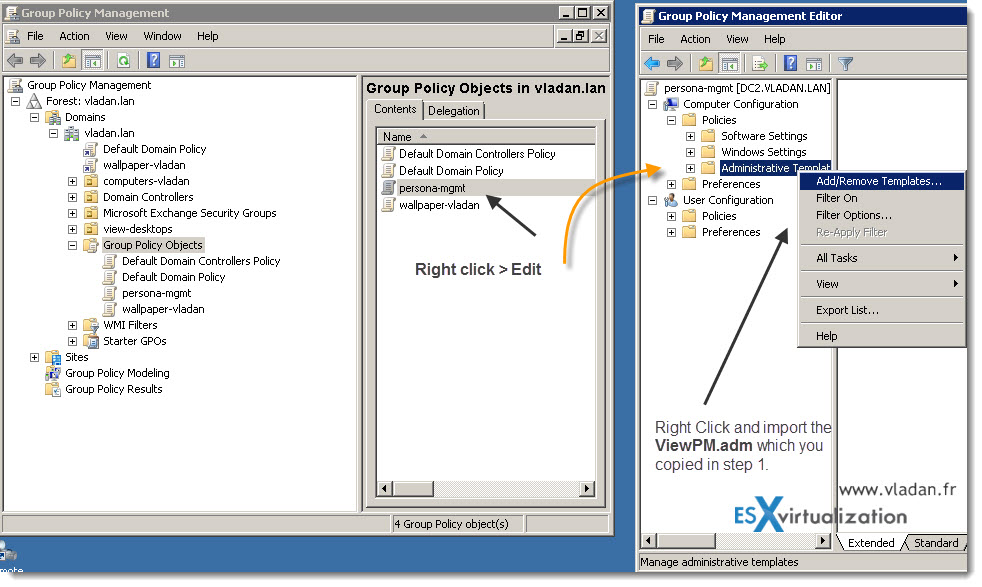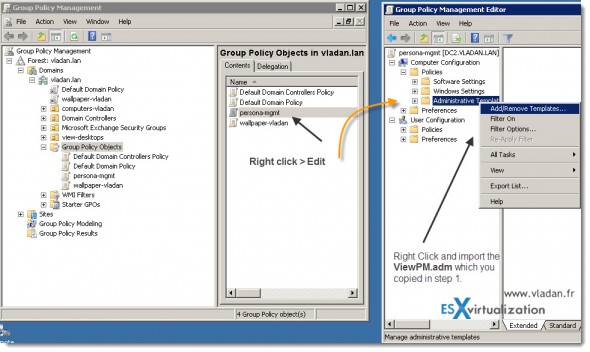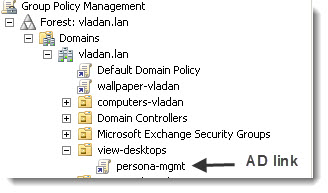 Once this GPO created, you must link it to your AD container, where you have the VMware View desktops being located. I do have an AD container called view-desktops. So the new GPO will get linked to that view-desktop container, as you can see on the next image here.
If you don't link the GPO to your container where your VDI desktops are located, the GPO will not get applied and the folder redirection will just not work.
03. The next step consist the enabling the View Persona. Navigate trough the GPO tree and choose the Persona Management. (as on the screenshot below) . Then, change the radio button from Non Configured to Enabled. Note the default settings for the profile upload. You can change it and put shorter interval if you wish.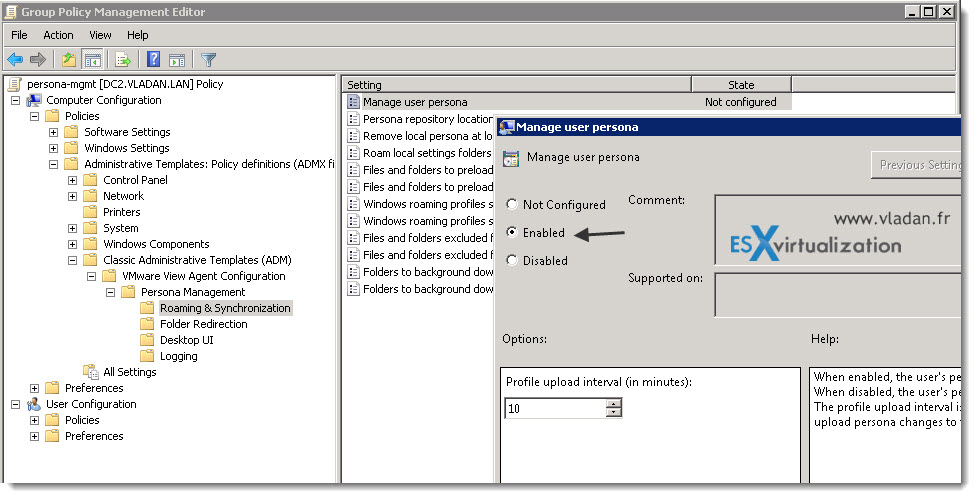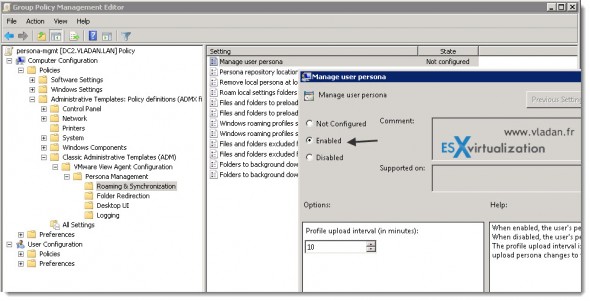 04. Now we can define where the profile will be located on the netwok. The Persona repository location – it's just below. In my case, it's my fileserver, but you should adapt it to your situation….  Note that I'm using the %username% variable, which will create the subfolder for each user which is entitled for using View desktops.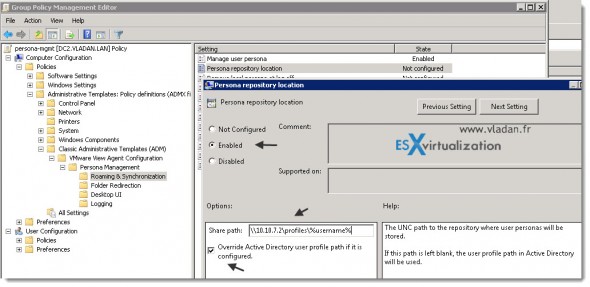 05. Next think is to configure some redirection. I took the next sub-folder called Folder Redirection. There you have a plenty of possibilities of redirecting the user's files, desktop, and many more options….  I invite you to check them out..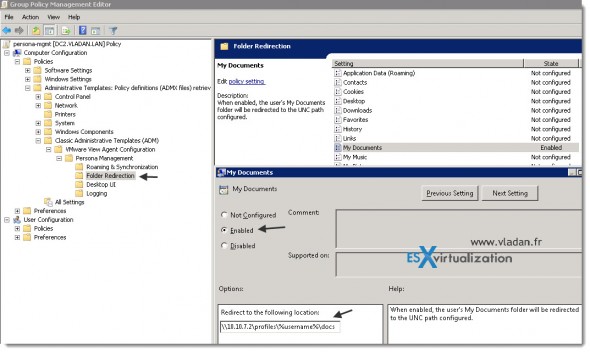 06. Now, let's create the shared folder on my fileserver, and check (after the refresh of our new GPO) that the My Documents are redirected to that location. And it seems to be working…. -:)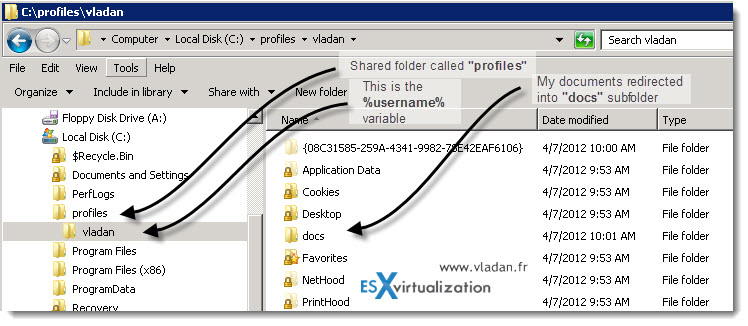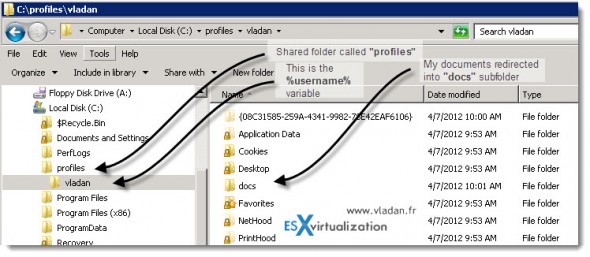 The full serie – VMware View 5 Install, configure – How-to in my lab :
How-to configure VMware View Persona Management – this post