VMware is announcing a new update with vRealize Network Insight 5.0. Again, this is a new major release coming up, which they just announced during VMworld 2019 US. The product has matured and opens to multi-cloud environments and also NSX-V and NSX-T environments.
The previous 4.2 release has brought for example Zoom-In feature to visualize more members (VMs, Physical IPs, and Kubernetes Services) and connections between them or the possibility to visualize tiers by type: vCenter, Kubernetes, VMware Cloud on AWS. Also, some third party product support, such as Fortinet Firewall support through FortiManager.
Note: vRealize Network Insight 4.2 supports a direct upgrade from the 4.1.1, 4.1 and 4.0  versions. We don't have information on the upgrades concerning the 5.0 release but we suppose that the 5.0 will keep the same possibility.
vRealize Network Insight (vRNI) is a product allowing to have a "single pane of glass" for your VMware NSX environment with traffic flows, insights into micro-segmentation, has built-in troubleshooting, etc.
There are also some host features and reporting which are useful to get some deep info from your SDN traffic flows. VMware vRNI is also capable to give you details on your distributed switches or physical switches.
Here is the overall high-level architecture.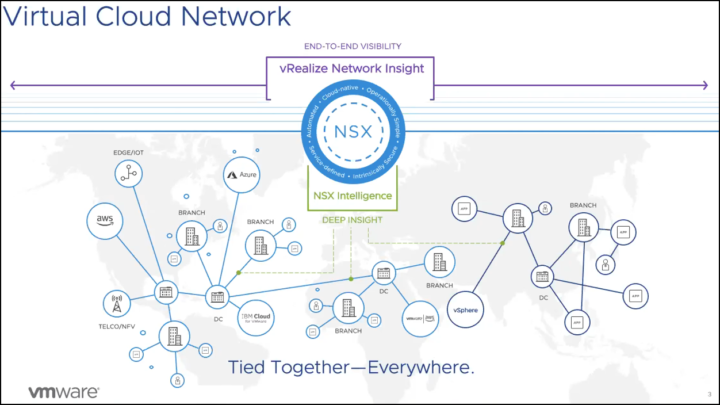 What's New in vRealize Network Insight 5.0?
VMware NSX SD-WAN by VeloCloud – you'll be able to have visibility from your data center to the Cloud or to the Branch.(path visibility and hotspot detection, but also new dashboards such as Site and app flow analytics.
Azure Public Cloud – dashboards, security planner, flow analytics. Pro-active network traffic analytics
Kubernetes Path Visibility and troubleshooting – you'll be able to troubleshoot connectivity issues between workloads.
Streaming Network Telemetry – Streaming metrics coming from the network, straight into vRealize Network Insight
vRealize Network Insight (vRNI) supports a large number of vendors which are switch/router vendors. We name a few like Dell, Cisco (ACI, Nexus), Arista, Juniper.
Also firewalls such as Palo Alto, Checkpoint, Cisco ASA, Fortinet.
Or even Load Balancers from F5.
Flows products from NetFlow, IPFIX or sFlow.
Expanding the vRNI into hybrid clouds such and SD-WAN. Products and vendors supported in this area can be named here:
NSX
VMC
AWS
Azure
VeloCloud
You'll be able to discover connectivity between the overlay and underlay networks.
You'll also be able to analyze traffic and apps across those hybrid clouds.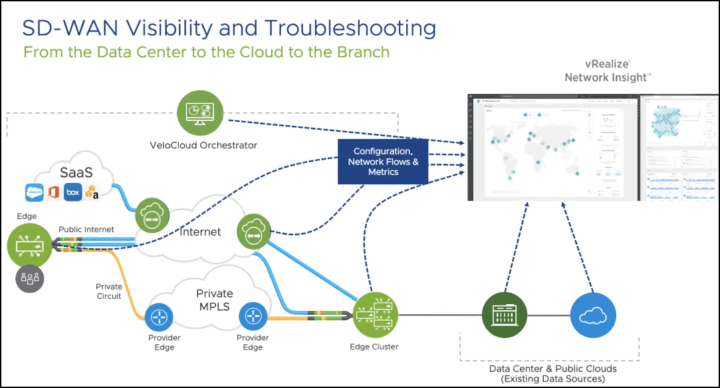 Kubernetes path visibility – you can see network paths between Kubernetes Pods and services.
You'll also have visibility into NSX components (routers, logical switches etc)
The issues on the paths will be highlighted.
Microsoft Azure
There is Azure support to give you visibility on application dependency mappings, flow analysis (inter, intra and hybrid VNET, NSG, ASG, VM, Subnet etc).
And also a network flow analytics (Elephant flows, top-talkers, threshold, outliers).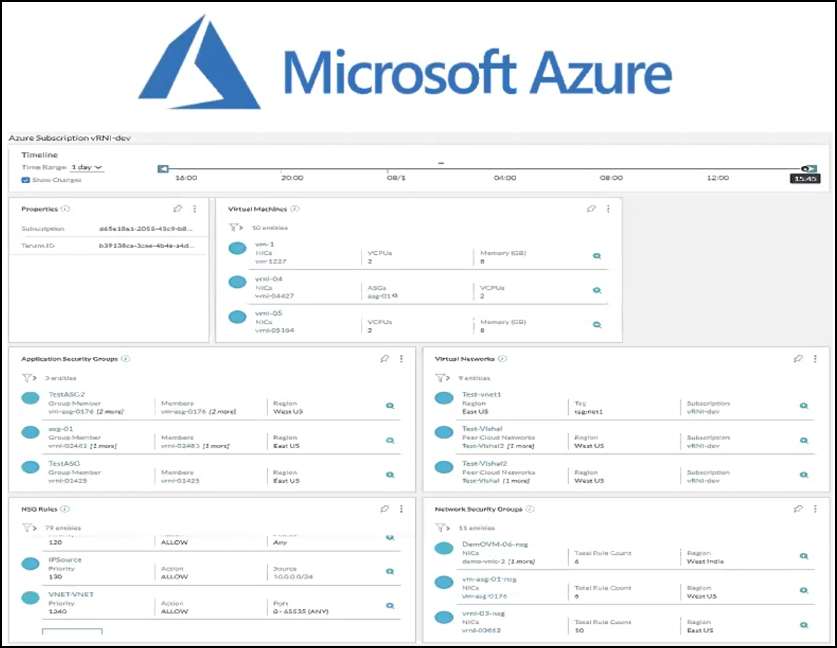 Application dependency mapping
Application security planning
Flow analysis (inter, intra and hybrid VNet)
Dashboards for subscription, VNet, NSG, ASG, VM, subnet, etc.
Network flow analytics (Elephant Flows, top-talkers, threshold, outliers)
During VMworld 2019 US VMware has announced other products as well. We have scheduled an article about vRealize Operations 8.0 and NSX-T 2.5.
More from ESX Virtualization
Stay tuned through RSS, and social media channels (Twitter, FB, YouTube)