VMware announces vRealize Operations 8.0 announced during VMworld US. This new tech-preview release which will be demoed during VMworld, but the product itself will ship Q3/Q4 2019.
The product has new support for Workload optimization for VMware VSAN. It is "re-sync" aware as well. They've added the VMware Cloud on AWS, so you're able to have SLAs, enforce license control and drive compliance.
The previous release, the 7.5  brought new features around application-aware monitoring and troubleshooting, which helps you manage your multi-cloud environments, hosting both traditional and modern applications. Ability to run workload optimization on vSAN clusters with support for vSAN datastores has also been introduced, but further enhancements are coming in the 8.0.
vRA and vROPs integration have been also conducted in this release. You'll be able to share native constructs where you'll your cloud account, cloud zones, projects, users, Blueprints. In terms of capacity – the same.
What's New in vRealize Operations 8.0?
Intent-Driven Continuous Performance Optimization
Support from vSphere to vSAN to VMware Cloud on AWS
New vRA and vROps Integration
vROPS 8 will be able to do a performance optimization for VMware Cloud on AWS with cross-cluster workload balancing and rightsizing. After you define your business and operational needs for VMware Cloud on AWS you can either Manually conduct workload optimization, Schedule optimization for a later date/time, or use a Fully automated process where vRealize Operations optimizing your infrastructure.
Let's have a look at the vROPs 8.0 capacity planning enhancements. As you can see on the image below we have workload planning hyper-converged enhancements, Datacener comparison Private cloud and a new possibility to remove HCI nodes on Infrastructure planning hyper-converged.
The vROPs allows the prediction before the deployment cost. You'll know the cost of deployment before even deploying the infrastructure to AWS. There is a new dashboard which will show estimated deployment costs pre-deployment, ongoing costs post-deployment, etc.
All this will be managed through CloudHealth Management Pack.
You'll be able to have an overall cost per:
Cloud provider (AWS or Azure)
Account
Region
Service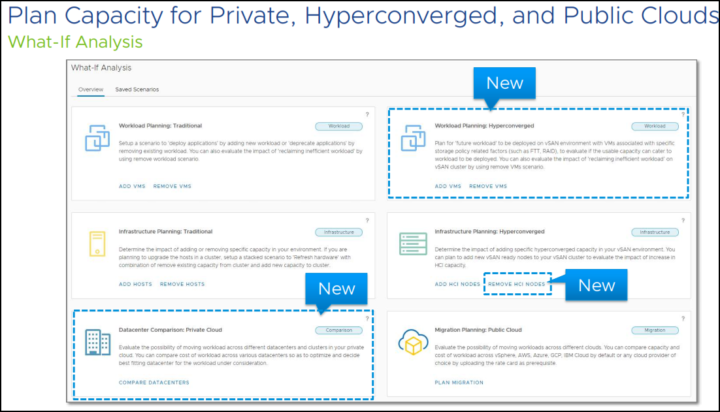 Compare Datacenter
Will allow you to compare VM Costs across multiple datacenters and you'll be able to Select Existing VMs or enter profile for new VMs. Then you can Identify Cheapest Cluster
to run the workload.
Also, Link to Add Workload scenario to quantify capacity shortfall.
Enhanced cost drivers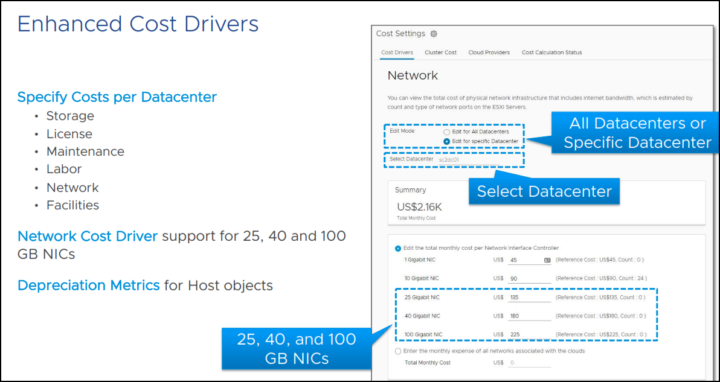 VMware Cloud on AWS Cost Overview
via VMware Cloud on AWS Management Pack
Monitor VMware Cloud on AWS
Costs in vRealize Operations using bills from VMware Cloud Service portal
Combine private, hybrid, and public cloud costs in dashboards and reports
Track Outstanding and Year to Date costs
Cost Breakdown by:
Subscriptions
On-Demand
Purchase history
Application Monitoring
Supports up to 20 packaged applications and services
Now supports NTPD, Java and Websphere.
There is a custom script provided which allows you to on the guest OS which will collect and return a value stored on vROPs.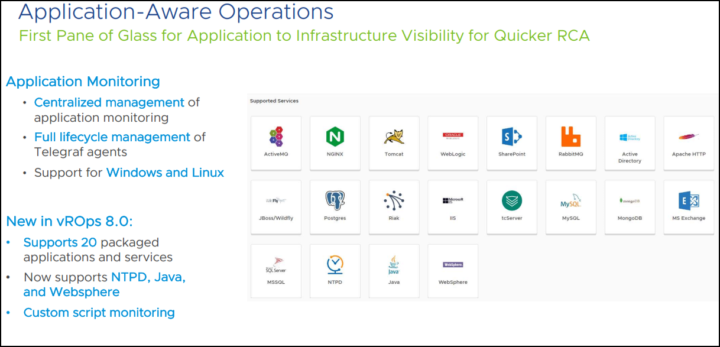 Native Service Discovery
Agentless service discovery will allow to discover up to 41 known services through VM tools. You'll be able to add your own services to a white list for discovery.
The system is able to build application relationship based on the discovered services.
Checks which apps are running in the SDDC and find rogue services and applications.
You'll be able to leverage agentless actions for VM troubleshooting (via service discovery). Either with One-time script execution or via get Top-N processes.
You're also able to monitor and show for example a TOP processes on a VM-level….
Check this screenshot.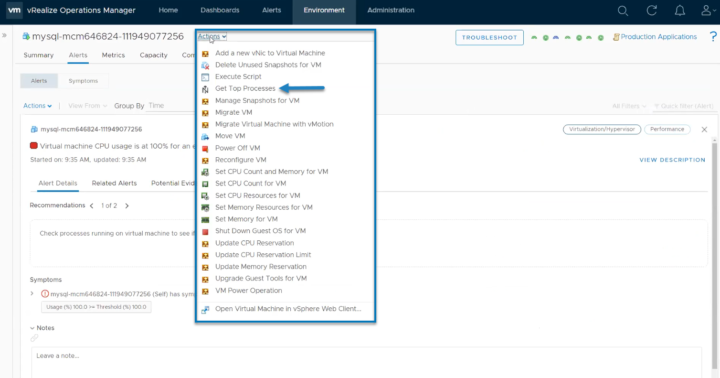 AWS and Azure monitoring dashboards.
Public cloud such as AWS and Azure got their dashboards for monitoring. So you'll be able to manage AWS inventory and see the different services being monitored. Plus many more additional details.
There are 23 built-in dashboards with 34 alerts.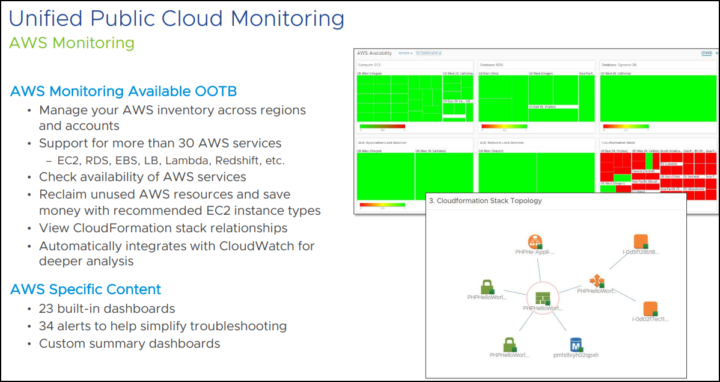 Continuous availability
Outside HA protection you'll be able to protect entire clusters via continuous availability. You can extend vRealize Operations Clusters Across Datacenters.
This feature operates on L3 mode and allows to replicate whole clusters to another site. Once in sync, you'll have another protection for a whole cluster. Also, a possibility to put a whole cluster offline with a click of a button.
The continuous availability is a completely new enhancement present in vROPs 8.0. During VMworld 2019 US VMware has announced other products as well. We have scheduled an article about NSX-T 2.5 and vRealize Network Insight 5.0. Check it out.
More from ESX Virtualization
Stay tuned through RSS, and social media channels (Twitter, FB, YouTube)