VMware has officially released vSAN 6.6 so you can download your copy and evaluate the product. This post will detail our small lab configuration, which is a 2-Node vSAN cluster with a Witness running on the third host. For the purpose of this post, I have decommissioned my old environment running vSAN 6.5 (vMotioned VMs to the third host with some local storage) and then re-formatted the local disks of the two hosts used for vSAN. VMware vSAN 6.6 Released – Configuration DEMO is today's topic.
We could have done a simple upgrade (as we would do in a production environment) but we did this on purpose to have some material for this post. It's a lab with a couple of VMs which I can move without much problem, to wipe everything, break everything. That's why home labs are for…
Note that I did not change the network configuration on each host or reinstalled the hosts. The hosts were only upgraded via vMware offline bundle ESXi650-201704001.zip. If you don't know how to upgrade ESXi hosts via the upgrade file, you may want to check our article detailing the steps here – How to upgrade ESXi 6.0 to ESXi 6.5 via Offline Bundle.
VMware vCenter Server 6.5.0d is part of the release (release notes here), includes new features and bug fixes related to vSAN 6.6. If your environment uses vCenter Server Appliance (VCSA) you can simply download this patch (ISO file) by going to the VMware Patch Download Center and choose VC from the Search by Product drop down. Then you connect the ISO to the VCSA and launch the upgrade from within the VAMI user interface by going to https://ip_of_vcsa:5480
But let's get back to our lab and let's recap what's been done so far:
Upgrade of VCSA to the VCSA 6.5.0d release.
Upgrade of all ESXi hosts to VMware ESXi, 6.5.0, 5310538 release.
Redeployed a new Witness (I could have tested the new functionality of replacing Witness, but we'll do that in another post).
Cleaned of all local disks on the 2-hosts participating in vSAN 2-node config (used Gparted Live CD for that as could not wipe the disks through the UI)
The rest of the post might be interesting for folks who never done the vSAN config or are learning VMware virtualization. I assume that everyone knows how to create a datacenter object, cluster object etc. If not check out some of my topics here:
The lab – Let's get started
As most part has been already done (vCenter server setup, ESXi(s) setup), datacenter objects creation, and also adding ESXi hosts to vCenter too. All we have to do is to activate vSAN and follow the assistant to create 2-Node cluster with a Witness.
Step 1: After creating the cluster object, don't check the button "activate vSAN" just yet. Just move those two hosts which will be participating in the vSAN cluster there. Select the vSAN cluster object > configure > Click the Edit button to activate vSAN.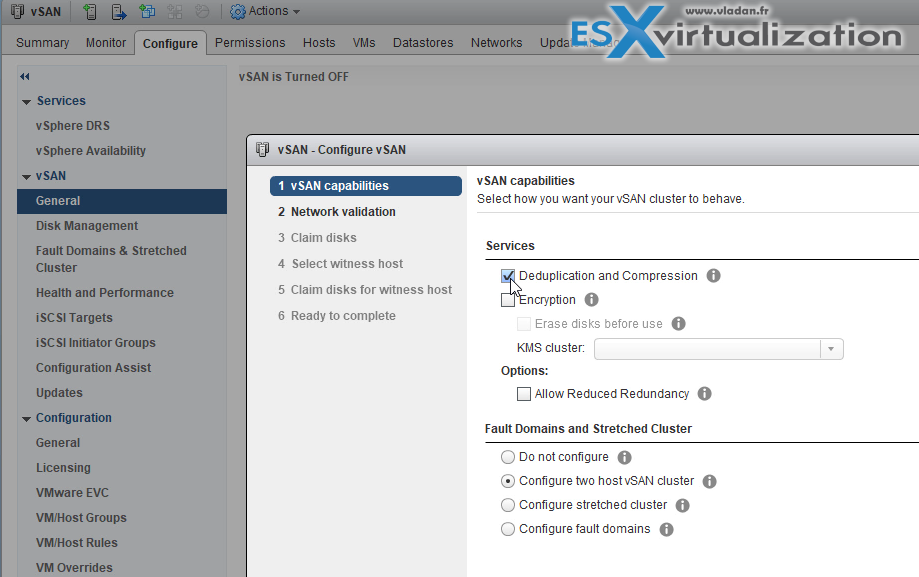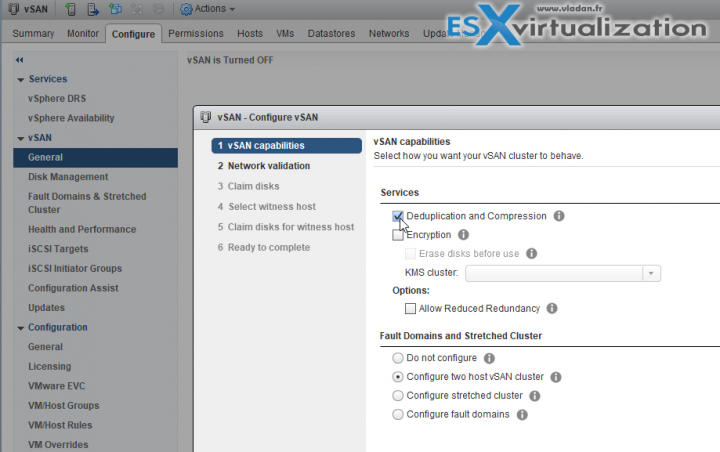 Step 2: Disk claiming. Disk claiming. Select SSD for cache tier and HDD or SSD (my case) for capacity tier.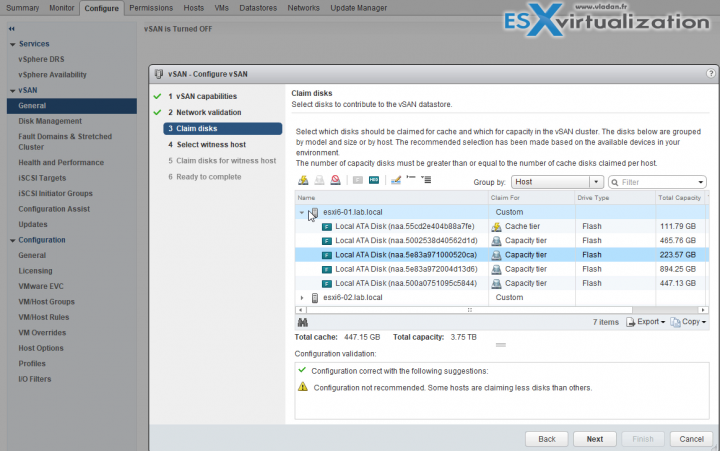 Step 2: As the networking has already been configured for vSAN (vmkernel adapters) we don't need to do anything here.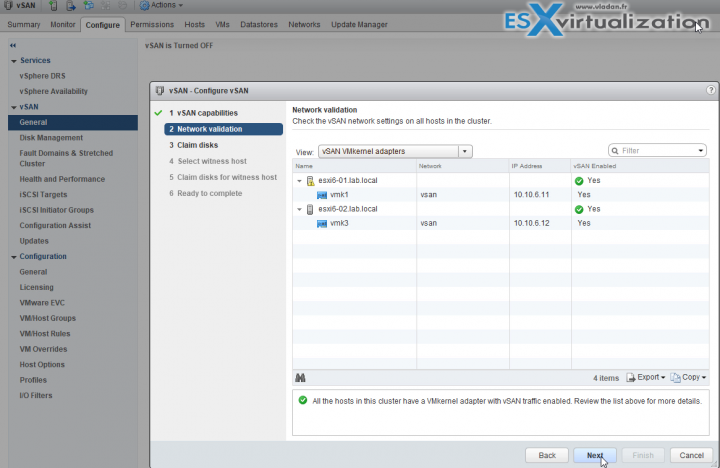 Step 3: We pick the Witness host (has been added previously to the datacenter, not to the cluster).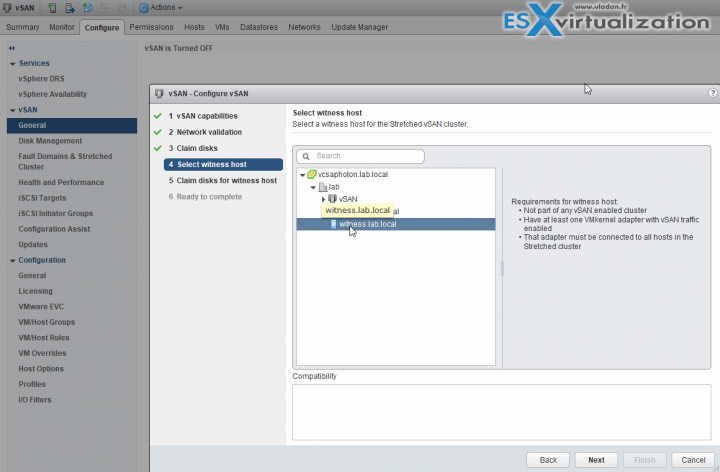 Step 4: We need to claim disk for the Witness too. Note, that the small disk is for cache, the bigger one (350Mb) is for capacity.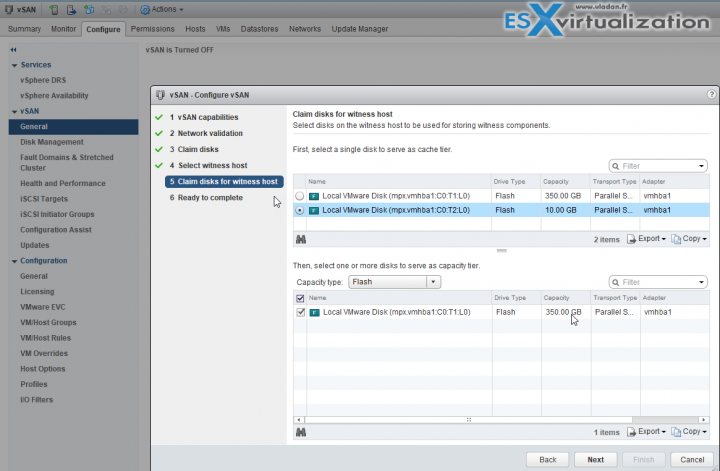 This is it. After about 10 min of configuration tasks and formattting the disks within the disk groups, the setup is finished.
The disks format version shows version 5.0.

The vSAN 6.6 introduces 20+ new features. We're far from cover all this, but we write about vSAN on regular basis. An upcoming post might be covering the vSAN integration with vCenter Server Appliance. There is a new feature allowing you to create a vSAN cluster as you deploy a vCenter Server Appliance, and then simply host the appliance on that cluster.
The built-in installer within the VCSA can now create a one-host vSAN cluster. Once this cluster is up and running you can simply add additional hosts and that's it. You no longer need to use local datastore within the first host but directly "put" the VCSA VM on the vSAN datastore, with disks claimed from the host.
Wrap Up:
We're done. Our lab is on vSAN 6.6 and we had fun creating this content. If like this blog, don't forget to Stay tuned through RSS, and social media channels (Twitter, FB, YouTube), but also don't forget that we're able to create such a topics thanks to the ads. Make sure to whitelist our blog through your Ad blocking extension -:)
Note that this post is not a copy of another post from another blogger. You may or may not found this information elsewhere. You know, it happened to me twice already in the past. That after publishing a topic, I realized (through a tweet) that a fellow blogger just published the same topic that I did… 15 min earlier. We both laughed….
Well, those things just happen as there are still many bloggers covering VMware technology, and those bloggers have a passion for similar topics. So it can happen that two or more bloggers cover the same thing. I'm not saying that I haven't seen ripping whole posts, or the whole blog… to be published elsewhere. There isn't much we can, as bloggers do about that, except to watermark our images or to interlink our posts. Things we already do… -:)
More posts from ESX Virtualization:
Stay tuned through RSS, and social media channels (Twitter, FB, YouTube)